iPoGo Pokemon Go - Full Review
by Jenefey Aaron Updated on 2022-12-15 / Update for change location
Being a gamer of Pokemon is a huge responsibility, the one where you want to achieve more and more with each passing day. It's the basic requirement of a good gamer of Pokemon as they need to switch their location. Therefore, physically when it's impossible they opt for a virtual application.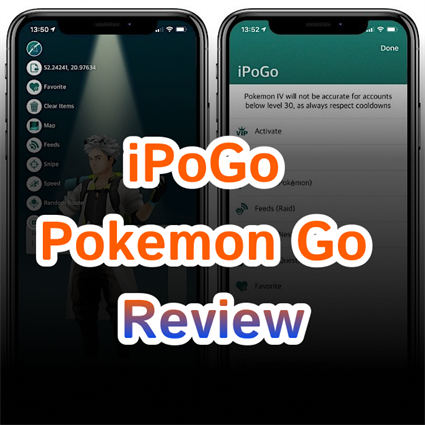 One of the most used applications nowadays that helps in teleporting to raids, skipping the animations, and auto catch as well is iPoGo Pokemon Go. Now let's learn more about iPoGo so we ourselves can have the idea of whether it's a favourable application for users to use or not. 
What is iPoGo
iPoGo is an application that is specifically made for iOS users and helps them play Pokemon go remotely from any part of the world they like. Here are some features of iPoGo. Following are some of the main features of iPoGo:
The auto catch and spin option enable the user to catch and spin. 
With spawn booster, you can see more Pokemon that cannot be seen with the naked eye. 
With a one-click bag cleaner, you can choose all items at once and delete them.
It also automatically removes garbage Pokemon from your storage to keep your bag of Pokemon clean with the release-on-catch feature. 
How to download iPoGo on iOS  
There is a whole procedure for the downloading and installation of iPoGo ios 15. In order to install iPoGo iOS version, you can follow these instructions:
Go to iPoGo Official.
Click Download iPoGo: Apple iOS
Follow the instruction on the web to download iPoGo on iDevice.

Video Guide: How to download iPoGo on iOS?
How to Download iPoGo on Android  
For Android users, the method of downloading is a bit different. But don't worry we didn't forget about our android users. Following are the steps that can help in the android installation of free iPoGo. There are two methods:
For Android non-rooted
For the non-rooted device, first Uninstall PokemonGO if you have it installed already. Now download this version. You need to click on Download iPoGo APK and it will start to download.
For Android rooted
For the rooted devices, download this version. You also need to download iPoGo launcher on the official web. Then download the iPoGo launcher and click on iPoGo apk download. The process will start in a moment. 
Strengths and Weaknesses of iPoGo  
Like everything, iPoGo has its own set of weaknesses and strengths. Following are some pros and cons of iPoGo which will help you decide whether you should opt for this application or not:
Advantages of iPoGo:
It has the auto-catch and spin feature, which is exactly like the Go-plus version with all the amazing features.
The single-click item deletion makes it the best option for users to clean in just one click.
There is also the setup limit for each item based on your requirements.
Disadvantages of iPoGo:
When installed, it proved to be more prone to spoofing. Niantic can catch you.
The procedure for installation on the iOS device is quite difficult.
It has also shown application stability issues
FAQS about iPoGo  
There are some interesting questions that aroused and confused users. But we are here to solve your problem once and for all. Here are some interesting FAQS that will guide you and make things straight in your mind.
1. Is iPoGo Safe  
If we talk of iPoGo as a location modifier or spoofer, it's a risky thing to do. Because in case one strike is received, then Niantic and you will go side by side as a close eye will be kept on from that time. So, it's a risky thing but still, users can give it a try because of the amazing features it offers.
2. Is iPoGo Free  
The answer is yes and no, if you use the standard package it will be free of cost. But if you opt for the VP package, then it will cost you $5 per month.
3. Where to download iPoGo  
Download the iPoGo from their official website. Just follow the guide and choose any option. Whatever suits your fancy, there are no limitations.
iPoGo Free Alternative for iOS Players-iAnyGo  
For iOS users, there is another alternative that can help them spoof their location using iPoGo iPhone. This application that is about to be disclosed will help you spoof your location in an efficient manner because of its simple and easy steps to follow. That application is Tenorshare iAnyGo which will help you modify your location easily.
Follow these steps to enjoy the feature of iAnyGo Joystick Movement.
Launch the program on your computer. Connect your iPhone to the computer.

Now choose the joystick movement mode on the home screen. You will find the joystick in the lower-left corner of your screen. Set the movement speed by dragging the slider.

Now use the joystick to start the automatic movement. This is how you will use the iAnyGo go joystick movement which is very simple and easy to use.
The Bottom Line 
If you consider using iPoGo Pokemon Go, it's an interesting application to spoof Pokemon GO on iPhone. Just give it a try, and if it doesn't work. Don't forget that Tenorshare iAnyGo got your back.