My iPhone no longer recognizes when I plug in headphones or any other external audio device. A software upgrade fixed this problem once, but the problem has come back and upgrades won't fix it. No matter what I plug into the headphone jack, audio continues to play out of the phone speakers. I'm outside of my warranty and not near an Apple store. Help?
Have you ever met the same issue mentioned below? Your iPhone doesn't recognized headset and the symptoms are extremely wired. You are going to adjust the volume level but "ringer (headphones)" pops up on your screen, and the sound can't work through the normal speaker output.
Some iPhone users think it as their iPhone speakers suddenly not working or that something goes wrong. But that is actually pretty rare. Probably your iPhone gets stuck in headphone mode. You can usually fix the issue really quickly without anything but to do following the next ways. Here is how I fix iPhone headphone mic when it won't be recognized.
Try those ways first to fix iPhone headphone jack not working:
1.Make sure that nothing is covering the headset microphone.
2.Make sure that the headphone has a built-in microphone.
3.Unplug the headset from iPhone and cleanup any crud from the headset jack. Later plug it back in.
4.Make sure the headphone is plugged in right way. If you are using a case, remove it to make sure it's not getting in the way.
5.Try to use another headphone. If the issue also happens with the other headset, you are supposed to ask help for Apple Store. If the other headset works normally, you have to change new one.
6.Try to adjust the volume on your iPhone using the volume buttons and the Volume slider in Control Center.
Additional way to fix iPhone stuck headphone mode:
Sometimes you may meet another common problem that your iPhone gets stuck in headphone mode leading you can do nothing. I sincerely recommend Tenorshare ReiBoot for you to get your iPhone out from headphone mode easily by entering and existing recovery mode without data loss. Before you start any of operation, you have to download Tenorshare ReiBoot first and install it on your PC.
1.Connect iOS 10/9/8 Device to PC > Run the Tenorshare ReiBoot > Click "Enter Recovery Mode" in the interface.
2.Plug your device and connect your device again to PC. Tenorshare ReiBoot will detect your device in Recovery Mode. Click "Exit Recovery Mode" to reboot your iPhone.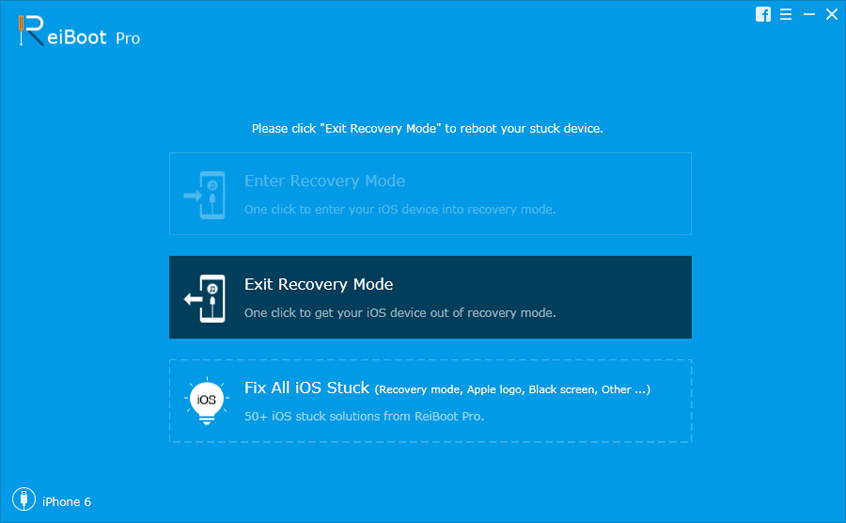 Hope you have solved the problem through those ways. If not, I suggest you go to Apple Store for help. If you have any question, please leave your comment in the comment section.
Free Download
For Win 10/8.1/8/7/XP
Secure Download
Free Download
For macOS 10.13 and below
Secure Download
Related Articles
comments powered by