When iPhone gets stuck in headphones mode, you cannot hear any of the keyboard clicks or text message alert tone. No audio or sound works through the normal speakers output. The iPhone Speakers stop working suddenly. What weird is that nothing seems wrong when you plug the headphones in. What causes this is that iPhone improperly acts as if the headphones are still plugged in. Sometimes this happens because of the headphones jack being dirty, wet, or something lodged in it.
One of the obvious symptoms to judge whether your iPhone or iPad got stuck in headphones mode is that you can see "headphones" when you turn the ringer volume up/down. Like the icon blow:

Some people would think the headphones jack is broken and take the iPhone to Apple Genius Bar for repair. Well, things actually are not so complicated. You can fix the iPhone out of headphones mode quickly with just a set of earphones or a q-tip sometimes.
Guaranteed Solutions to Fix iPhone out of Headphones Mode
Solution 1: Unplug and Plug the Headphones Several Times
The easiest way that most people did the trick is to insert and remove the headphones at least 7-8 times.
Solution 2: Remove and Tidy the dirty/Jammed Headphone Jack
Blow into the headphones jack to remove the dust or pocket link in the receptacle.
Prepare a q-tip or toothpick. Use the q-tip to wiggle the headphones jack, you may get a lot of dust/dirt out of there.
Solution 3: Dry your iPhone When Drop in Water
If your iPhone was water immersed, you should make sure the iPhone headset jack is fully dried. Use the hair dryer to blow into the headphone port and lock the phone for a while.
Tip:
If your iPhone got stuck in recovery mode or white apple logo loop, you should
exit the recovery mode
first.
Solution 4: Modify iPhone Settings
Go to iPhone Settings>General>Accessibility>Incoming Calls (Call Audio Routing in iOS 10/9.3/9/8 devices like iPhone SE/6s/6, iPhone 6s/6 plus, etc.).
Change the Incoming Calls (Call Audio Routing) to Automatic or Speaker.
Go back to your home screen and toggle the volume up/down buttons.
Solution 5: Reboot iPhone
Press and hold the Home and Power buttons at the same time for about 10 seconds till the white apple logo appears. Keep pressing till the screen goes black.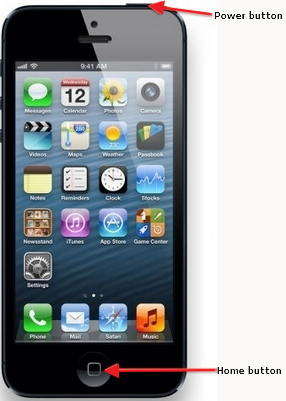 The iPhone should get out of headphones mode successfully now. Toggle the volume up/down buttons should show Ringer as it supposed to be like the image below:

Related Articles
comments powered by