iPhone Weather App Not Updating or Working? Fix Now 2023
by Anna Sherry Updated on 2022-11-29 / Update for iPhone Fix
iPhone Weather app is of great utility and you may use it everyday to check the weather. If it is not working due to whatever reasons, it can be a major inconvenience. Since the latest iOS update, a lot of iPhone users talk about issues with the weather app, such as iPhone weather app not updating or Weather widget iPhone not working. It is essential to address these problems and fixes below can be applied to get everything back and running well.
Part 1: Examples of Weather App Not Working Problems
A problem with your Weather app on iPhone or iPad could manifest as any of the following scenarios. For example, the Weather app is not working after the latest iOS 16 or iPadOS 16 update; the weather conditions and temparature are not updating; and you cannot use Siri to report the weather today. Sometimes the Weather app shows no location. More commomly, iPhone weather app widget or animation is not working.
No matter what problems you have, you can keep reading as the following content basically covers the causes and solutions of all these Weather not working problems.
Part 2: Why is Weather Not Working on iPhone or iPad
Now that we have established what the problem is and how it will appear on your devices, we now need to determine the causes why weather not working on iPhone. It is usually due to these four aspects.
1. Network Issues

Whether the weather is up to date or the widget is working properly, you need a network to fetch real time data. Thus, if your internet connection is faulty, you will likely face this issue.

2. Location Problems

It could be that the Weather app does not have access to location details and thus it is not able to give you weather updates.

3. App Problems

The weather app could itself face a bug due to app update, crashes or software update.

4. System Issues

Having problems in the iOS system could also cause weather widget iPhone not working. Update to the latest version is important, which could also cause Weather app not working though.
Part 3: 8 Common Tips to Stop iPhone Weather App Not Working
iPhone Weather app not updating can be annoying. We now move on to solve the problem. For the above four main reasons, we will explain more in detail.
1. Re-connect Network or Reset Network Settings
To ensure that your internet is working perfectly for Weather app, check it out. First, turn off the Wi-Fi or cellular data and turn on again. Second, allow Weather to use WLAN and Cellular in WLAN settings. Third, you could try to reset network settings in Settings > General > Transfer or Reset iPhone > Reset.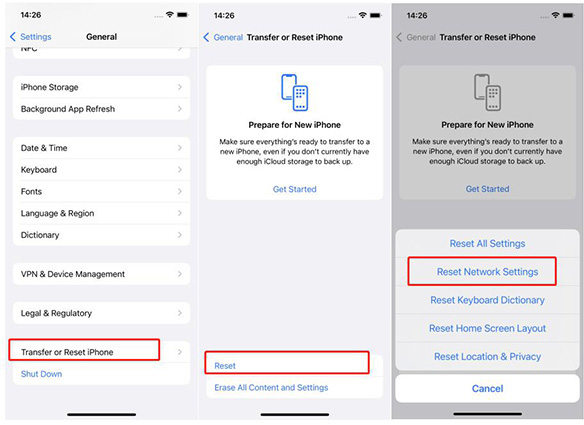 2. Enable/Reset Location Services
Locations service is also important. You can change and set the weather location all by yourself, or locate automatically. As for weather not working on iPhone or iPad, ensure that location settings are in place. Similarily, toggle off and on Location Services. And allow location access while using the Weather app or widgets or set it as always.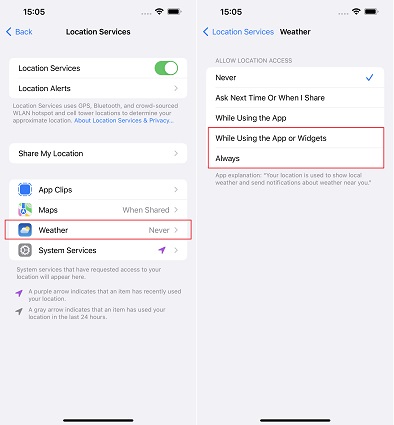 If iPhone Weather app is not updating even now, you can reset location settings. Go to Settings > General > Transfer or Reset iPhone > Reset > Reset Location & Privacy.
3. Set Weather Widgets Again
Many people says that the widgets are not working on their iOS 16 devices, which include the Weather widgets. The easiest solution in this case is to delete the weather widgets and set it up again.
4. Enable Background App Refresh for Weather
Background app refresh enables the app to stay running in the background to fetch data and update. Turning it on for weather will help in this regard. Open settings and then navigate to General > Background App Refresh. But notice that many iOS 15/16 devices do not have the refresh option for Weather app. So you need to look for other solutions when iPhone Weather app is not updating.
5. Restart iPhone
Force restarting your iPhone is one way of getting rid of small bugs and to start all the processes again. You can rely on this force restarting to fix Weather app is not working in many cases.
6. Reinstall Weather App
You could also try reinstalling the Weather app to see if it works. We recommend you go to App Store because you can check if there is a pending update. If yes. try to update the app at first. Then take further steps to remove the app.
7. Update iOS Software
A lot of app and widget problems are caused by systems or software issues on iOS devices. An outdated iOS version could also cause weather widget iPhone not working. So you should install the latest software on your iPhone or iPad when the above methods do not solve your problem.
8. Fix System Issues with ReiBoot
The last fix for Weather on iPhone not working is still due to software problems. For any bug in the iOS that cannot be fixed by software update or is caused by system update, using Tenorshare ReiBoot to repair it is the best course of action. Download and run ReiBoot on your PC or Mac to get started.
Connect iPhone to your computer via a lightening cable. Click "Start" to start the System repairing process.

To continue and stop data loss, select "Standard Repair".

Click "Download" to start downloading the latest firmware package for your iPhone.

The process will get started and finish by clicking "Start Standard Repair" after the firmware package has been downloaded completely.
Conclusion
The importance of the Weather app in our daily life cannot be stressed enough. When users face problems like iPhone Weather app not updating, determining the reasons and tips to fix this issue by using what we have listed above. The last but important Tenorshare ReiBoot software is to help you out whenever you face an app or widget problem with your iOS devices.