[Solved] iOS 16 Widgets Not Working on iPhone/iPad
by Anna Sherry Updated on 2022-09-29 / Update for iOS 16
On the most recent iOS 16 updates, several reports of the Apple new widget not loading, appearing blank or black, and more. For this reason, we've put up useful advice on several efficient ways to fix iOS 16 widgets that aren't working.
Top 6 Ways to Fix Widgets Not Working:
The iPhone widget might not load if there is a problem with your iOS device's iCloud data synchronization. Besides, a bad internet connection frequently prevents the iOS widget from loading correctly. The iPhone widget might not load correctly due to your network service provider's sluggish internet connection. Below are some of the best ways to fix widgets not working.
Way 1. Restart Your iPhone or iPad
Restarting your iPhone or iPad is the first solution on the list. Yes, it's recommended to reset your phone when the iOS widget, not loading problem, initially appears. Your device's operating system will be updated, and problems that prevent widgets from loading will also be rectified.
Simply launch the Settings app, choose "General," scroll down, and press "Shut down" to restart your iPhone.

Holding the power button as the gadget shuts off can allow you to restart it.
Way 2. Remove the Widget and Re-add
You may delete the widget from your iPhone's home screen and re-add it if you have problems with a particular app widget. What you must do is as follows.
Long-press the iOS widget that needs fixing.

From the context menu, choose Remove Widget.

Long-press on the home screen and then hit the plus (+) sign at the top.

Use the following menu to look for the same app widget.

Review various widget sizes and upload them once more.
On the home screen, you may view recent widget information.
Way 3. Update or Reinstall the Apps
Widgets on the iPhone might not load correctly if you are using older apps. Because of this, we frequently update old programs because they frequently contain patches for issues that prevent the widget from loading properly. The following steps can be taken to update applications.
While holding down the App Store icon, choose "Updates" from the pop-up menu. By doing this, the App Store will open in a new tab right away with a list of all of your device's out-of-date apps.

To update all of the programs to the most recent version, click "Update all"!
Way 4. Update iOS or iPadOS
Let's say that built-in or third-party widgets such as TV, Weather, Batteries, News, Music, Stocks, Notes, Reminders, Smart Stack, Calendar, App Store, Clock, Contacts, Files, Fitness, Find My, Game Center, Photos, Podcasts, Mail, Maps, Screen Time, Shortcuts, Sleep, Siri Suggestions, or TV aren't functioning. The best action in that situation is to upgrade your iPad or iPhone.
To accomplish this, navigate to Settings > General > Software Update and download the most recent version of iOS or iPadOS, which has probably solved the flaw that causes iPhone widgets not working.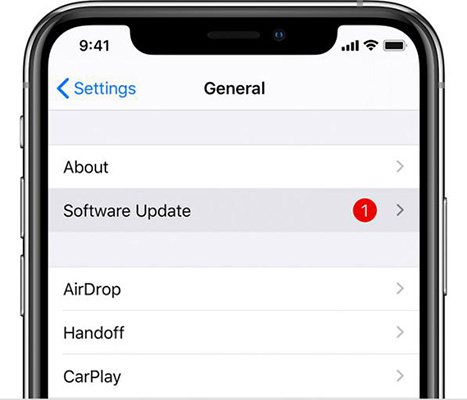 Extra Tip: Update iOS with Simple Software
While updating to the newest iOS or jailbreaking our iDevice, issues might arise. Most problems are simple to repair by rebooting or entering recovery mode. However, certain iOS faults are so difficult to resolve that you must restore the iOS operating system. Here is a comprehensive instruction on using Tenorshare ReiBoot to repair the iOS system.
Connect iPhone to your computer and run ReiBoot. Click "Start" button to start the iOS System Recovery tool when the device has been identified.

To continue, select "Standard Repair".

Click "Download" to start downloading the most recent firmware package when you're ready.

The system recovery process may be started by clicking "Start Standard Repair" after the firmware package has been downloaded to your computer.
Way 5. Disable Low Data Mode and Low Power Mode
Low Power Mode temporarily lowers background processes like downloads, mail, and widget fetch to conserve battery life. The battery indicator at the top of your iPhone will turn yellow if Low Power Mode is enabled. If you want widget updates to happen automatically, you must turn off the add-on.
Launch the iPhone's Settings app. Access the Battery menu.

Disable the option for Low Power Mode from the menu that appears.
Automatic updates and background processes like photo synchronization and widget refresh will be halted while Low Data Mode is set.
Way 6. Edit the Widget Preferences
Is the data that your widget is showing inaccurate? After that, you should update widget options to configure them properly. For instance, if the Weather widget displays inaccurate data, just long-press it, select Edit widget, select Location, and then enter the proper Location. To save the changes, touch outside the widget area after that.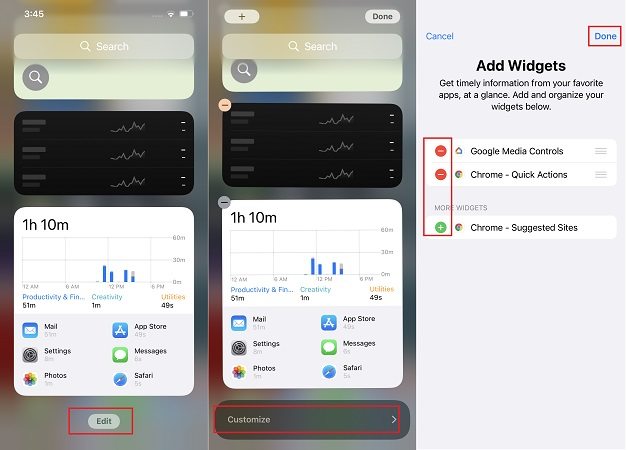 iOS 16 Lock Screen Widgets: What's New
With the release of iOS 16 today, one of the biggest improvements is that users may now add widgets to their Lock Screen in addition to the Home Screen, which was already possible with iOS 14. This new capability, however, depends on developer acceptance outside of built-in widgets for Apple's first-party apps such as Calendar, Clock, Home, Fitness, News, and others.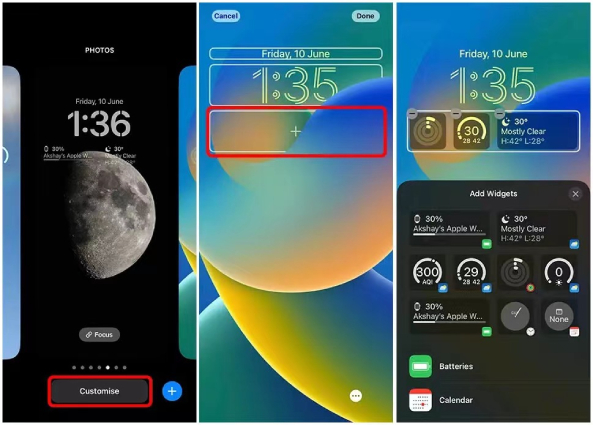 These widgets are three different sizes: circular, rectangular, and inline. On the Lock Screen, the first two are displayed below the clock, and inline widgets are displayed above as a line of text or symbols. But the decision of which widgets to support is left to the developers.
Conclusion
We hope you appreciate our post on how to fix the iOS 16 lock screen app photo widgets not working issue. The solutions listed above were tested in a different sequence. In our instance, rebooting the smartphone was necessary before the third-party app widgets were displayed. Therefore, we are unsure if the widgets appeared after restarting the iPhone or whether a different fix rendered them functional only after restarting.
Fix iPhone Stuck Issues without Data Loss