iPhone Freezes up or Shuts off in Cold Weather, Why and What to Do
by Jenefey Aaron Updated on 2019-07-25 / Update for iPhone Tips
"iPhone 6 battery dies in cold weather. Phone is about 15 months old, and dies from good battery 50% to 30% down to nothing and auto switch off. Anybody know anything about this?"
- From Apple Community
When taking an iPhone out in a cold weather, the battery life will diminish quickly and the phone will shut down soon after the battery dies. Many users reported that iPhone screen gets frozen or turns off in cold weather. In this post, we will discuss why and what can we do when iPhone X/8/7/6s/6/5s/5/4s battery dies or freezing up in cold weather.
Part 1: Why iPhone Automatically Shuts Off in Cold Weather?
All iPhones use a type of battery called Lithium-Ion (Li-ion). According to Battery University, cold temperature "increases the internal resistance and diminishes the capacity" of a Li-ion battery. Specifically, they estimate that at -18 degrees Celsius a Li-ion may only deliver 50% of its capacity.
According to Apple, iPhones and other iOS devices operate most efficiently when the ambient temperature is between 32 degrees and 95 degrees. And iPhone is actually designed to shut down automatically under certain conditions, such as extremely cold temperature. To an iPhone user, some of those shutdowns might seem unexpected, but they are designed to protect the device's electronics from low voltage.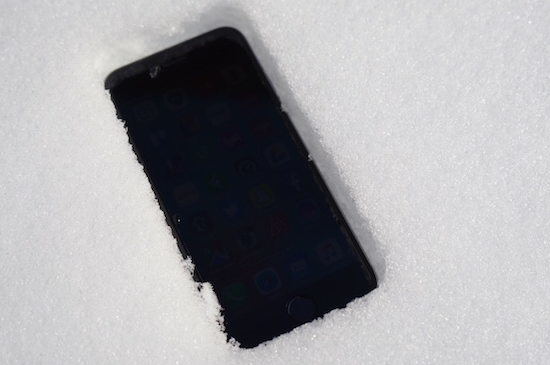 Part 2: How to Keep Your iPhone From Dying in Cold Weather?
When the temperature falls below freezing, keeping your phone warm will help iPhone alive longer. There are a few things you can do to keep your iPhone working and protect it from dying in cold weather.
1. Keep your phone in your pocket. Don't stash it in a purse or coat — get it as close to your body as (appropriately) possible.
2. Use a high-tech thermal protection case. A case may help the phone retain some heat as well, just like a coat keeps you warm in the cold weather.
3. Don't Leave Your iPhone in the Car. If you do, at least make sure to turn it off and wait until it warms up before turning it on again.
4. Use an external battery pack to charge your phone. Even if you are in a cold environment, you will probably get some power if you plug it into a charger. This will be extremely helpful if you need to make a phone call in an emergency.
5. Reboot your iPhone and update its time zone. If you find that your iPhone dies in the winter cold, Apple recommends that you, reboot your iPhone and go to "Settings", proceed to "General" and move to "Date & Time". Here, make sure that the "Set Automatically" is turned on.
6. Extend your iPhone battery life. Turn off unused apps and clean up junk files, caches on iPhone (with Tenorshare iCareFone, a professional iOS cleaner) regularly to stop iPhone battery draining fast.
7. If your iPhone is too cold and won't turn on even when it warns up or be charged, you can use a free iOS reboot tool – Tenorshare ReiBoot to forcedly boot it using recovery mode.
That's all for why and what can we do when iPhone 7/7Plus/6s/6/5s/5 shut down in cold weather. If you have any other suggestions, please share them with us at the comment area.