How to Fix iPhone Dead Issue
by Jenefey Aaron Updated on 2020-01-02 / Update for iPhone Fix
Today, the smartphone appears to be a must-have tool in the hands of every modern individual. Teens, kids, the elderly and young adults all seem incapable of living without such a gadget. As good and effective as the device is, it's worth noting that it's also prone to failings. You may be happy moving around with yours everywhere you go only to realize that you have to concern yourself with iPhone dead.
No matter how dead it seems, you can do one or two things to resolve the situation. For example, you could always contact Apple and ask for technical support, particularly if the warranty is still valid, which is often a year from the time you purchased it. Even if that doesn't work, you could always try something different instead of trading the phone in or selling it for some money. After all, a damaged iPhone also has value.
1. Charge iPhone
At times, what you consider a serious problem could be nothing more than your failure to charge the iPhone. Therefore, charge it first instead of panicking and losing your mind. The failure to charge could also be due to the presence of debris in the charging port. Get rid of the debris before proceeding. Ensure that the charger is plugged in properly too. Don't ignore the fact that the charger may be incompatible with the phone for whatever reason. Replace it!
Other measures you could take regarding an iPhone that's not charging well include:
a) Rebooting it
b) Contacting Apple for any damages
2. Force Restart iPhone
Do not give up on your gadget once you notice that iPhone dead won't charge. Instead, consider forcing it to restart. This step is highly recommended for any gadget that has either slowed down or frozen. Force restart the phone too any time you notice it behaving oddly. Force restarting is not different from rebooting and restarting. The steps for doing all that are quite simple you would be shocked.
Here's what you have to do:
Pressing and holding the power button down for some time
Waiting for the 'Slide to Power Off' command to show up on the screen
Swiping the slider labelled 'Slide to Power Off'
Pressing the power button one more time while waiting for the iPhone to turn on
One the phone turns on, you would be required to enter your passcode. Do this right at the start up. Forget the fingerprint that you usually use for ID. You could always return to the normal ways once the phone is back working normally again. All the measures indicated above are different from force-restart. You should only consider force-restart after trying these measures without seeing any change.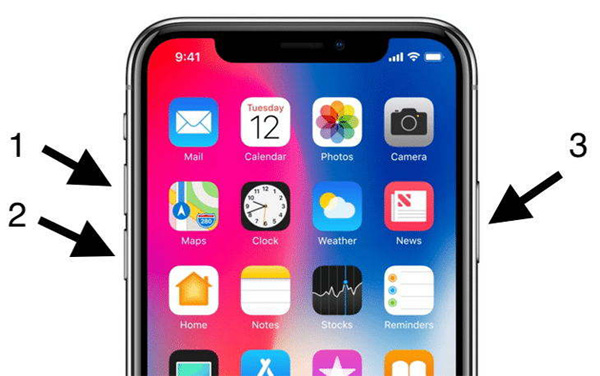 Force-restart commands differ from one type of iPhone to the next. However, it often involves:
a) Holding the Home Button and Power Button down at the same time until the Apple logo fills your phone's screen before letting go and entering the passcode once commanded (for iPhone 6s, SE or the earlier models)
b) Pressing the lock/power and volume keys down at the same time until the Apple logo appears before you let go and enter the passcode (for iPhone 7 or iPhone 7 Plus)
c) Pressing the release volume up button quickly before doing the same with the volume down button and pressing the power button until the Apple logo appears before entering your passcode (for iPhone 8 and iPhone X)
3. Update iPhone in iTunes
It's possible to restore a dead iPhone using iTunes. Visit iTunes to update your gadget. Ensure that your iPhone has the latest version of iTunes for this to happen, though. You would need to connect the phone to a computer to do this. Thereafter, go to iTunes to select your advice. Click on "Summary" before clicking "Check for Update." Finish by clicking "Download and Update." You may be required to enter your passcode.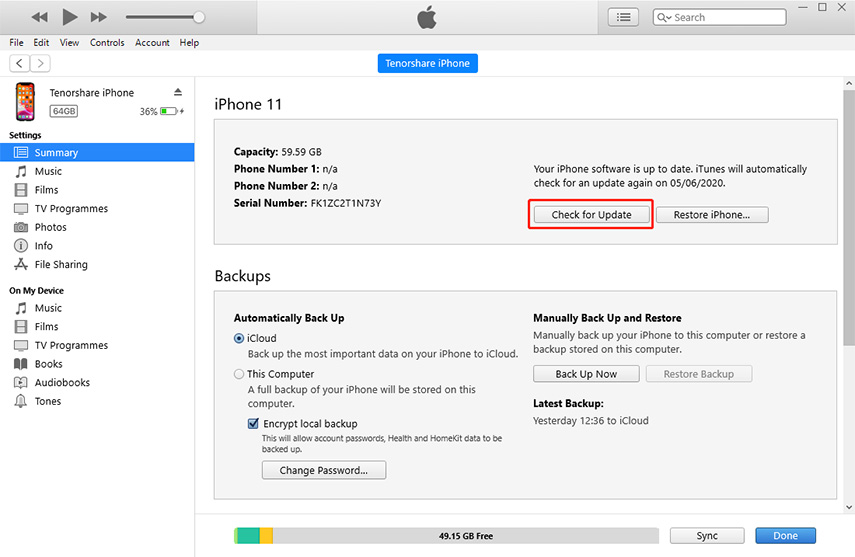 4. Replace iPhone Battery
This measure should be top of your list, especially if your problem is limited to "iPhone dead battery" only. You could pay more or less money to replace its dead battery depending on several factors. The main one is whether your warranty is still active or not. In 2017, Apple launched a battery replacement program that saved users tons of money. The program runs from December 2017 to December 2018.
Through that program, you only pay $29 instead of $79 to replace the dead battery in your iPhone 6 or the latter models. Replacing the battery allows you to continue using what you considered iPhone dead won't turn on for at least another 1-2 years. Replacing that battery also boosts the phone's resale value should you consider reselling it. Remember, users are likelier to buy an iPhone with a new battery instead of one with the old, original degraded battery.
5. Hardware Repair
You could also repair any damaged hardware on your iPhone dead won't charge. The damage often occurs in case you drop the phone on the ground. A wet phone also often malfunctions. The most common damages include battery burning, broken screen, failure to charge, and headphones port failing to work. Go to the nearest Apple Store to fix these problems if you don't know how to go about it.
You now understand what to do with your iPhone dead. Panicking is not an option when you have these many solutions. Repair the hardware, update it on iTunes with the latest software, restore it from the recovery mode, force-restart the gadget, charge it or replace the battery. With these solutions, your iPhone should work as good as new. Do not hesitate to get in touch with Tenorshare ReiBoot if you're still worried about the dead iPhone or any smartphone-related issue.
Fix iPhone Stuck and Update Issues without Data Loss