TOP 10 Problems and Fixes for New iPhone SE 2
by Sophie Green Updated on 2020-05-27 / Update for iPhone Fix
Finally, the best value iPhone – iPhone SE 2 came out. There are many users already get their brand-new iPhone SE. While enjoyed the new iPhone, some users experienced unexpected errors or problems such as iPhone SE 2 stuck on Apple logo after update, Bluetooth not working. Here we collect the common iPhone SE 2 problems and fixes. If you have problems with new iPhone SE 2, check out our full guide now.
Problem 1. Notification Sounds Not Working on New iPhone SE?
"Hello, my notifications appear on my screen but only when I open the phone. There is no sound when the notifications appear."
iPhone SE not ringing or making any sound when you receive a message? There are several users reported that iPhone SE not ringing when new texts or messages arrive. If you have the same problem, follow steps below to have a fix.
Quick Fixes:
Make sure Do Not Disturb is off.

Check if the Message thread has Hide Alerts enabled: swipe to the left on a notification, click Manage and make sure Deliver Quietly is off.

Go to Settings > Sounds > Text Tones. And pick an alert sound that you like and that you'll definitely hear or change to the default.

Make sure Deliver Quietly is not turned on for the app.
Problem 2. New iPhone SE Shutting Down Randomly
"I have the new SE 2020, is anyone having trouble with the phone just shutting down completely? I can be midway through a msg on WhatsApp, scrolling through Instagram or just reading the news."
Several iPhone SE users have experienced a random shut down on their devices. This is usually due to a battery issue, faulty app or iOS glitch. You can fix it in the following way:
Quick Fixes:
Force Restart: Quickly press-and-release the Volume Up button. Quickly press-and-release the Volume Down button. Press-and-hold the Side button for about 10 seconds and release it when you see the Apple boot screen.

Pic. force restart iphone SE 2

Completely Drain and Fully Recharge.
Restore iPhone to factory settings.
Recommended Fix:
If you want to fix iPhone SE 2 shutting down randomly, you can use Tenorshare ReiBoot. It will help you fix all iOS erros and glitches that will cause your iPhone shutting down inexpertly. It is a use-friendly software for beginners to repair more than iOS system related problem.
Problem 3. Haptic Touch Not Working on iPhone SE 2
"Is there a reason why you can't use Haptic Touch (long press) on lock screen notifications to reply to messages or see previews of images on the new 2020 iPhone SE?"
According to user reports, Apple's Haptic Touch feature does not appear to function for notifications on the new iPhone SE. AppleInsider also confirmed that Haptic Touch does not work with notifications on the Lock screen and Notification Center with our own iPhone SE device.
Quick Fixes:
There's no setting to fix this right now, and it appears to be intentional rather than a bug.
Problem 4. Bluetooth is Not Working on New iPhone SE 2020
"Bluetooth is not working on my brand-new iPhone SE 2020. Copied system from iPhone 7 to iPhone se, The Bluetooth device list is empty, and not connecting to my headphone. Any help?"
Some customers say that iPhone SE 2 facing Bluetooth issue. They have trouble of pairing the phone with the Bluetooth enabled device like headphones or Audio Speaker, Apple Car play, etc. It is may be due to the little glitch of iPhone software.
Quick Fixes:
Turn Off and On Bluetooth.
Go Settings > Bluetooth > My Devices > Tap on the (i) icon beside the device name > Tap Forget Device. After that, pair the device again.
Reset Network Settings on iPhone SE 2.
Problem 5. New iPhone SE Overheating
"New iPhone SE unboxed and started configuring, but it gets heated up heavily under the camera."
The overheating issue usually indicates battery issues. Sometimes you find your device is overheating while charging. You should remove the charger or avoid overcharging it. But if your new iPhone SE has the overheating issue, you'd better contact to Apple.
Quick Fixes:
Your iPhone SE2 is new and is therefore covered by the Apple 1YR Limited Warranty (US) so have it examined at the Apple Store and take advantage of it.
Problem 6. Brand New iPhone SE Stuck on Apple Logo
"I just opened a brand new iPhone SE - it needed an upgrade while I was setting it up, which it looked like it was doing but after a while it is now stuck on the apple logo, I can't turn off, reboot or plug in to iTunes as it doesn't recognize it?"
In the case where an iPhone stuck on Apple logo after iOS update, most likely the update file is corrupted. If your iPhone SE 2 stuck on Apple logo or infinite boot loops, here are the quick fixes and recommended fixes for you.
Quick Fixes:
Force Restart.
Put your iPhone into recovery mode and restore with iTunes.
Recommended Fix:
If your iPhone SE 2 is frozen or stuck on the Apple logo screen, don't worry. ReiBoot - iOS System Repair give a full repair to your corrupted iOS system file and fix iPhone stuck on Apple logo without data loss. It is trustworthy by a large number of users from all around the world.
Related Read: How to Fix iPhone Stuck on Apple Logo after Update
Problem 7. Quick Reply not Working on iPhone SE 2020
"Just got my phone yesterday, brand new, and the quick reply doesn't work. I.e. holding down a notification to reply to a message quickly. What's the deal?"
We just mentioned before the iPhone SE 2 notifications don't work with Haptic Touch. On the iPhone SE, long-pressing on notifications simply doesn't do anything.
Quick Fixes:
There's no fix this right now, but you can wait for Apple's following update and see if there is a fix.
Problem 8. New iPhone SE Not Turning On
"Just got my iPhone SE after doing update the phone won't turn back on. Repeatedly the Apple logo keeps showing on phone as if it's about to booth up but it doesn't."
Some users reported that their iPhone SE not turning on after installing new iOS update. This is less likely due to the hardware issue but more likely due to corrupted iOS update file. You cam fit iPhone SE 2 won't turn on in following ways:
Quick Fixes:
Force Restart.
Put your iPhone into recovery mode and restore with iTunes.
DFU mode restore your iPhone.
Recommended Fix:
Either the recovery mode restore or DFU mode restore will cause all data loss on your iPhone. Instead, you can use a professional iOS repair tool – Tenorshare ReiBoot to have a full repair to your iPhone, thus to get rid of all iOS issues.
Related Read: How to Fix iPhone Won't Turn on
Problem 9. New iPhone SE 2 Battery Life Issue
"I got my new SE on launch day (April 24th) and it's already down to 98% capacity. Anyone else? I'm not sure if this is normal."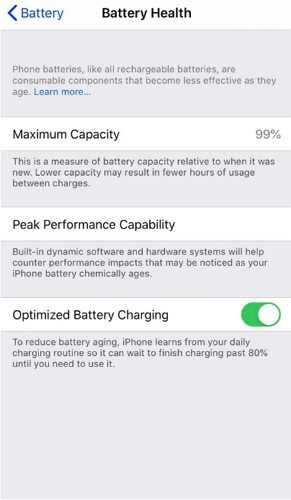 Some users are complaining about abnormal battery capacity of iPhone SE. It may be normal as battery health cannot come with a reliable percentage for your capacity, your battery might be ok.
But if your iPhone SE 2 battery drain heavily, there might be a hardware-related issue, or software issues related to the iOS 13 software that powers the iPhone SE 2.
Quick Fixes:
Reset All Settings: Go to Settings > General > Reset > Tap Reset All Settings.
Stop Background Refresh: Go to Settings > General >Tap Background App Refresh > Turn it off for any applications you don't use.
Restore iPhone with iTunes.
Problem 10. New iPhone SE Wi-Fi Connection Issues
"My new iPhone SE 2 has an issue with disconnecting from my home WiFi after about 10 minutes. Every 10 minutes I have to manually reconnect it."
Many iPhone users including those with iPhone SE 2 users complained Wi-Fi connection that suddenly becomes unstable or keeps dropping. Firstly, try to restart your wireless router. If it doesn't work, follow tips below to have a quick fix.
Quick Fixes:
Force Restart.
Turn Wi-Fi off and then back on.
Forget Wi-Fi network then reconnect.
Reset network settings.
Factory reset your iPhone SE
Related Read: How to Fix WiFi Not Working on iPhone
Recommended: The One-stop iPhone SE 2 Repair Tool to Fix Various iOS Issues
Most iPhone problems are software-related issues that need a full restore to your iOS system. A professional iOS system repair tool like Tenorshare ReiBoot will come in handy when your iPhone SE goes wrong such as stuck on recovery mode, DFU mode, Apple logo, update, keep restarting, etc. It will help you fix various iOS issues/errors without data loss.
Run ReiBoot and connect your iPhone to your computer.

Select Repair Operating System on the main interface.

Click on Fix Now on the following screen.

Click on Downloa to download the firmware for repairing iPhone.

Once the firmware is downloaded, click Repair Now to repaie your device. It will display the following message when your iPhone is repaired.
Conclusion
Hope that you get the solutions for your iPhone SE problems here. If you didn't find the problem and solution for your device, leave a message at the comment place and we will give you the advice as soon as possible.