"Hi. My iPhone 6 running iOS 9.3.2 is stuck in zoom mode. Even after multiple reboots, it remains stuck zoomed in. Is there another solution to fix it? Thanks."
"I noticed that lock screen and other app like instagram, facebook are stuck on zoomed mode. How to fix that?"
iPhone owner can never escape from the problems that iPhone stuck in Apple logo screen; iPhone stuck on iTunes logo and other stucks. However, in recent, many users complained that their iPhone frozen in zoom mode as the two complainers above. Zoom mode allows users to zoom into anything on screen, making it easier to read text and view elements, but this bug is a plague-liked source of frustration for you. To help you get out of the trouble, I sort out four effective methods to fix it.
Note: Those four effective ways can fix zoom screen stuck on iPhone 7, iPhone SE, iPhone 6s Plus, iPhone 6s, iPhone 6 Plus, iPhone 6, iPhone 5s, iPhone 4s, iPad Pro, iPads and iPod running iOS 10, iOS 9.3.2, iOS 9.3.1, iOS 8 and earlier.
Related Article: 10 Tips to Fix iPhone Stuck Problems
Solution1. Exit Zoomed Screen with Three Fingers
Even though it may sound ridiculous and funny, but most of suffers have get iPhone out of stuck zoom screen successfully in such a way. It shares the same way with entering the zoom mode. Here is how it works:
1. After your iPhone stuck in zoomed in, just double-tap on the zoomed screen with three fingers.
2. If works, the screen will go back to normal view mode and quit zoom mode at once.
If this way can't help you get rid of zoomed-screen, please move to next part and have it a try.
Solution2. Force Reboot to Get out of Zoom Mode
Another simple and easy-operate solution is to restart your device and turn it back on. To do that, simply press Sleep/Wake button and Home button simultaneously for about 10 seconds. Then release and white apple logo will appear to show your success on restarting. Now the problem that iPhone screen stuck in zoom mode should be fixed.
Solution3. Restore iPhone to Get Rid of Zoom Screen
Factory settings can renormalize your iPhone as a new one. But it is should be stressed that this method will erase all files on your device, you'd better backup iPhone, iPad and iPod to computer and iTunes first. Then run the iTunes and connect your device to computer via USB cable. Then select your device from the left menu and click Restore iPhone.

Solution4: Ultimate Solution to Fix iPhone Screen Stuck on Zoom
If all the methods above fails to fix iPhone stuck on zoom screen, this solution should be your best choice. Tenorshare iCareFone can help you fix problem by putting iPhone into recovery mode and exit in the most reliable way. Download and install the program on the computer. Connect your device to computer and run the program. Click Fix iOS and select on Enter Recovery Mode. Later select on Exit Recovery mode to get out of recovery mode..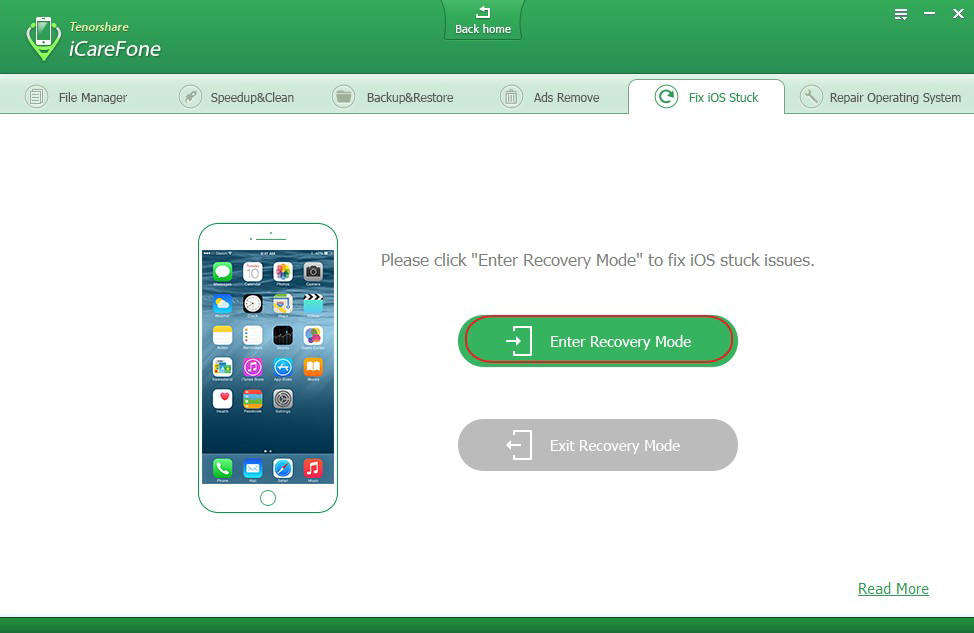 Free Download
For Win 10/8.1/8/7/XP
Secure Download
Free Download
For macOS 10.13 and below
Secure Download
Tips: How to Prevent iPhone from Being Stuck in Zoom Screen?
The most reliable and easiest way to prevent accidently getting stuck in zoom mode it to turn off this feature on your device. If you haven't done so yet, try solutions above to exit out of zoom mode first and do as follows.
1. Go to Settings app and scroll down General and click it. Then go to Accessibility.
2. Select the Zoom from the list, and then toggle the switch for Zoo to the Off position.
Free Download
For Win 10/8.1/8/7/XP
Secure Download
Free Download
For macOS 10.13 and below
Secure Download
Related Articles
comments powered by