How to Fix iPhone App Update Stuck on iOS 17/16 Issue
by Jenefey Aaron Updated on 2023-08-03 / Update for iPhone Fix
Struggling hard to update/install an app from App Store? But it is just not ready to finish its downloading! Or maybe you are done restoring from your backup on iCloud and some apps are downloading for ages! May the situation be any, getting any app update stuck on iOS 17/16 is truly annoying. And for this my friends, we are here to unfreeze you from these stuck apps problem.
Part 1: Possible Causes of iPhone App Stuck Issue
Prior to getting into any conclusion as to why your iPhone app update stuck in waiting, let us first verify the problems and then check for possible solutions.
1. Network Problem: Just check for your network if it is having any issue. Also check if your Wi-Fi connection, for any possible reason, is cut out. If there is no data connection or it is slow, obviously your app update will be stuck. Once the network issue is solved, your app should be updated in seconds.
2. App Store Issue: Sometimes it may happen that the issue is with the App store itself and not with network connection or your iPhone/iPad. In this case you just cannot do anything is the problem is with App store server. You have to wait until it's good to go.
3. Devices Settings: Yes, device settings sometimes may interrupt your app update. So just be sure your device settings are not one of the reasons of your annoyance and are compatible to the app's updating process.
4. App Glitch: Apart from all the other reasons, might be the app itself is having some glitch and is not updating due to that. To check if your app is erroneous, try updating some other app. If the other app gets updated, then your app is having a glitch.
Part 2: How to Fix App Update Stuck on iPhone/iPad
We are now done with few simple things and have checked for the same, we can look forward to deal with any software or hardware issues. Below are few best solutions to deal with verifying iPhone update with apple stuck issue.
Method 1: Check Network Connection
One of major reasons for your iPhone app update stuck issue is the network/data connectivity. Is your iPad/iPhone connected to your network? Is your network connection fine? The simplest method to check any network-related issue is to open any website/Safari or simply watch any video. If the website opens or the video plays without any obstruction, there is no problem with your network and is fine. However, if the site does not open and video is having trouble playing, there is definitely some issue with the network or maybe it is just slow.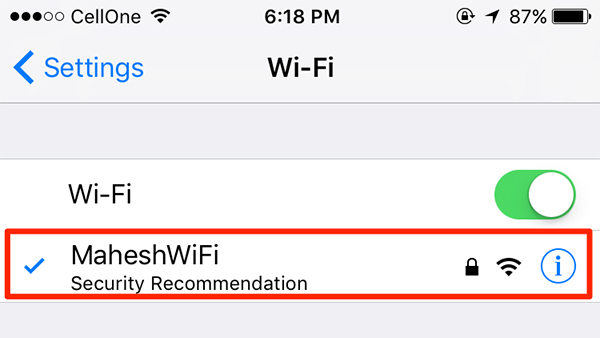 Method 2: Restart Update from App Store
If you're facing iPhone app update is stuck problem, just restart update from App Store. The solution sounds simple as well as is simple in real too. Restarting the update from App Store still can do wonders. Go to App Store >> Updates. Check for the stuck app here. Simply click on the stop button and again tap on Update option. Your app update will be restarted.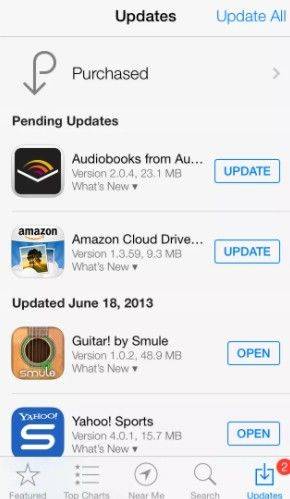 Method 3: Log out App Store and Log in
Restarting your device solves many problems. In a similar way, logging out and again logging in of App Store can solve your app updates stuck on waiting problem. To sign out from App Store, simply click on your Apple ID >> Sign out. You will be now signed out of App Store. To sign in again, enter you Apple ID and password >> Sign in. Hopefully, your stuck update should be now unstuck!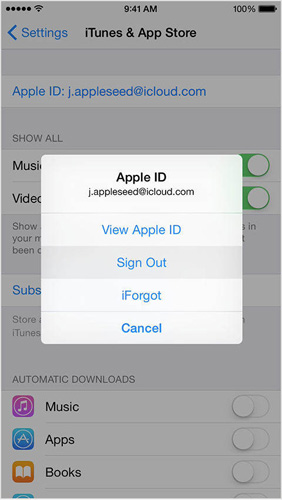 Method 4: Pause App Installation
By simply pausing and again resuming the installation/updation process can work as a problem solver. In order to pause the app's installation/download process, just tap on the app's icon once in question. Again resume the process of installation/download by again tapping on the same app's icon.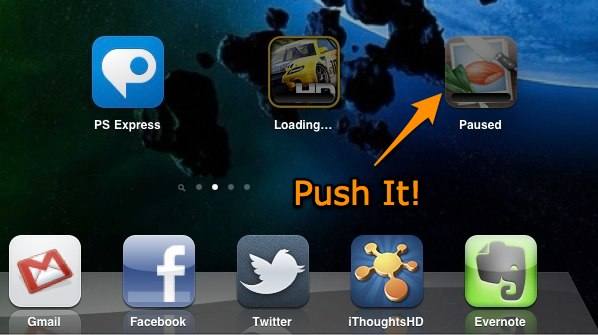 Method 5: Reboot iPhone
Similar to other iOS concerns, a simple and easy reboot might fix iPhone/iPad app update stuck problem too. Just long press the iPhone's/iPad's Home along with Power button simultaneously. Let go the buttons once the Apple logo is displayed on screen. Once your device is entirely rebooted, check out for the stuck app update. It should be gone! You are now good to update it. Simply go back to the App Store and download the app again.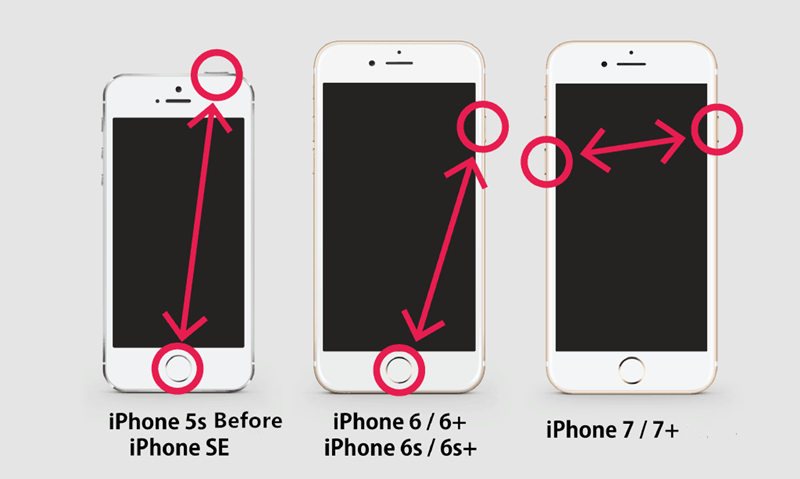 Method 6: Free Up Space on iPhone and iCloud
Updating any app requires some space. And if your device is not having one, no doubt the updating process will be stuck and never finished. Try freeing up some of your device as well as iCloud space. To check for your iPhone's available space, navigate to Setting >> General >> About >> Available. Delete some content if available space is less. In case of iCloud, go to Setting >> iCloud >> Storage.
Method 7: Install the App in iTunes
If you are still having app update stuck on waiting iPad issue unsolved, try installing the faulty app via iTunes. To install the app via iTunes, connect your device to your computer. Once the iTunes detects your iPhone/iPad, go to Store >> Apps. Find the App you wish to install and click on Install. Once the app is downloaded, sync the changes to iTunes, so that the downloaded app also gets synced to iTunes. To sync, after the download process click on Apply. This will make iTunes sync the changes made to your device.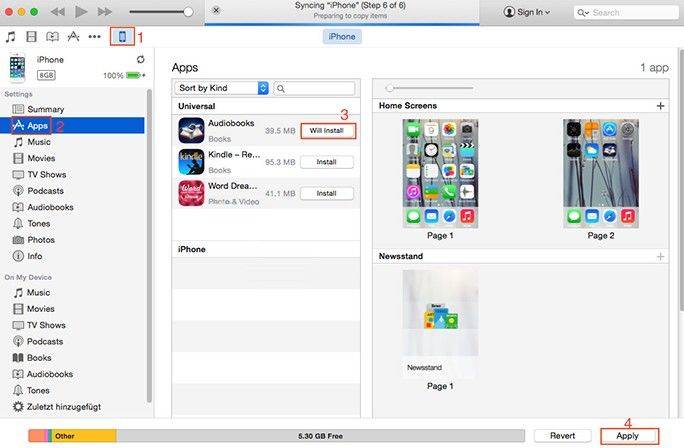 Method 8: Uninstall and Reinstall the app
If no solutions work for you, simply uninstall the app and once again reinstall it. A fresh start is a must. Click on the app icon to uninstall the app. Keep holding the icon till it wiggles. Click the "X" sign present on the top left of the icon. Confirm the deletion process of the app. Now reinstall the latest app version from the App Store.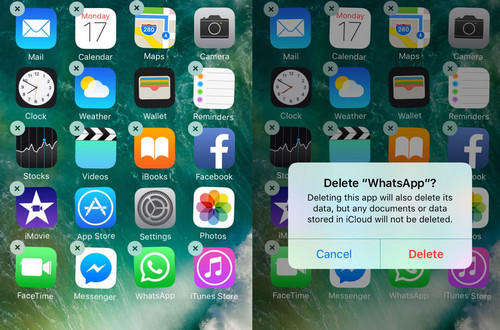 Method 9: Use a Third-party Tool
The last solution for iPhone app update stuck at installing problem is Tenorshare ReiBoot. The tool is a one of its kind and the finest problem-solver for your issue. The tool will not only dodge the app update stuck issue but it will also solve any other iPhone-related issues, if any. Tenorshare ReiBoot is a free one-click software. So enjoy benefitting from the software and get rid of iPhone app update stuck issue as well as other issues.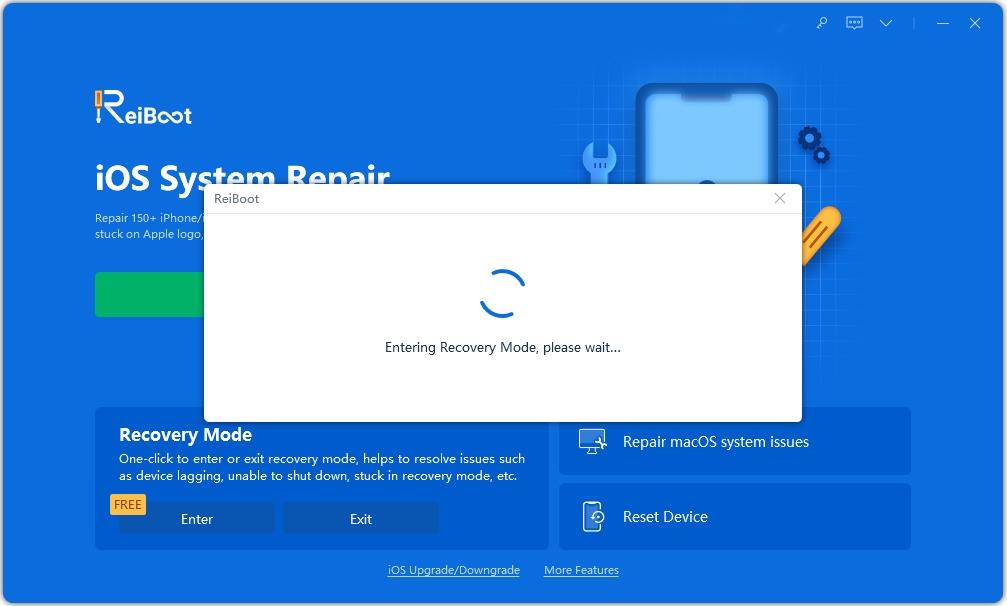 Summary
In the above article we discussed the easiest and simplest ways to resolve iPhone apps waiting after restore. Hopefully the solutions will work for you. Share your valuable feedback with us by commenting below.