Deeply Figure Out Why Can't Approve This iPhone [iPhone 13/12 Included]
by Sophie Green Updated on 2023-01-04 / Update for Fix iPhone
I turned on two factor authorization on my phone 12. The system starts saying that I need to log in one more time to ensure everything work properly. After I enter my iCloud password and my phone password it keeps loading and says waiting for approval. But I can't understand what should be my best steps. And I have exactly the same problem on my Mac."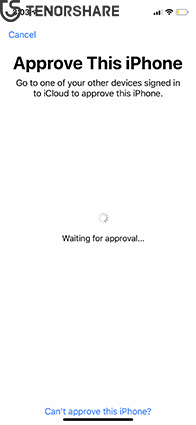 It's very posssible when you update your Apple ID settings with a chance to appear can't approve this iPhone. What will you do? Many users announce that they finally fixed this issue with the following ways which proved to be useful.
If you are the person who has such problem that can't approve this iPhone, try it.
Why Can't I Approve My New iPhone 13/12/11?
Why can't I approve my new iPhone 13/12/11 from another device is a pervasive problem, but Apple still doesn't address this minor issue. So, a combination of incorrect setting of iCloud Keychain and Two-Factor Authentication, and Apple's security complexity make it so hard to do things.