iCloud Keychain helps you avoid the hassle of remembering passwords of all your accounts as you can just enter those once on any of your iCloud enable device and it gets synced to all the others. Keychain automatically enters these passwords for various of your Apple devices so you are automatically logged in to your favorite websites and accounts.
Before you can use Keychain, you need to first set it up on your devices. It is pretty easy to set this up on your iOS enabled devices and it is even easier to do that if you follow our guide below that goes on to show how iCloud Keychain can be set up on an iPhone and iPad.
After you have followed the below guide, Keychain should be all up and running across your devices and you should see it in action on your device for yourself.
Setting Up iCloud Keychain on an iPhone/iPad
The first thing you will need to do is enable Keychain on your iOS device which can be done right from the settings menu of your device.
Open Settings and tap on the iCloud banner that contains your account information. Then, select iCloud on the following screen and tap on Keychain to open Keychain settings menu.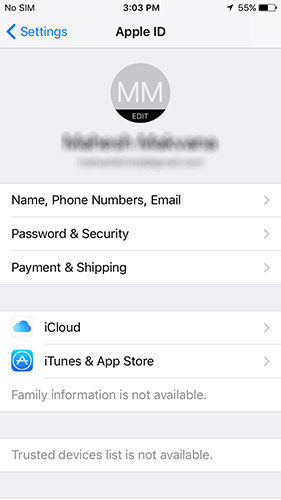 When you are on the Keychain settings page, turn the toggle to the ON position so that Keychain is enabled. You will be prompted to enter your Apple ID password. Do so and move forward.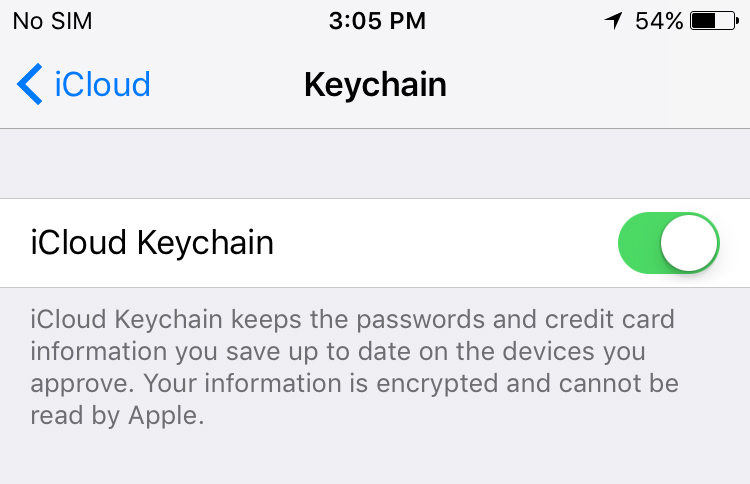 You can then follow the on-screen instructions to fully set up iCloud Keychain on your iPhone or iPad. You will be asked to create a passcode to access Keychain on your device. You should do that as it helps you keep your Keychain protected from other users.
Now that Keychain has been set up on your device, you can start using it to store confidential information for your various website accounts. It will remember all this information and will pre-fill it for you whenever required.
The iCloud Keychain has been set up on this device of yours and you can now do the same procedure that you did with this device to set up Keychain on your other devices. This way, your passwords and such other information will be shared across all your devices so that you don't need to remember each and every one of your password to log in to a website.
With all of these things happening on your iOS device, you might want to create a backup of your device that you can restore in case something goes wrong. A backup is highly recommended when you are making changes to your device so that you can restore your device to a working condition when things start to go south.
While you can always use iTunes to make a backup of your device, there are other apps as well that help you easily backup your iOS devices. One of these apps is called iCareFone by Tenorshare.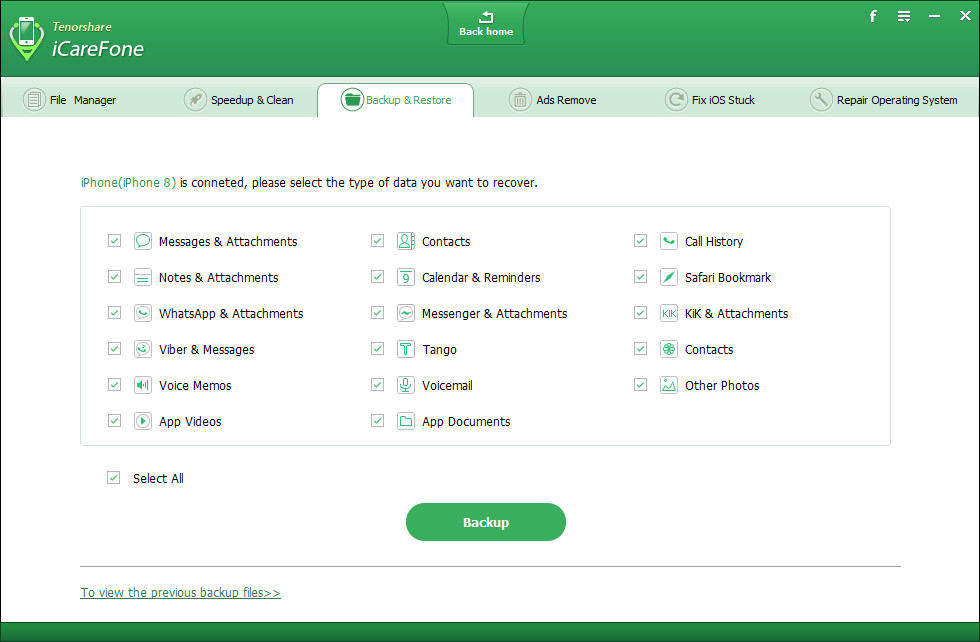 The iCareFone app helps you create full backups of your iOS device so that your important data is always safe and secure on your computer. If you don't want to create a full backup, it also lets you select what you wish to be backed up and it does the processes accordingly.
We hope this guide helps you set up and use iCloud Keychain on your iPhone and iPad.
Free Download
For Win 10/8.1/8/7/XP
Secure Download
Free Download
For macOS 10.13 and below
Secure Download
Related Articles
comments powered by