Top 5 Solutions to Fix iPhone Screen Flickering [iPhone 13 Supported]
by Jenefey Aaron Updated on 2022-09-13 / Update for Fix iPhone
Symptoms
Since updating to iOS 16, my iphone screen has been flickering. I've tried rebooting the phone hoping this may resolve the issue but unfortunately it hasn't. Can anyone help?
iPhone 6 screen flickering and unresponsive with a gray flickering bar at the top of the screen. This hardware flaw is also known as the "Touch Disease". Note that this issue is unique with iPhone . (See Solution 1)
iPhone screen keeps flickering when you're switching between apps, using 3D Touch or trying to search your iPhone with Spotlight. It could happen to iPhone 13/12/11/XR/XS/X, iPhone 8, iPhone 7, iPhone 6s, iPhone 6/5s and lower. (See Solution 2, Solution 3, Solution 4, Solution 5)
Note: If the iPhone is bought within 30 days, you can replace a new one at Apple Store.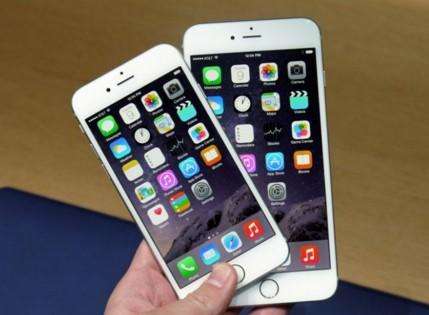 Recommended Solutions to Fix iPhone Screen Flickering and Unresponsive [iPhone 13 Supported]
Here in this post we are sharing several methods to solve iPhone screen flickering around edges.
Solution 1. Apple Multi-Touch Repair Program for iPhone 13 - iPhone 6
As described in symptom 1, the iPhone 6 "Touch Disease" is said to stem from Apple's design of its logic board for this particular phone. This board is home to most of the circuits that make your iPhone work, including the processor, storage, and touch controllers.
Apple has come up with Multi-Touch Repair Program to fix iPhone 6 Plus "Touch Disease", which claims to repair affected devices for a flat service price of $149. In order to have your devices repaired, you can visit either an Apple Authorized Service Provider, an Apple Retail Store, or contact Apple Technical Support.
Reference: https://www.apple.com/support/iphone6plus-multitouch/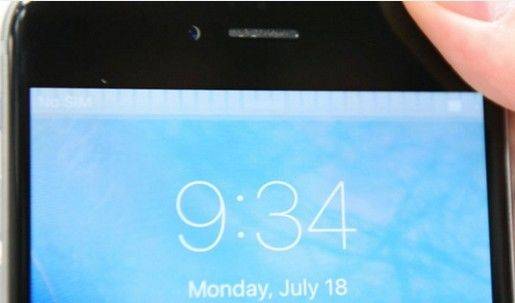 Why is my iphone screen flickering if yours is not the gray flickering bar in iPhone ? In this case, it might be resulted from some software issue or instability. Check the following solutions.
Solution 2. If iPhone Screen Flickering When Using a Certain App
If your iPhone screen shaking only occurs when you are using a specific app, there is a problem with that app. I suggest that you close that app to see if the problem is solved.
Follow the steps below to close an app on your iPhone.
On iPhone 13/12/11/XR/XS and X, swipe up from the bottom to the center of the screen; On iPhone 8 or earlier, double click the Home button.
All open apps will appear in a mini version on your screen.
Switch up and off the top of the screen to close an app.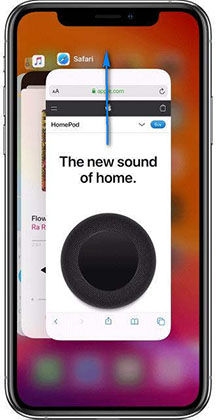 If your iPhone still flickers, you can delete that specific app and reinstall it for a try. To delete an app on iPhone, press and hold the app icon on iPhone's home screen, then you will see the "x". Tap it and click Delete button to confirm your decision.
Solution 3. Best Way to Fix iPhone Screen Flickering without Data Loss
For system problem, Tenorshare ReiBoot is recommended to repair iOS system without data loss. It supports to fix all kinds of iOS system issues by downloading the iOS firmware and repairing the system. No matter it is screen flickering, iPhone is won't turn on or it is stuck on Apple logo loop, this program is your best choice because all your data will be preserved.
Download this free program to your Windows PC or Mac.
Start Tenorshare ReiBoot on computer and connect iPhone with USB cable.
As the program interface shows up, choose "Repair Operating System" on the main interface.
Click "Start Repair" and you'll enter the interface to download firmware package.
With the firmware package, ReiBoot will repair iOS and fix the iOS problem.
Solution 4. Turn Brightness Down
Instead of rebooting and hard reset, there's another easy fix that worth trying.
Go to Settings—>Brightness, set your brightness to the lowest possible and keep this state for some time. Also disable Auto-Brightness.
After about ten minutes, set the brightness back to full and the screen wasn't flickering anymore.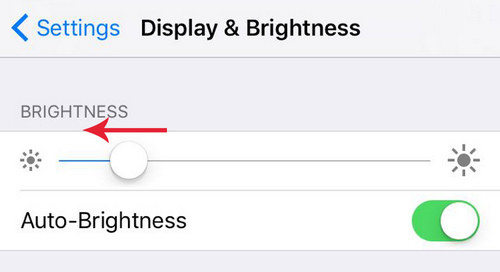 Solution 5. Turn Reduce Transparency On (for iPhone)
The Reduce Transparency option makes the iPhone graphical workload less by removing some of the transparent aesthetic features Apple has put into iOS 9. Spotlight, for example, has a grey background with Reduce Transparency turned on instead a murky image of your home screen wallpaper.
Go to Settings -> General -> Accessibility -> Increase Contrast -> Reduce Transparency
Turn Reduce Transparency on.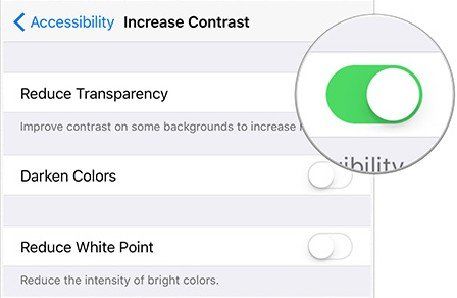 After this, your iPhone will be as buttery smooth as a regular iPhone 6s.
Solution 6. DFU Restore Your iPhone (Data Wipe)
If none of the above methods work, I am afraid you have to DFU restore your iPhone. This will wipe out all data and settings in the device. Before put your iPhone in DFU mode, please back up iPhone beforehand.
Follow this guide to put iPhone in DFU mode.
After your iPhone is in DFU mode, connect it to iTunes and iTunes will offer Update and Restore choices. Please select Restore to factory restore your device.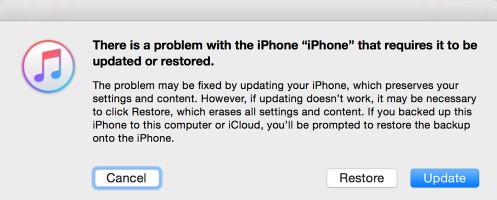 Bottom Line
Hope this article is helpful in fixing flickering iPhone screen problem in iOS 16. ReiBoot is the recommended method to solve iOS system issues without data loss.