[TinyUmbrella Fix] How to Use TinyUmbrella Fix Recovery
by Sophie Green Updated on 2020-04-01 / Update for iPhone Fix
Sometimes, in order to fix your iPhone, you generally would go into Recovery Mode. But what if your iPhone gets stuck on this Recovery Mode. Or, what if your iPhone keeps going into the Recovery Mode again and again without any intimation from your end? It is not really a major issue, but it can sure be very annoying to deal with it.
Fortunately, this issue can very well be rectified easily without much of a hassle as there are several tools available for this purpose in the market. TinyUmbrella is one such tool that help you get out of recovery mode without you having to restore your device and lose everything, and this article details how to use TinyUmbrella fix recovery on your iPhone easily.
Part 1: What Is TinyUmbrella?
Semaphore developed TinyUmbrella recovery fix, which is basically a two tool hybrid. The two tools are Umbrella and TinyTSS. Umbrella tool is used to save an iDevice's SHSH file so that the iDevice user can downgrade to an older firmware. TinyTSS is a tool using which a saved SHSH file is played back during a restore through iTunes by using a local server.
TinyUmbrella program is also useful for getting iPhone out of recovery mode without iTunes, fixing iTunes error 3194 and more. Now that you know what TinyUmbrella is let us have a look at how to fix iPhone in Recovery Mode using TinyUmbrella.
Part 2: How to Use TinyUmbrella Fix Recovery?
Using TinyUmbrella to fix recovery is very easy, and within a few minutes, you can get your iPhone to exit the Recovery Mode with the help of this tool. Follow the steps given below to know how to use TinyUmbrella to fix recovery. Because TinyUmbrella is not primarily a system recovery tool, it is not 100% guaranteed that it will work for your phone.
Get TinyUmbrella fix recovery download on your PC or Mac and install it. Note that you will need to have iTunes as well as Java. 32-bit version of Java will be required no matter what the OS architecture is.
After this, use a USB cable to connect your iPhone to the computer or Mac while it is in Recovery Mode.

After a few minutes, your iPhone will get detected after which you need to click on "Exit Recovery".

exit recovery
This will get your iPhone out of Recovery Mode. you may wonder how long does TinyUmbrella fix recovery take. Well, it takes a few minutes to finish the entire process. You can also use TinyUmbrella to fix 10xx recovery loop. Put your iPhone into DFU mode and then click "Fix Recovery".
Part 3: Common Issues on Using TinyUmbrella Fix Recovery
Most of the people who use TinyUmbrella do not face any major issues with the software. However, a few people have reported some errors when they use Tiny Umbrella app on their devices. Some of the most common issues are listed below.
Getting "TinyUmbrella.app is Damaged" error.
TinyUmbrella app causes the pop up of "Sign in to use the application again" dialogue box.
You are unable to retrieve SHSH blobs and are getting a message saying "You are too late".
The app crashes constantly whenever you click on TinyUmbrella.
Sometimes the program is unable to validate the libraries and shows the message "Unable to Validate Reticulating Spines".
It fails to work on Windows.
Part 4: The Best TinyUmbrella Fix Recovery Alternative – Tenorshare ReiBoot
If you are facing any issues when you use TinyUmbrella recovery, you can use a professional system recovery tool like Tenorshare ReiBoot. to fix not only the Recovery Mode issue but also DFU Mode stuck, Boot Loop, Reboot Loop stuck, White Apple logo stuck, black screen, etc. on your iPhone. This tool has been specifically designed to fix any kind of technical glitches in your iPhone or even your iPad. Some of the top features of this tool are listed below.
Free to enter Recovery Mode without home button.
One-click to exit Recovery Mode without restore.
Repair 50+ iOS system problems like recovery mode loop without data loss.
Downgrade iOS without data loss.
Fully compatible with the newest iPhone 11/11 Pro/XS/XS Max/XR/iPad Pro & iOS 13/iPadOS
Here is how you can use Tenorshare ReiBoot to exit the Recovery Mode when your iPhone is stuck on it.
Once you have installed Tenorshare ReiBoot on your system, launch it and connect your iPhone to your system with the help of a USB cable.

Connect iPhone

From the available options, click on "Exit Recovery Mode".

Exit Recovery Mode

Wait for a few minutes after this and your iPhone will get out of recovery mode automatically.

Exit Recovery Mode successfully
With just a single click you can repair your iPhone that is stuck on Recovery Mode with the help of Tenorshare ReiBoot. If a simply "Exit Recovery Mode" not working, you can select "Repair Operating System" on the main interface and to fix iPhone recovery mode stuck by repairing OS. No data loss at all.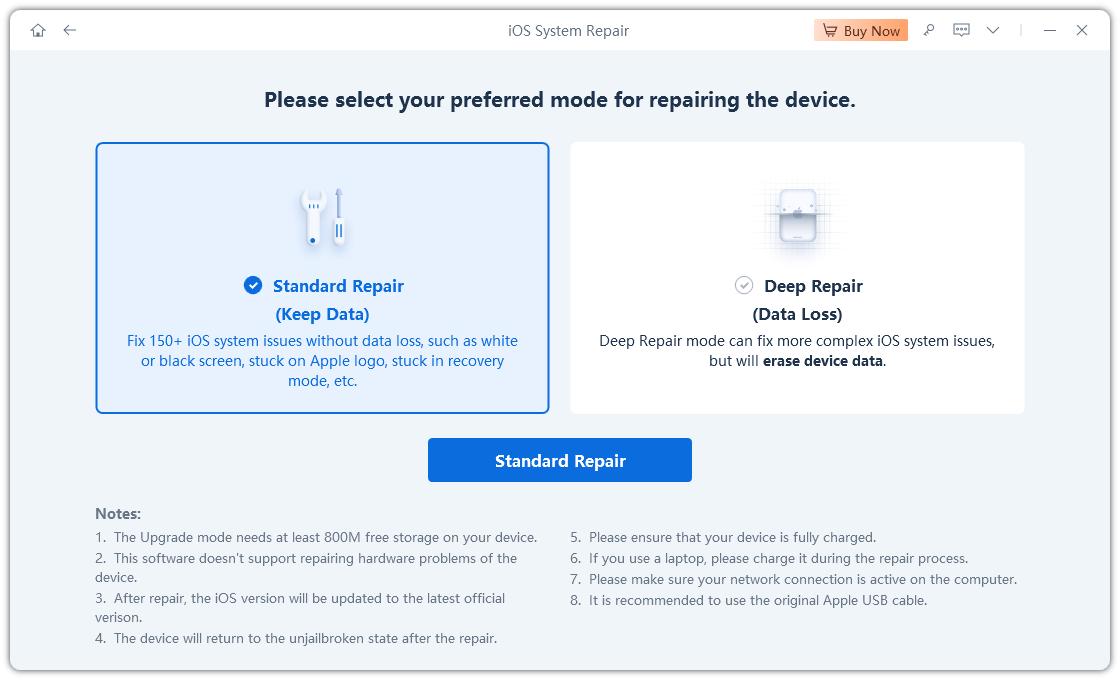 Conclusion
In this article, we have went through how to use TinyUmbrella fix recovery. Remember that TinyUmbrella is not primarily a system repir tool. If you are looking for a professional iOS system repair tool, Tenorshare ReiBoot should be the best choice for you. Free download it and get your iPhone fixed now.