How to Fix iPhone X 'Freezes Up' and Unresponsive
by Jenefey Aaron Updated on 2021-02-24 / Update for iPhone X Tips
Some users frequently complained a phenomenon concerning iPhone X screen freezing up on social media. In truth, the phenomenon can be caused by low temperature, jailbreak, iOS system update and so on. Based on these causes, we provide some relevant solutions on fixing iPhone freezing issue. In addition, it also applies to iPhone 12 Pro Max screen freezing.
Part 1: Common iPhone Freezing Issues
Issue 1: iPhone Bricked with Black Screen
The screen turns black, and your iPhone won't turn on. It's more likely to be an issue called iPhone freezing with black screen.
Issue 2: iPhone Unresponsive or Inaccurate in Low Temperature
Some users who live in cold climates have been suffering from an annoying problem. That is, their iPhone doesn't work in cold weather. This problem became more widely known according to the feedback from the Apple Community.

Read More: Tips and Tricks to Fix iPhone X Unresponsive in Cold Weather
Issue 3: App Freezes and Crashes on iPhone
Someone said they have encountered Apps "crashes" and not responding on iPhone 12 Pro Max/12/X/8. Messages, Music, Notes, App Store and other regular apps don't work properly. Sometimes the app could crash and close unexpectedly before it open. It's a quite annoying issue.

Read More: Fixing App crashing on iPhone X
Issue 4: iPhone X/XR Screen Respond abnormally after iOS 14/13.2/12 Update
Maybe you have just downloaded and installed new iOS, and then you may find your iPhone "bricked" after update. Why is that? The reason varies. Don't worry and it can be fixed by the following solutions.
Issue 5: iPhone XR Keeps Freezing During Setup
Some users make complaints about they can't set up new iPhone XR. That really frustrates you and we feel you. New iPhone XR is stuck on set up and won't shot down, according to a user's feedback from Apple community.
Issue 6: iPhone XR Keeps Freezing When I Press Lock Button
Another problem is that when you want to lock screen, a soft press side button, but what a shame, iPhone XR keeps frozen and there is no chance to do next step. Have you ever run into this problem?
Part 2: How to Fix Frozen iPhone X Screen Problem
Way 1: Don't Take iPhone Out in Extreme Cold Climate
Apple recommends using iOS devices in temperatures between 0 and 35 C (32 and 95 F). If you use your iPhone in extreme cold weather, the device might temporarily shorten battery life. In cold weather, you can turn off your device or put them into the pockets and keep it warm.
Way 2: Force Reboot iPhone to Repair Screen Freeze
Generally speaking, force restart is the easiest way for iPhone users to solve various iPhone routine problems including the screen frozen
1.If you are using iPhone 12 Pro Max/12/X above:
Step1: Press and quickly release the Volume Up button. Then do the same with the Volume Down button
Step2: Press and hold the Side button until the Apple Logo appears.
2.If you're using iPhone 6S and 6S:
Plus Press Home button and Sleep/Wake button at same time for about 10 seconds.
If you're using iPhone iPhone 7 and 7 Plus, iPhone SE:
Step1: Hold power and home button at the same time
Step2: Release all buttons until screen goes black.
Step3: Press Home button again until apple logo appears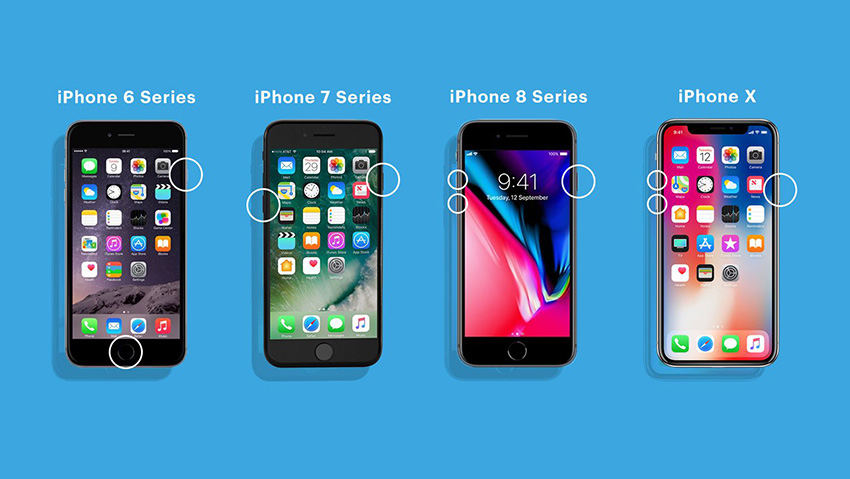 Way 3: Uninstall Crashing Apps
If you are running some apps that haven't been updated for some time, they could lead to iPhone freezing problem after a new iOS update. If this issue happens every time you launch an app, delete that app and reinstall it.
To delete an app on iPhone, tap and hold on the app icon from Home screen, then tap on the "X" on the left corner, tap on "Delete". Then you can download the app again from App Store.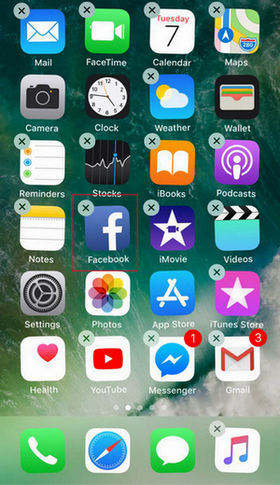 Way 4: Reset All Settings on iPhone X/12 Pro Max
Whenever you install a new update on iPhone, the settings will be overridden by new settings and may lead to some conflicts. Thus, you can reset all settings on iPhone to restore everything to the default.
Tap "Settings", "General" and then choose "Reset". Select "Reset All Settings" and enter the passcode to confirm.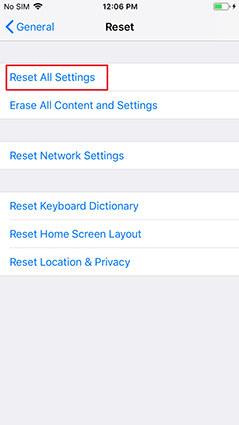 Way 5: Fix iPhone Screen Unresponsive without Data Loss
iPhone X frozen can't restart? Having tried the above ways, but don't work? Don't give up and Tenorshare ReiBoot will be your savior. As the excellent iOS system recovery software, Tenorshare ReiBoot is professionally designed to repair iOS system crash/errors/freeze without data loss.
1.Install and run Tenorshare ReiBoot on your computer, and connect your iPhone to computer via USB cable. Tap on "Start" from the main interface.

and then click "Standard Repair" in the new interface to download the latest iOS firmware package.

When the downloading process completed, click "Start Standard Repair" button. After waiting for several minutes, your device will automatically reboot without errors.
Way 6: Restore iPhone from Recovery Mode/DFU Mode(Data Loss)
Now, if you would like to take advantage of iTunes, then you can choose to enter recovery mode, which is a common way of fixing iPhone issues. But you need to back up firstly, because you're risked of losing data.
Step1: Press then release the Volume Up button.
Step2: Quickly press then release the Volume Down button.
Step3: Hold the side button till the Apple logo shows up.
Step4: When you see the Recovery Mode screen, release the side button.
If your iPhone X still freezing up after trying the above methods, there might be something severe on your iPhone. Apple allows its' users to perform a DUF mode restore to fix a lot of system glitches. Follow the steps below to out iPhone X into DFU mode:
Press and hold the Side/Power button for about 3 seconds.
Keep pressing on the Side/Power button then press and hold the Volume Down button for about 10 seconds.
If the screen stays black afterwards, it means that you have successfully entered DFU mode.
Then, iTunes will pop up a window and you can click "Restore" button in the interface.