iPassword App not Working on iPhone, How to Fix
by Sophie Green Updated on 2022-09-01 / Update for iPhone Fix
When will there be an update to the iPassword app for iOS 16? I try to open it, it goes through facial recognition, and then immediately closes! I'm unable to get my passwords."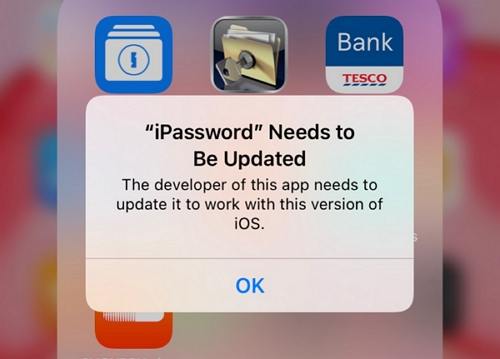 Apple has come up with the new iOS update and is currently working on the iOS 16 update. The recent iOS update has brought about several useful enhancements with powerful bug fixes in many features as well. While the upgraded features like iPhone unlock using Apple watch and Face unlock have proven to be very useful, most of the platforms still rely on the old passwords.
This is one of the reasons why many users keep a track of their passwords using apps like iPassword. However, with the recent update the iPassword app is showing some glitches. Is iPassword app not working on iPhone, you can use the below fixes to tackle the problem.
Part 1. How to Fix iPassword App Crashing/Not Working on iPhone?
If you are dealing with the problem of iPassword app crashing on iPhone or iPassword won't open on iPhone, you can use the following fixes to deal with the issue.
1. Update iPassword App to the Latest Version
The most common way to fix such an issue is by updating the iPassword app to the latest version using the steps given below.
From your phone's main menu, go to the App Store.
Search for the iPassword app and tap on it.
If any update is available for this app, you can see the "Update" option below it, tap on it.
iPassword app will then be updated to the latest version. After this, check if the problem of the iPassword app not working is occurring again or not.
2. Reinstall iPassword App
Another way to tackle this problem is by reinstalling the iPassword app after deleting it. You can follow the steps given below in order to do this.
Tap and hold the iPassword app on the main menu of your iPhone and tap on the "x" icon that appears at the top of the app.
Once done, go to the App Store and search for iPassword app.

Tap on the cloud icon to reinstall the iPassword app.
If you have already created a backup of your iPhone to iCloud, you can restore this from iCloud.
3. Contact the Developers of iPassword App
If none of the above methods work, you will have to directly contact the developers of the iPassword app. You can do this by using the "App Support" option given below this app on the App Store.
Open the App Store on your iPhone.
Search for the iPassword app using the search field.
Once you find the app click on it then you will see App information.
Scroll down and head over to the Rating & Reviews section.
Now you will see a button called "App Support" Tap it to continue.
This will redirect you to the app support page in your browser where you can contact the developers.
Part 2. Failed to Fix iPassword Issues, How to Retrieve Password Saved in iPassword?
iPassword won't open after upgrade? Currently, this app is no longer in use and its developer has stopped releasing any updates for it. This is why it is no longer compatible with the new iOS of iPhone. If you wish to retrieve the password saved on iPassword, you can use the below techniques.
1. Open iPassword on Older iOS to Retrieve Password
If you have an old iPhone with an older OS, you may have the iPassword app functional on it. You can open the iPassword app on that phone and retrieve whichever password you want from it.
2. Find Saved Password on iPhone Using 4uKey – Password Manager
If you have tried all the above ways to retrieve passwords from the iPassword app and have failed to do so, you can try Tenorshare 4uKey - Password Manager. This tool helps you in finding saved Wi-Fi passwords along with the stored websites & app login passwords on your iPhone.
It is an excellent password transfer tool that can be used to find saved passwords on any iOS device and can transfer the saved passwords on the iPassword app to your iOS password manager. Follow the steps given below to find password on iPhone using Tenorshare 4uKey - Password Manager.
Download, install, and launch Tenorshare 4uKey - Password Manager on your computer and connect your iOS device to it.

Click on "Start Scan" to scan the device for iOS passwords.

Preview the passwords, select the ones you want, and click on "Export".
This is how easy it is to find and retrieve passwords on your iOS device using Tenorshare 4uKey - Password Manager. With this tool you can find screen time passcode, saved Wifi passwords, saved website & app passwords, saved mail accounts, saved credit card information, Apple ID and password.
Conclusion
Dealing with the problem of iPassword app crashed lost all password? iPassword app was earlier used by several iOS device users to save their sensitive passwords in case they forget it in future. Currently, this app is not compatible with the newer iPhones so users are unable to retrieve their old passwords saved on this app. With the methods described above, you can now retrieve old passwords from the iPassword app easily. Using Tenorshare 4uKey - Password Manager for this purpose is highly recommended.