Can Trust This Computer Bypass? Here's Answer
by Sophie Green Updated on 2021-01-29 / Update for iPhone Fix
Before discussing how to bypass trust computer on iPhone, you need to understand if it's even possible to do so or not. In some cases, iPhone users break the screen of their iPhones which makes it extremely difficult to press the 'Trust this Computer' option from the iPhone. This will prevent you from updating, backing up, and restoring your iPhone with a computer through iTunes. As this problem arises, several wonder whether it's possible to bypass 'Trust this Computer' or not. If not, what other alternatives could you possibly take in order to complete this task? Read below to get an appropriate answer to this query of yours.
Can Trust This Computer iPhone Bypass?
Honestly, it is not possible to bypass trust this computer on an iPhone. The only way of doing so is by pressing the 'Trust this Computer' option from your iPhone. However, this may not be a suitable option for iPhones with broken screens or any similar issues preventing normal use of the iPhone. The only suitable option for you would be to get your iPhone screen fixed before going any further.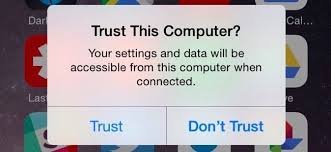 What Does 'Trust This Computer' Do on iPhone?
Do you want to know more about trust this computer iPhone bypass? Firstly, you need to understand what 'Trust This Computer' actually does on your iPhone. You can see this option whenever you connect an iPhone, iPod, or iPad to a computer or other device for the first time. You get a prompt asking you whether you want to trust this new device or not. By pressing the 'Trust This Computer' option, you become able to perform necessary actions through your computer.
First and foremost, a trusted computer can sync data with your device. This also allows you to create backups for your iPhone and update or restore iOS on your device. By trusting this computer, you can access files on your device through the computer and make the desired changes.
On the other hand, if you don't trust the computer, it blocks the access of this computer to your phone. You won't be able to perform actions like sync, update, or restore iOS. You will get the option to trust this computer every time that you connect it with the device. Whereas, if you choose to trust a computer, it remains trusted until you manually remove it from trusted devices.
Extra Tip: Bypass Trust Computer on iPhone to Fix iOS Bugs on ReiBoot
Now arises the question - How can I bypass trust my computer with my iPhone? If you aren't able to use the 'Trust This Computer' option on your iPhone, then it can be really difficult for you to fix any iOS issues that you might be encountering. In this case, you must be searching for an alternative solution to resolve all your iOS bugs.
You're in luck because I've got just the right tool for you! Try Tenorshare ReiBoot to fix all iOS issues that you might be encountering. Tenorshare ReiBoot is an amazing iOS recovery tool capable of repairing your iPhone iOS and getting rid of any issues caused by a faulty iOS. ReiBoot provides a user-friendly interface that is fun to work around. The best part about using ReiBoot is that you don't have to confirm 'Trust This Computer' in order to properly use it. Let's take a look at how you can use ReiBoot to fix all iOS bugs.
Download and install Tenorshare ReiBoot on your PC or Mac.
Connect your device with the computer via a USB cable and launch ReiBoot.

Click on'Start' from the home menu.

From the page shown below, select and press 'Standard Repair'.

Download the firmware package by first browsing the destination and then, press 'Download'.

Lastly, press'Start Standard Repair'to begin the iOS recovery process.

When you see the following screen, it means your issue has been solved.
Conclusion
Today's guide covered everything that you need to know about trust this computer iPhone bypass. Although you cannot bypass trust this computer on the iPhone, there are still several ways you can perform similar tasks. I'd personally recommend using Tenorshare ReiBoot as it proves to be the most reliable and safe method to solve iOS bugs without having to 'Trust This Computer'.
FAQs about Trust Computer on iPhone
If you have any questions or queries related to trust this computer on iPhone, then be sure to read the answers below.
Q1: How do I get my phone to trust my computer again?
If you didn't trust a computer and want to get the option to trust it again, then simply re-connect the iPhone with the computer and you'll encounter the same prompt again.
Q2: How do you reset trust settings on iPhone?
You can reset all trusted devices from your iPhone by following the steps below:
Go to 'Settings' and then 'General'.
Select 'Reset'.

Press 'Reset Location & Privacy'.