iPhone 13 Stuck on Zoom in Mode, How to Fix
by Jenefey Aaron Updated on 2021-09-25 / Update for Fix iPhone
iPhone 13 Stuck on Zoom in Mode!
"I hear a reminder alarm on my iPhone and all of a sudden I look at it and the screen is zoomed in... EVERYTHING is literally zoomed in...even the apps, the games, every single screen. I have to hold my finger down to literally scroll down even to enter the user password to use my iPhone... I have to scroll down even to use the apps! Please help."
--- From MacRumers
When iPhone users in home screen (standard view), they get stuck on zoomed mode. Mostly iPhone 6 screen automatically go into zoom mode. What would you do when you are suddenly stuck in Zoom mode? Here we list several tips help fix this.
Several Tips to Fix iPhone Stuck in Zoom Mode (iPhone 13/SE/6s/6/6 Plus/5S/5C/5/4S)
Tip 1: Restart Your iPhone
When your iPhone is stuck on zoom mode, restarting your iPhone may help. You just simply press and hold the sleep/wake button. When you notice the slider, drag it, and turn the device off. Turn on it after 3-5 minutes, and you will find the screen becomes normal again.
Tip 2: Turn off Zoom
Tap on Settings > General > Accessibility > Zoom. Toggle the switch, and turn it off. Sometimes, when the device is stuck in zoom mode, it is actually very difficult to turn it off. However, you can use iTunes. Connect your device with your computer via USB cable. Once the software recognizes your iPhone, find Configure Accessibility in the summary page. Choose option: Neither. Click OK, and you are done. The problem will be solved.
Tip 3: Use iPhone Recovery Mode
Sometimes, iPhone recovery mode may help you fix this. Here we recommend you the freeware – Tenorshare ReiBoot to get your iPhone into and out of recovery mode.
First download and install Tenorshare ReiBoot on your PC.
Connect your iPhone to PC and launch Tenorshare ReiBoot.
When the tool has automatically detected your device, click "Enter Recovery Mode", and then click on 'Exit Recovery Mode" to reboot your iPhone.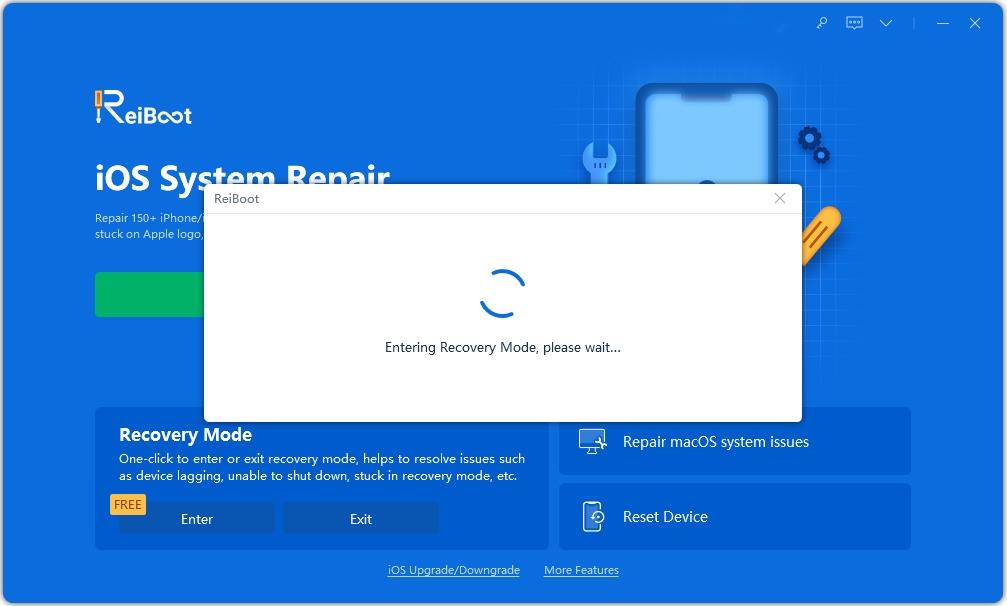 Tip 4: Restore iPhone to Factory Settings
If you still haven't get success, I am afraid you will have to restore your iPhone as new. Note that you will lose all lose all your data. Remember to backup first.
Connect your iPhone to your PC or Mac.
Launch iTunes.
Select your device from the top left menu.
Click on Restore iPhone.
Click on Restore and Update.
If you forgot to backup, you will be able to use iPhone data recovery tool to get back lost iPhone data.
Extra: Zoom Mode or Standard Mode?
One of the 1st decisions you will have to make about your new iPhone 6 is whether you want it to run in "Zoomed" mode or "Standard" mode. What are they exactly?
Standard mode:> displays text and application icons at the exact same size as they were displayed on the smaller 4 inch screen of the iPhone 5 and 5s (and even the older 3.5" screens of the the other iPhone 4s and older models).
Zoom mode: In this mode iOS increases the size of the text and the application icons making icons a little easier to touch with your fingers on the screen and text a little bit easier to read.