What to Do When Your iPhone Keeps Turning Off and Back on
by Jenefey Aaron Updated on 2019-10-02 / Update for Fix iPhone
"After i updated my iPhone to iOS 13 it turns off my iPhone resets as a new phone every time"
"Why does my iPhone keep shutting off even though it still has 20% battery?"
Though iPhone has strong and amazing features which bring brilliant experience for us, there are still some issues exists which may frustrate users a lot, and the most recent complaints we have received are iPhone keeps turning on and off. If you also face with this problem, it is a good idea to read this article which will show you the causes of this problem and provide some solutions.
Part 1: The Causes of iPhone Keeps Shutting Off
You must wonder why does my iPhone keeps shutting off? Before we show you the method to fix this problem, it is better to briefly know the causes of iPhone randomly turns off.
new iOS updating stop in half-way or update failed
Malware attack or faulty apps
Maximum use of storage
Hardware issue—malfunctioning component on your iPhone
Part 2: General Way to Fix iPhone Keeps Turning Down Problem
Method 1: By Hard Resetting iPhone
First of all, you can try hard reboot your iPhone to fix this issue, different iPhone model has different hard resetting steps:
For iPhone 6 and earlier: Press and hold the Home + the Power buttons about 10 seconds until the screen turns black and restart again.
For iPhone 7/7 Plus: Press and hold the Power + Volume Down buttons simultaneously until the Apple logo show up on the screen and then release the buttons immediately.
For iPhone 8/8 Plus/X/XS/XS MAX/XR: Press and release the Volume Up button, then press and release the Volume Down button, finally Press the Power button on the side until the Apple logo appears on the screen.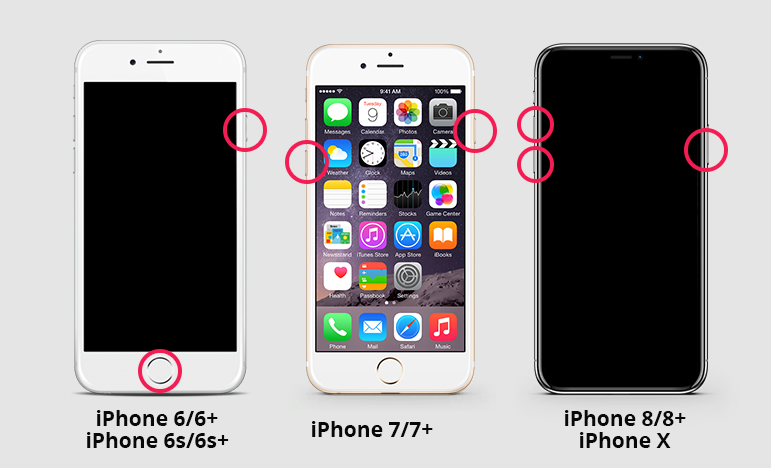 Method 2: By Updating Apps on iPhone
No matter how strong the App Store is, some software failed update completely may lead to malfunctions in your system, so please update all the apps on your phone.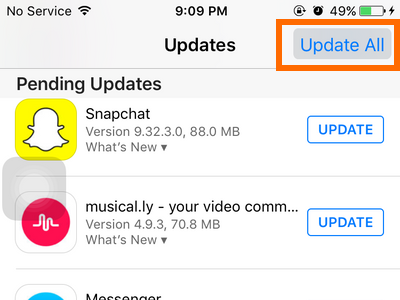 Also, there also contain poorly coded on the apps which caused this kind of issue, so you can remove some recent installing apps to fix this kind of problem.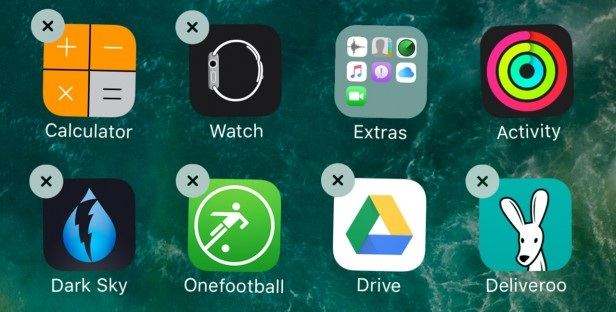 Method 3: Free Up Storage Space to Fix This Issues
As we all know, to free up our storage space can optimize the performance of iPhone. Similarly, an insufficient storage space on your device could also cause to remain on a constant bootloop. You can check the storage space on General>>>Manage Storage, if the available space is not sufficient, you can delete some unusable apps or files to free up space.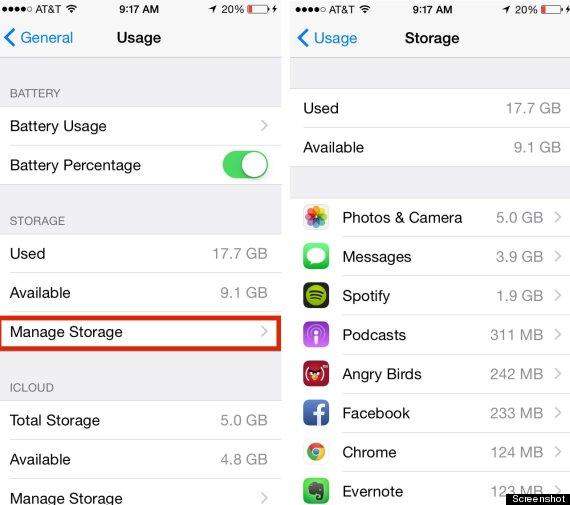 Or you can use iCareFone to manage your iPhone storage as well, which will provide you to manage files more easily.
Method 4: Fix This Problem via Restoring from iTunes
This way is also very recommended, you can fix iPhone randomly shuts off problem through the way of restoring via iTunes. But if you try this way to solve this problem, you'd better to backup files beforehand to avoid losing data. Follow these simple steps to do it:
Step 1Connect the iPhone to computer with USB cable, and the iTunes will pop up automatically.
Step 2Click the Summary on the left menu, and find "Restore iPhone".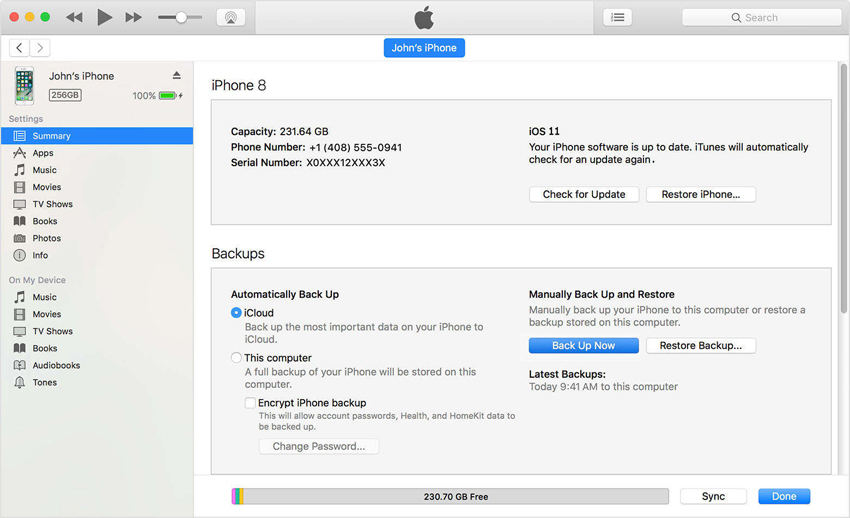 Notes: If you do not backup files, please click "Back Up Now" to backup files to avoid losing data.
Step 3Select the most relevant backup to restore the device to and then click "Restore". Wait for the process to be completed and the device should be back to normal.
Method 5: Fix This Issues through Checking Battery Health
Also, the iPhone shuts down randomly problem sometime just because of your battery problem. You can try to fix this issue by draining the iPhone's battery and recharging it again.
Step 1Leave your iPhone' battery draining until it completely discharge.
Step 2Plug your iPhone to power and wait for charging completely (do not use the phone while charging)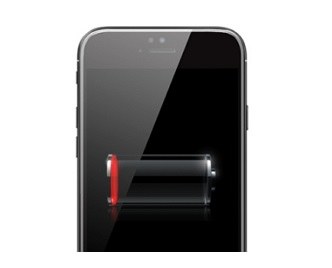 Step 3When your iPhone's battery is full, turn on your iPhone to see if the problem if fixed.
Part 3: 100% Work to Fix iPhone Keeps Turning Off Problem without Data Loss
If the above three steps are not work well, you can try the way of repairing system to fix my iPhone keeps turning on and off problem. This is the high recommended way to fix this problem with the use of ReiBoot. No matter what your iPhone model is, like iPhone 6/7/7Plus/8/X/XS/XR etc. this software can help you to solve this issue without losing data on the device.
Please download and install ReiBoot on your computer and then follow these simple steps:
Step 1Connect your device to computer with USB cables. Click "Repair Operating System" after detect your device successfully.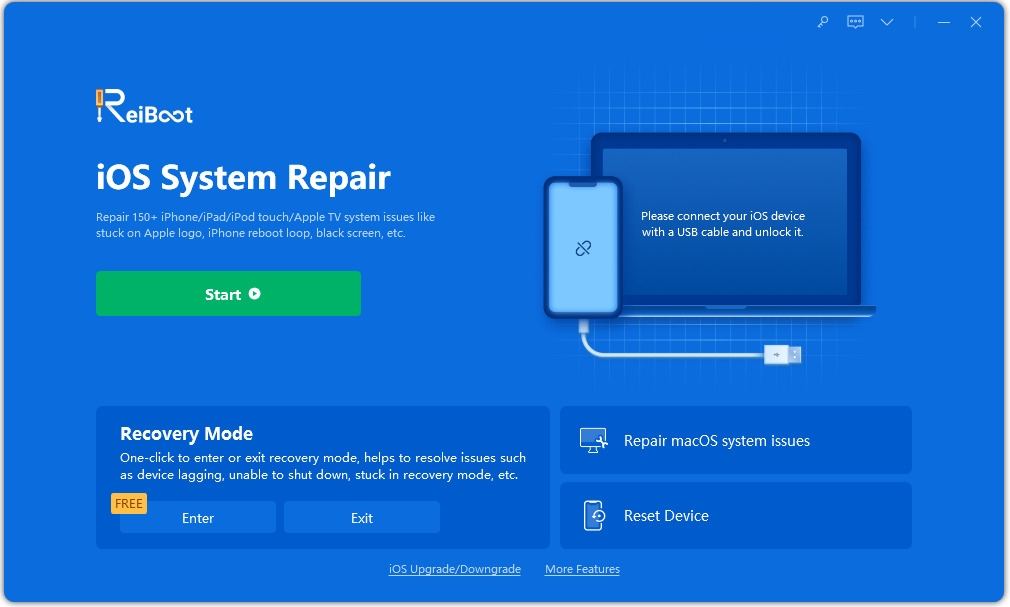 Step 2Click on "Start Repair" and then click "Fix Now".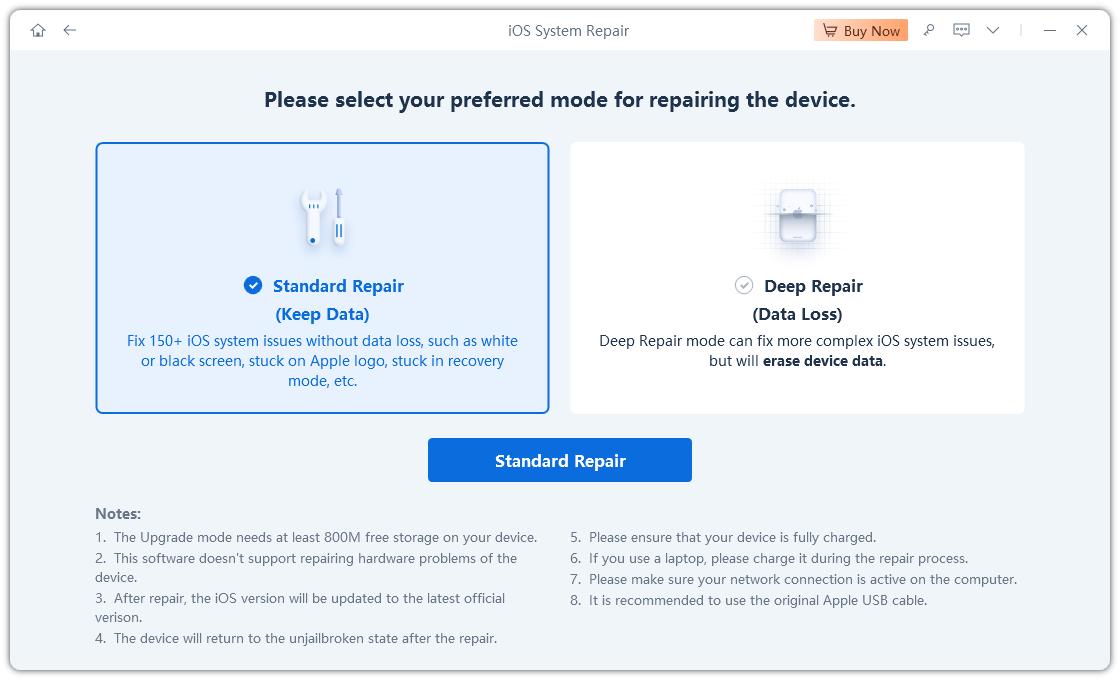 Step 3The software will automatically choose the latest firmware package online for your device, then click "Download"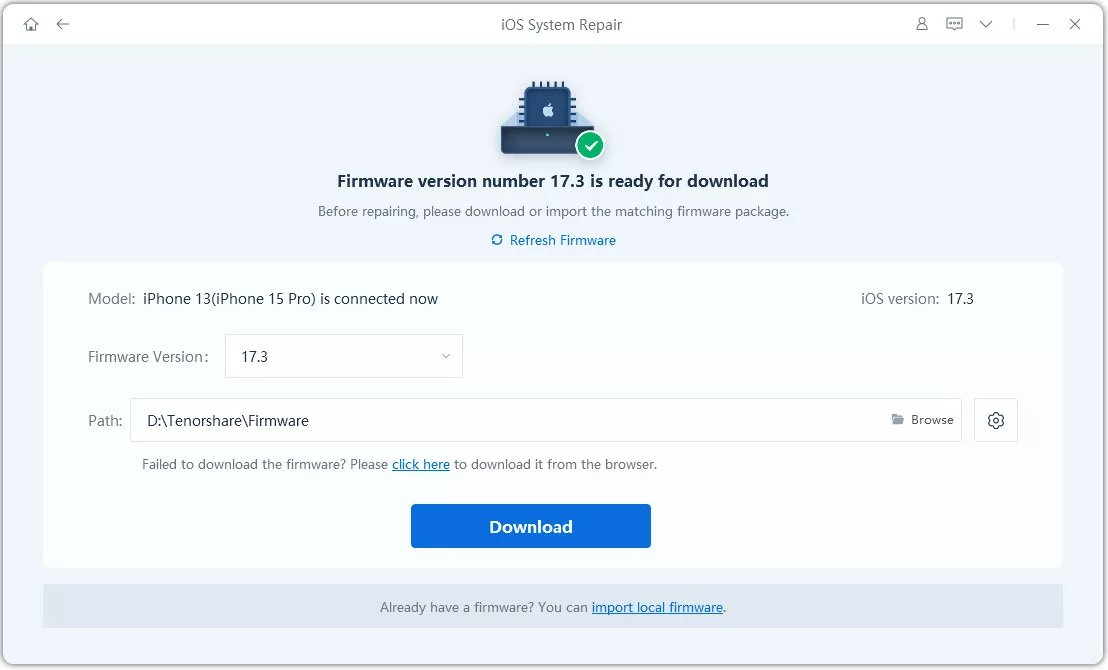 Step 4Once the firmware package is downloaded to computer, you can click "Start Repair" to start repair operating system.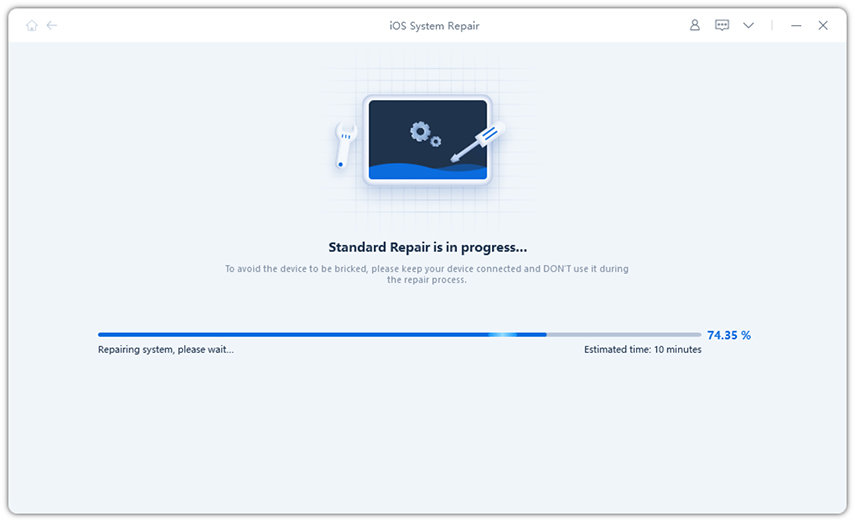 Part 4: Contact Apple If Caused by Hardware Problem
If the all methods we show you cannot fix the problem of iPhone turns off by itself, it may cause by the hardware problem. Please contact Apple or visit the nearest Apple store to fix your iPhone hardware to solve this problem.
Conclusion:
The above 7 methods we show you are the general ways to solve iPhone keeps shutting down problem which fit all iPhone model. We hope this article will help your phone get back to normal and enjoy your using experience. Besides, this safe system repair software can repair 50+ iOS system problem without data loss, like stuck on Apple logo, black screen, start loop etc. If you find this article is useful, please share it to your friends and add the comment below.