Fix iPhone Ghost Touches with Top 8 Ways
by Anna Sherry Updated on 2021-06-22 / Update for iPhone Tips
Hey, I hope you all are doing well. Today, I have noticed a strange issue that is common but more irritating. I am talking about iPhone ghost touches. This irritating ghost touch wastes a lot of time, and it happens very often. Please do let me know if you have any solutions for it."
Ghost touch is a common issue, but it can be irritating at the same time. It happens when your device starts to perform actions without your permission. However, don't worry because there are many solutions that you can try to solve this issue. Some of them are mentioned below.
Part 1: Why My iPhone Ghost Touches? Pressing things by itself?
If you want to know about theiPhone Ghost touches and why it happens? We have explained everything below. Read carefully to find all the important details.
1.What is iPhone Ghost?
iPhone Ghost refers to the operations that are performed on their own, which is one of the screen issues. Yes, you heard it right. This term is not used widely, so many iPhone users are not aware of it. But most of us have faced this issue several times. It can be annoying as it launches several applications and slows down your iPhone as well.
2.Why does iPhone Ghost Touches Appear?
There can be many reasons for the iPhone ghost screen, such as when you update your iPhone, it starts to perform operations on its own. Those who are using iOS 13 are most likely to get this bug. Furthermore, if your screen is not clean, you will see the apps working on their own, which would also be related to ghost touch. But the good news is that we have a complete solution for this. Continue reading to find out how to fix iPhone ghost touches.
Part 2: Basic Fixes to Solve iPhone Ghost Touches
Are you looking for the iPhone ghost touch fixes? We have 8 best solutions to try and fix this problem in no time. Let's discuss them one by one so that you can get more ideas.
Fix #1. Make Sure Your Screen is Clean
Cleaning your screen can be an effective solution against ghost touch. Sometimes due to dust, your screen doesn't work properly, so make sure that it's clean all the time. To clean your screen, you have to follow some basic rules, such as don't clean it if your device is plugged. Plus, clean your device using warm water.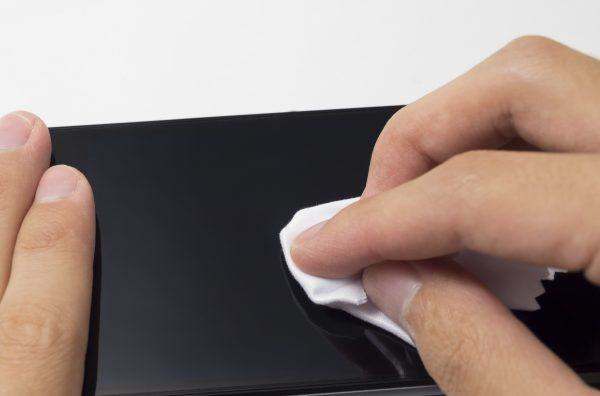 If cleaning doesn't repair the iPhone 11 ghost touch issue, we have a second method for you as well.
Fix #2. Remove Your Screen Protector and Case
If you are using iPhone XR and ghost touch happens, we would suggest you remove your screen protector and case. We agree that protectors are very effective, but sometimes they can cause issues as well. Therefore, remove the case slowly and then use the iPhone.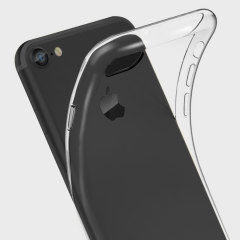 These were some basic solutions that you can try to solve this issue. If you need advanced ones, read the details below.
Part 3: Advanced Fixes to Resolve Ghost Touch iPhone 12/11/X/XR/XS/6
Are you looking for iPhone X, XR, and XS ghost touch solutions? You are at the right place because we have some quick fixes that you can definitely try if your iPhone is pressing things itself. Let's discuss them one by one.
Fix #1. Soft Restart to Solve iPhone 11/X Ghost Touch
It's always a good idea to restart your iPhone whenever you face any issues. So, here is what you can do to soft restart your device.
iPhone SE (1st generation), 5, or earlier,iPhone SE (2nd generation), 8, 7, or 6:Press and hold the power button until the power off slider appears, then drag the slider

iPhone X, 11, or 12:Press and hold either volume button and the side button until the power off slider appears, then drag the slider
Fix #2. Force Restart to Fix iPhone 11/X Ghost Touch
Force restart will help to fix the iPhone ghost touch issue. However, make sure to try this method if you cannot fix the issue using the restart method. Here is what you can do to solve it.
iPhone X, iPhone XS, iPhone XR, iPhone 11, or iPhone 12,iPhone 8 or iPhone SE (2nd generation):Press and release the two buttons: volume up button and volume down.Now, hold the side button and release it until you see the Apple logo.After that, check your iPhone and see how it is working.

iPhone 7:Press and hold both the volume down button and the Sleep/Wake button at the same time. When the Apple logo appears, release both buttons.

iPhone 6s or iPhone SE (1st generation): Press and hold both the Sleep/Wake button and the Home button at the same time. When the Apple logo appears, release both buttons.
Fix #3. iPhone 11/X/XS Ghost Touch Fix by iOS Update
One of the best things to fix iPhone ghost touch is updating your iOS version. Updating your device will definitely help you to solve this problem. Also, it's not a good idea to use old versions, therefore, verify the version from the settings.
Fix #4. Reset All Settings to Solve iPhone XS/XR Ghost Touch
In case you want to solve iPhone XS and XR ghost touch, reset all your settings. You can do it by opening your device Settings. Once you are on the Setting page, tap general and click the "Reset All Settings" option. Hopefully, this will resolve your problem.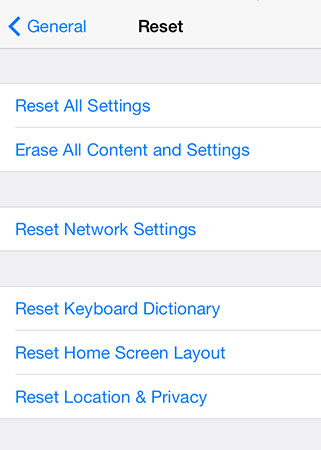 Fix #5. Factory Reset to Fix iPhone Ghost Touches
The fifth method is to factory reset your iPhone, and for that, you can follow the steps mentioned below.
First, open your iphone's settings.
Now, click the General option.
Then select the "Erase All Content and Settings." Once it is done, you will be asked to adjust everything from scratch.
Keep in mind that this method should be applied when nothing works for you. In case you didn't get the solution, we would suggest you try method number 6.
Fix #6. Best iPhone X Ghost Touch Solution: Repair iOS System with ReiBoot
If you want to repair the iPhone 6 ghost touch problem, try using Tenorshare ReiBoot. It's one of the best iPhone recovery mode tools, and anyone can use it without facing any issues. You can easily enter and exit the recovery mode, and the good news is that it works for all the latest versions.
Download and install ReiBoot on Computer.Launch the program and then plug-in iPhone to your computer using USB.

Now, select the "Standard Repair" option from the list and then tap on 'Standard Repair.' button.

Then,Tap the "Download" button to get the repair firmware package downloaded to your computer

Hit "Start Repair" to start repairing, and your device will be restored back to normal.

If problems still exist after standard repair. In the following interface, select 'Deep Repair' and read the note below carefully. If there's no problem, please click 'Deep Repair'.

Then do the same steps as the standard repair. After a while, your device will be repaired successfully, just to check if your device goes back to normal.
Conclusion
We hope this article will help solve the iPhone ghost touch issues. We have mentioned all the possible solutions that you can try. Also, here is a quick tip use ReiBoot from Tenorshare that will help to resolve all your iOS issues.