4 Best Ways to Fix iPhone Won't Turn off Issue
by Jenefey Aaron Updated on 2021-09-24 / Update for iPhone Fix
"It was a few days back, I was listening to music from my iPhone but suddenly it started lagging so, I decided to turn it off and then back on again. Surprisingly, I was not able to turn off the device. My iPhone won't turn off, please, give me some solutions."
It's time to get really worried if your iPhone won't turn off. It is possible that the battery will run out or worse, your iPhone is broken. It is a very rare situation for iPhone to get stuck but it has happened to you and below we have discussed some methods that may help you fix it.
Way 1: Force Restart iPhone and Try Again
First, you should make a Hard reset or a Force Restart your iPhone and then try to turn it off again. The Force Restart sequence is a bit different depending on the model of iPhones, below they are sorted out accordingly.
If you are using iPhone 6 or older models of iPhones:
Press the Power and the Home button for no more than 10 seconds. The screen will go black, then let go of the two buttons when the Apple Logo is visible.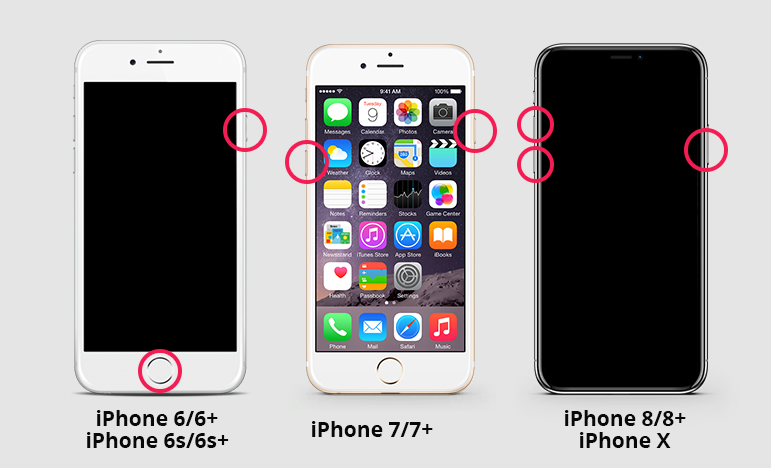 If you are using iPhone 7 or iPhone 7 Plus:
Press and hold the Power and Volume Down button at the same time for 10 seconds. Now, just follow the same method and let go of the buttons when you see the Apple Logo.
If you are using iPhone 8 or any later model of iPhone:
This will be a bit different, tap Volume Up button and then tap Volume Down button then press and hold the Side button. The screen will go black but when you see the Apple Logo, let go of the buttons.
If you are saying that "my iPhone is frozen and won't turn off" then you should probably make the Force Restart of the device first, it is known for solving various problems.
Way 2: Use Assistive Touch if Buttons not Working to Turn off
If your iPhone frozen won't turn off, then you can try another method to turn off your mobile. It is a simple procedure, induced by Apple if the Home button is broken and not working you can turn off the device through the software.
Apple introduced Assistive Touch for physically handicapped people, it is just a version of the Home button on your screen. You can use the following procedure to activate the feature;
Step 1: Go to the Settings and then head to General. From there go to Accessibility. You will find the Interaction Section, there tap on Assistive Touch.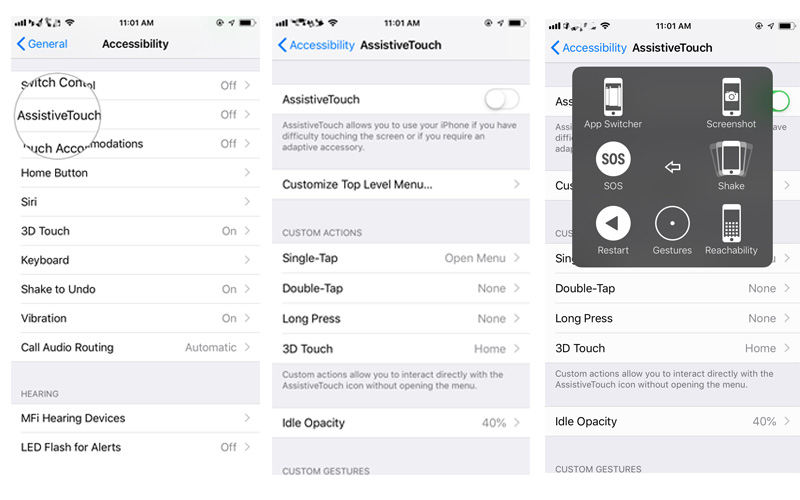 Step 2: In the assistive Touch Panel you will find a switch, tap on it to turn it to Green and then a new icon will be visible on the screen.
Step 3: That is the new software-based Home button. Now, tap on it and then go to Device.
Step 4: Then tap and hold the Lock Screen until the Power Slider is visible.
Step 5: Now, just swipe the Slider to turn off the phone.
Assistive Touch is a very useful function, there are a lot of iPhone users in the world, who are using an iPhone with broken Home button, but the Assistive Touch feature has helped them to hold on to their device.
Way 3: Restore iPhone from iTunes Backup
If Force Restart and Assistive Touch have failed to fix the problem and you still have the iPhone frozen and won't turn off then it is possible that it is a software problem. It will be nearly impossible for an average user to figure out the problem with the iOS. So, it is better to restore the device from a previous backup. It will delete all the data and settings from your iPhone, but it will also give you a new start.
Step 1: Connect the iPhone to the computer and the iTunes should be launched automatically.
Step 2: Then, click on the iPhone icon at the top left corner of the iTunes window.
Step 3: Now, head for the Backup Section and select Restore Backup.
Step 4: Just select a proper backup and follow the prompts on the screen to restore it.
Way 4: Contact Apple Support Centre
If none of the above was able to fix your iPhone and the problem may be bigger than we initially thought it to be, it may be impossible to fix it at home. So, your only option is to make a visit to the Apple Support Centre, you can also call them up, but charges will be applied if your iPhone does not fall under warranty. So, you can also take help from Apple Support Centre if the iPhone turned off and won't turn back on.
Extra Tip: How to Fix iPhone Software Issues without Data Loss
You can use the services of a third-party software to fix any issues with the iOS. The software is called Tenorshare ReiBoot and it is known to fix various troubling issues with the iOS very efficiently.
Using ReiBoot, any user can enter or exit Recovery Mode with 1-click at will.
You will be able to reset the iPhone without the help of iTunes.
ReiBoot can fix various issues with iPhones or any iOS device, like iPhone Boot Loop, iPhone Stuck on Loading, iPhone Disabled Screen, iPhone Frozen Screen, iPhone Black Screen, updates and restore errors with iTunes and iPhone Stuck Problems.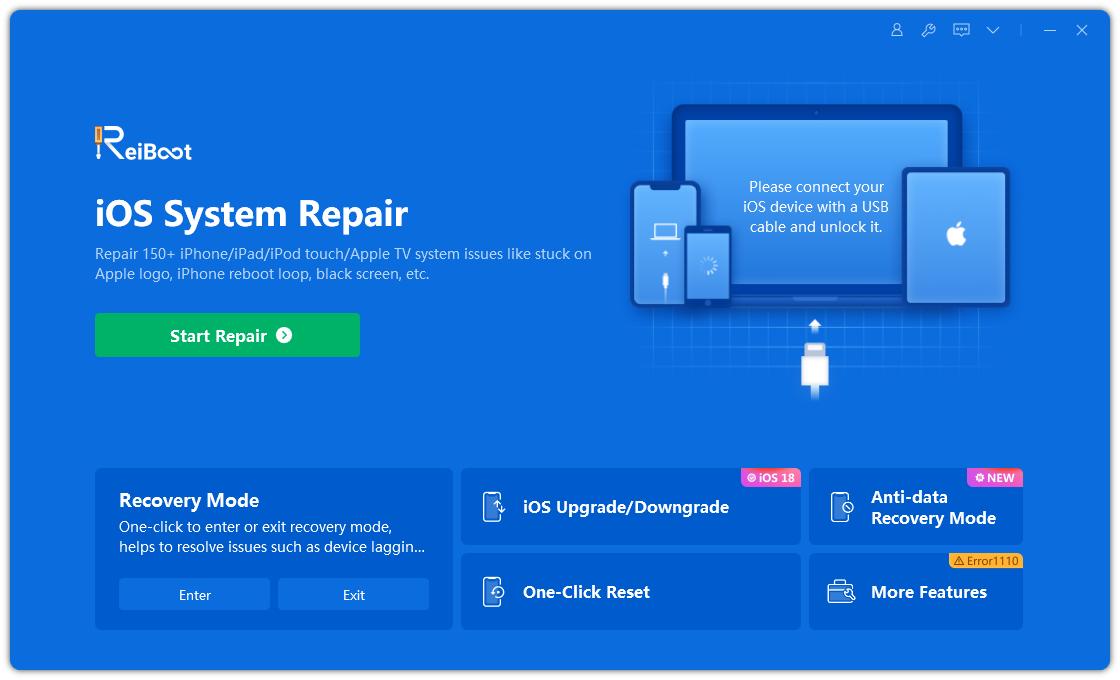 It is a very rare situation for iPhones to get stuck like that but if it has happened to you then you need to fix it any way possible. Most of the remedies mentioned here are very effective but we can't always be sure that they will definitely fix the device. The problem could be so big that you may have to take it to the Support Centre, but still try them out they could be of help to you. Also, to fix any software issues with iOS device use Tenorshare ReiBoot, it can fix almost anything and that too very effectively.