Easy Fixes to iPhone SE Bluetooth Audio Issues
by Jenefey Aaron Updated on 2019-07-25 / Update for iPhone Fix
Apple launched its new iPhone SE on March 31as the "most powerful 4-inch iPhone ever". But now an increasing number of users complain that the audio of a phone call via Bluetooth is distorted or scratchy when the phone is paired with a vehicle or wireless headset.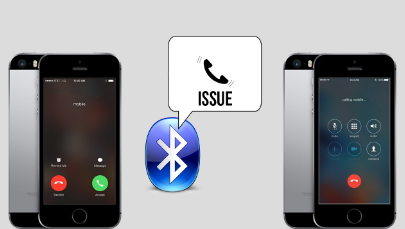 "I have a new iPhone SE and have so far paired it to a 2014 BMW 328i and a 2011 Kia Optima and a 2015 Kia Santa Fe. In all cases, I have terrible quality bluetooth call reception... the audio while on a phone call is extremely scratchy and distorted.

If I pair an iPhone 6S to each of these vehicles (same iOS version - 9.3.1), I do NOT experience these issues and calls are clear.

When I use the iPhone SE to make phone calls outside of Bluetooth, I have no issues and calls are clear.

This Bluetooth issue on my iPhone SE does NOT impact Bluetooth music streaming. Only sounds scratchy / distorted with phone calls…"

- Apple Community

This issue can be found on all iPhone SE models that operate under iOS 9.3 or iOS 9.3.1, affecting all phone carrier models and car manufactures. Luckily, the support team from Apple is in place to resolve the problem for good and now they already release iOS 9.3.2 for us to fix the audio issues with Bluetooth phone calls when the phone is paired with a vehicle or wireless headset .
How to Fix iPhone SE Bluetooth Phone Call Issues?
Below are the top 4 ways users used to fix iPhone SE Bluetooth phone call issues.
1. Reset network settings.
2. Erase all contents and settings and then set up as a new iPhone. (Lost important data on your iPhone SE after factory reset? Tenorshare iPhone Data Recovery can easily recover lost data on your iPhone SE.)
3. Unpaired and re-paired the phone after "forgetting" the device in each vehicle.
4. Update your iPhone SE to iOS 9.3.2. Apple has just released iOS 9.3.2 that fixes a handful of minor bugs. The most significant fix is related to the iPhone SE, is the audio quality issues when paired to Bluetooth headsets. The full release notes are below:
Fixes an issue where some Bluetooth accessories could experience audio quality issues when paired to the iPhone SE
Fixes an issue where looking up dictionary definitions could fail
Addresses an issue that prevented typing email addresses when using the Japanese Kana keyboard in Mail and Messages
Fixes an issue for VoiceOver users using the Alex voice, where the device switches to a different voice to announce punctuation or spaces
Fixes an issue that prevented MDM servers from installing Custom B2B apps
Hope our fixes will get your problem solved perfectly. If the problem still exists, you have to make an appointment with the Genius Bar at your Apple Store and ask for a replacement.