6 Best Ways to Fix Frozen iPhone 6/6s
by Jenefey Aaron Updated on 2020-02-25 / Update for iPhone Fix
"It was almost a year ago when I was using my iPhone 6, and I was simply playing some games and it just froze, suddenly. I was new with iOS devices and I just panicked. I had no idea what to do next."
This was before I became closely acquainted with the device, now I will have no problem with my iPhone 6 freezing. I have learned a few fixes and I just apply those to take care of my device. Those fixes are discussed below for your convenience. But just remember one thing; this problem can be caused by both software and hardware issues. If it is a software issue then you will probably be able to fix it but if it is a hardware problem then you won't be able to do a thing.
Part 1: iPhone 6 Screen Frozen, How to Fix
There are several ways to fix iPhone 6 screen frozen but only if it was caused by a software defect. If it is a hardware problem, unfortunately, you have to take the faulty device to the nearest Apple Support Centre. Here are some ways to troubleshoot:
Way 1: Force Restart iPhone 6/6s When Frozen
If you don't know how to unfreeze iPhone 6 then you can try to Force Restart the device. In various cases making a force restart of the iOS device has fixed the underlining problem.
Here's how to fix iPhone 6 screen freeze with Force Restart;
Step 1: You need to hold the Power button along with the Volume Down button for at least 10 seconds.
Step 2: You need to keep holding it and you will see the start-up sequence again.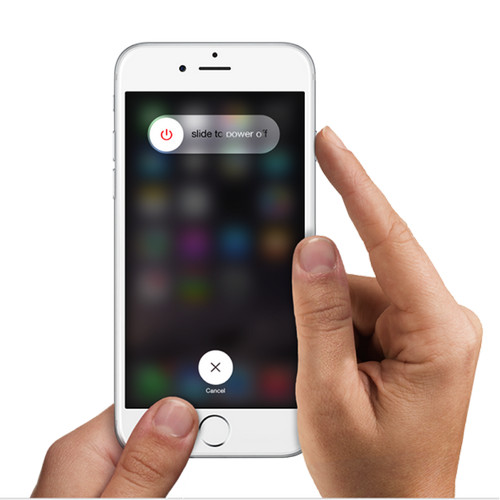 Way 2: Use iTunes to Restore Frozen iPhone 6/6s
Another way to fix iPhone 6S frozen screen is by restoring the device with iTunes. But using this method will erase all the data from your iPhone 6 or 6S. So, be sure to make a backup of the device. You can use iTunes or the iCloud app to make the backup but if you use Tenorshare iCareFone then you will be able to do it easily and efficiently.
If iPhone 6s freezes, here's how you can fix it with iTunes:
Step 1: First, you need to update the iTunes app on your computer.
Step 2: Then, launch the app on your computer and then connect the iPhone to the computer with a USB cable.
Step 3: Then, you need to put the device into Recovery Mode to proceed.
Switch off iPhone. Press and hold the Home button and Power buttons together.
Keep holding them, until you get the "Connect to iTunes" screen.
Step 4: Immediately, after that you will get a pop-up message from iTunes, informing you that "iTunes has detected an iPhone in Recovery Mode"

Step 5: Now, tap "Restore" option on that dialog box.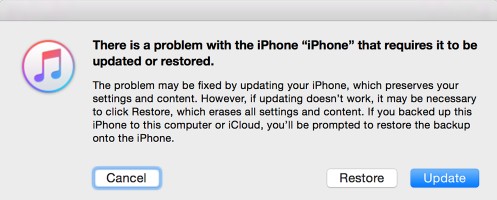 Step 6: Now, simply tap "Restore and Update" to install new software.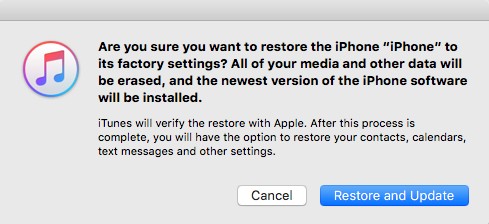 This is a very effective method to fix any major problems with the software but it will also erase all the data from the device. So be sure to make a backup effectively.
Way 3: Unfreeze iPhone 6/6s without Losing Data
Finally, there is another way to fix if iPhone 6 frozen, you can use a third-party software to unfreeze the device. One of the huge advantages of this method is that you will get to keep all your data. The software you will be using is called Tenorshare ReiBoot and it is a well-known iOS repair tool.
Step 1: Download and install ReiBoot on your computer. Next, launch the software and connect the frozen iPhone to the computer. Click "Repair Operating System" once the device is recognized.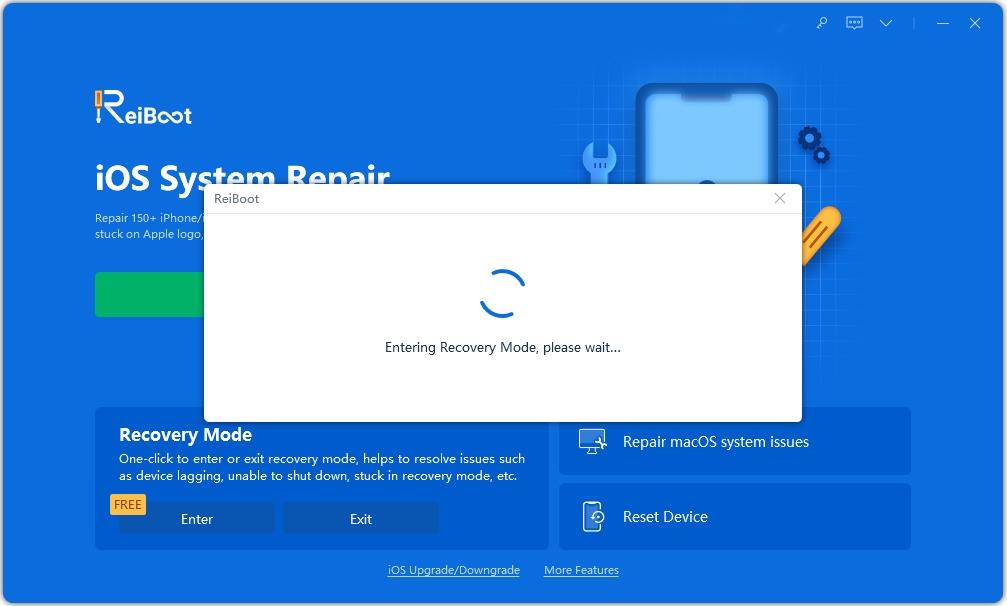 Step 2: Then you'll see an interface like below, click "Start Repair" to proceed if your iOS device is not working properly.
Step 3: Then you'll enter the firmware download screen. You can click "Browse" to set the save path for the firmware. Then click "Download" to start downloading iOS 12 firmware package.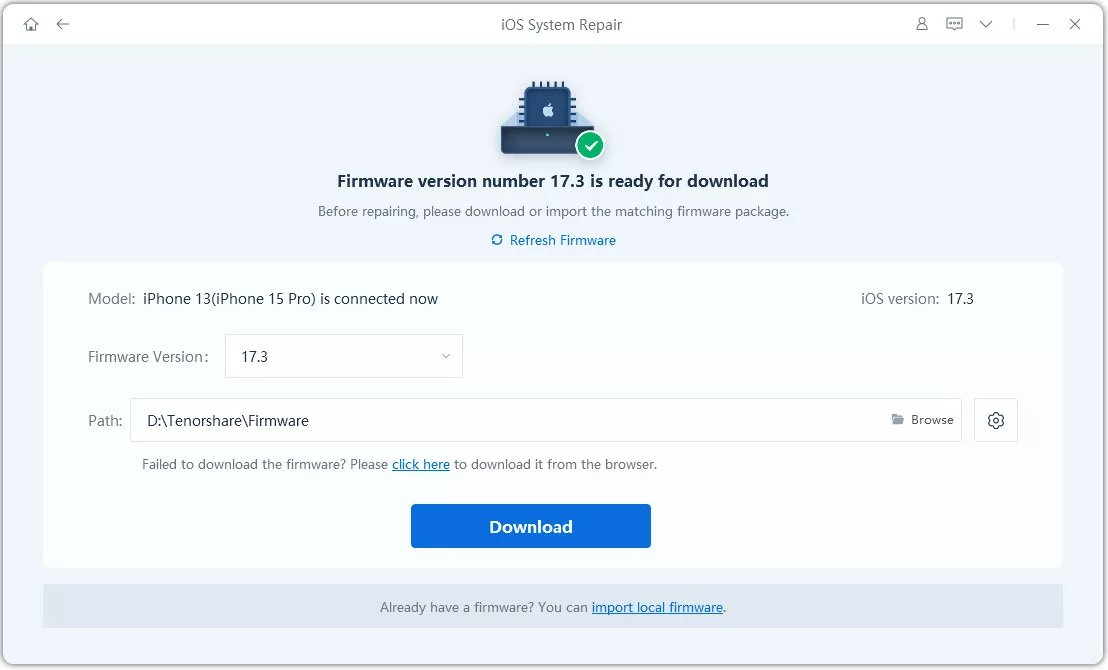 Step 4: After the firmware is downloaded you can click "Repair Now" to start the recovery process.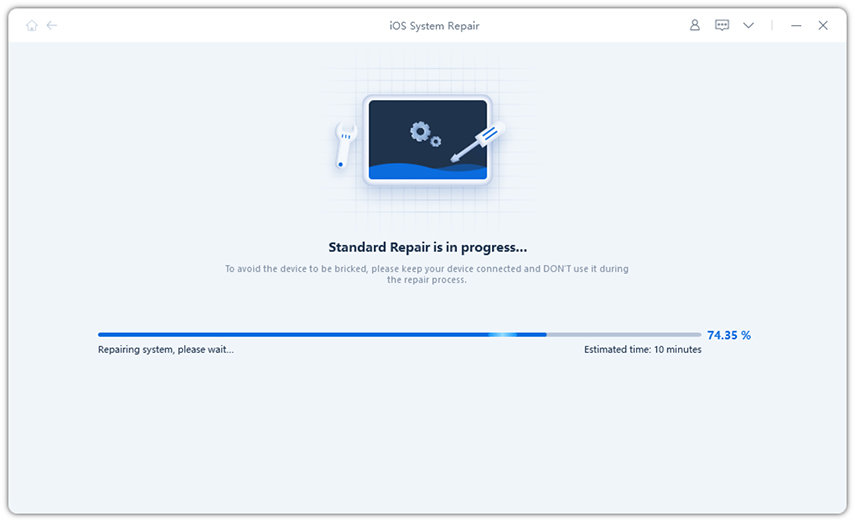 Part 2: iPhone 6 App Freeze, How to Fix
Crushing or freezing of some of your important iPhone apps are very frustrating. But there are a few ways you can fix them by yourself. These are very simple procedures; anyone would be able to do it, just read the following details very carefully.
Way 1: Force Quit Apps
Firstly, you need to quit the app that was creating the problem but if you are unable to do it then you can quit the forcefully.So, if the app is not responding then just force quit it and launch back again;
Step 1: Tap on the Power Button and wait for Slide to Power Off screen.
Step 2: Now, simply the Power button, and then tap and hold the Home key.
You have successfully force quit the app/apps but if you want to launch the app again then just tap on the icon again.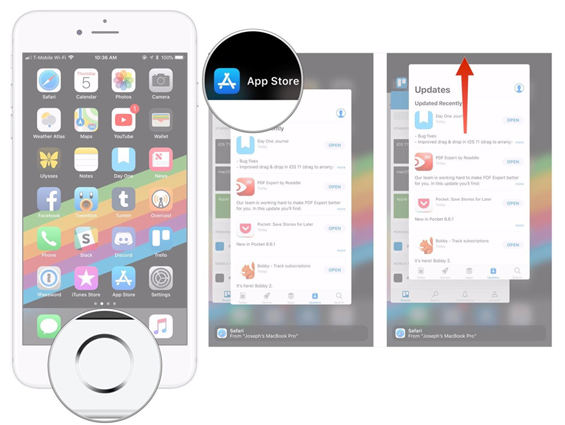 Way 2: Restart iPhone to Fix App Freezing
You can also restart the iPhone to fix the frozen app. It is quite possible that when the device turns on again, the problem will be fixed. It is very easy to restart iPhone 6:
Step 1: Press and hold the Power button for no more than 3 seconds.
Step 2: When the Slider is visible on the screen, swipe it to turn off the device.
Step 3: After that turn it back on again.
Way 3: Update iOS on iPhone 6/6s
Finally, if you are unable to fix the frozen app via those methods, you can update the iOS on your iPhone, which may fix the problem permanently. During such circumstances, just updating the iOS can fix a lot of things but there are 3 ways to update the iOS, you can choose any one of them.
Go to Settings -> General -> Software Update. Check if there's a new software available, if so, download and install it on your iPhone.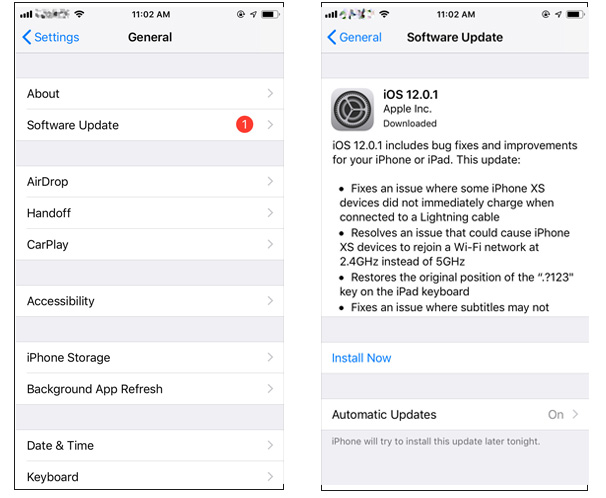 Whether it is your iPhone 6 or just an app on your iPhone 6, you don't need to get worried anymore. It is very frustrating when an app or the iPhone itself gets frozen; you are just unable to do anything. But now you can use the solutions mentioned above to fix the iOS device, only if the issue originated from the system. If it is a hardware issue get it checked at the nearest Support Centre.