Full Guide to Fix iPhone 11 Frozen Problem Easily
by Jenefey Aaron Updated on 2023-09-14 / Update for iPhone 11
"Just received the new iPhone and it's frozen with a white screen and apple logo. I've tried pressing the volume up and down and then the right side button (as people suggest) and still frozen..does anyone have any other suggestions ???"
iphone 11 frozen with logo on? Does anybody have the same experience as this netizen that new iPhone 11 frozen on screen? No matter you swipe across its screen or press the power button, the iPhone screen is still unresponsive. If you want to get rid of the frozen iPhone 11, you've come to the right place! In this article, we will analyze the phenomenon from three aspects and teach you how to unfreeze iPhone 11 with different methods.
Part 1. What Could Cause The iPhone 11 Frozen Problem?
There are many situations that might cause your iPhone 11 frozen problem. Launch many programs on iPhone device at the same time will affect performance, resulting in your iPhone to freeze. Besides, a corrupted program which need to update to the latest version can become the culprit. Apart from the software, hardware problem can also make your iPhone frozen on screen or become unresponsive to touch.
Part 2. How to Fix iPhone 11 Screen Frozen If Caused by Certain App
1.Force Close All Running Apps If iPhone 11 Screen Unresponsive to Touch
Many users get used to simply press the return button or the home button to exit an app. In fact, those apps are not closed but still running in the background, which not only occupies memory space but also slows down the speed of the mobile phone. If your iPhone iPhone 11/11 Pro(Max) screen is unresponsive sometimes, try to force close all running apps to troubleshoot.
Swipe up from the bottom of the main screen and pause briefly in the middle of the screen.
Swipe up to close all running apps.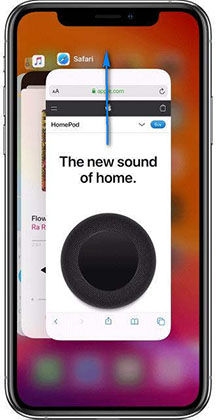 2. Uninstall Or Update The Corrupted App
If your iPhone 11 keeps freezing only when you use a certain app, then it is possible that there is a particular problem on this app. In this case, you can uninstall the app or go to App store to check it there is an update and update the latest version.
Part 3. Top 6 Ways to Fix iPhone 11 Frozen Problem If Excluded The Possibility of App
iPhone 11 still keep freezing after troubleshooting the apps? Then you an try the following ways.
1.Reset All Setting If iPhone 11 Keep Freezing
If your iPhone 11/11 Pro/11 Pro Max freezes or iPhone frozen on Apple logo, you can try to reset all settings.
Go to the Settings application on your iPhone, then tap on "General"
Scroll down to tap on "Reset" and then click "Reset All Settings".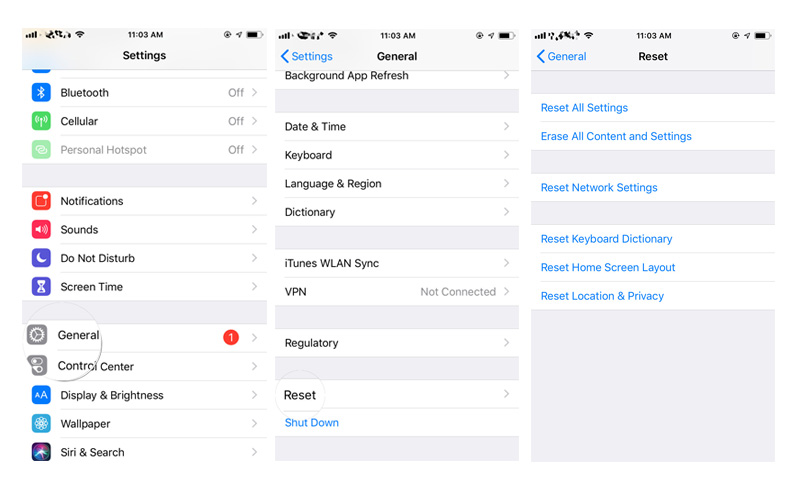 2.Force Restart iPhone iPhone 11/11 Pro(Max) When iPhone Frozen and Won't turn off
One of the easiest ways to fix iPhone screen unresponsive is to force restart iPhone 11/11 Pro/11 Pro Max. Here is the procedure to follow.
Press the Volume Up button once
Then press the Volume Down button once
Long press the Side button, don't release until Apple logo appears on the iPhone 11 screen.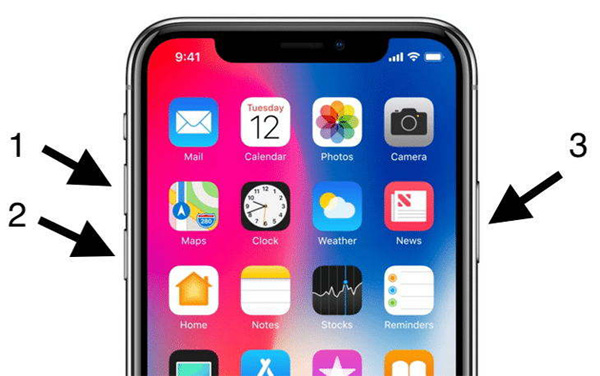 3.Charge Your iPhone 11 Max to Unfreeze iPhone
Another simple way to fix iPhone screen black and unresponsive is plug in your iPhone 11 and recharge it for at least one hour. Wait for a few minutes, you will see the charging screen as shown below.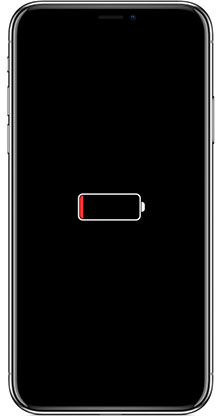 If there is no charging screen within an hour, or it displays the connect to power screen. Check if the USB cable is connected well with the jack or try a different USB cable or power adapter.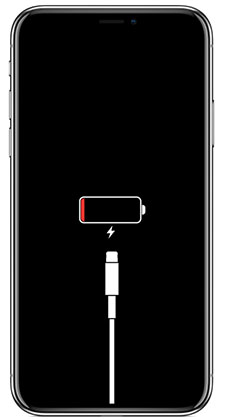 If your iPhone 11 still frozen and won't turn on, turn to next solution.
4.Update to iOS 16 If iPhone 11 Keeps Freezing
iOS 16 is commonly reported that it has a ton of terrible bugs, many iPhone users who have updated to iOS 16 encounter various problems, including frozen on apple logo.

Then, Apple released iOS 16 with bug fixes not long after iOS 16 was released. So if your iPhone 11 is still running iOS 16, you should download and install the latest iOS 16. Just go to Settings > General > Software Update > Download and Install.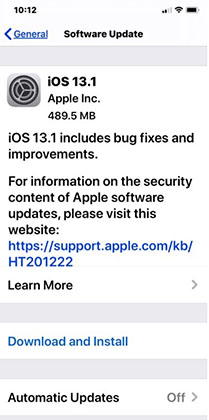 5.The Easiest Way to Fix iPhone 11 Frozen Problem with ReiBoot (No Data Loss)
If you think it difficult to troubleshoot the problem by yourself, it's a good idea to resort to a third party software.Tenorshare ReiBoot is a professional software to fix all kinds of iOS issues without data loss. With this tool, you can free from pressing any button on your iPhone 11. In addition, ReiBoot offers you a free way to put iPhone in recovery mode/exit recovery mode with one click, so it's a worthwhile software to try out. Firstly, you need to download and install this tool on your PC or Mac. After that run the program and follow these steps as below.
Connect your frozen iPhone 11/11 Pro/11 Pro Max with your computer and then select "Repair Operating System" to proceed.

Click "Fix Now" to start to fix iPhone screen frozen.

Download the firmware package by clicking the "Download" button. It will then download the latest iOS version for your frozen iPhone 11.

After downloaded, click "Repair Now" to unfreeze your iPhone. It may take around 10 minutes. Once the process is completed, your iPhone 11 will restart as normal.
Video Guide: How to Use ReiBoot for iPhone 11 Frozen Repair
6. Using iTunes to Fix iPhone 11 Update Frozen Problem
If Your iPhone 11 screen unresponsive after update, the official way is using iTunes to fix iPhone update frozen.
Step 1. First, you need to Put iPhone 11/11 Pro/11 Pro Max into recovery mode. You can download the free tool Tenorshare ReiBoot to help you one click to enter the recovery mode without pressing any buttons.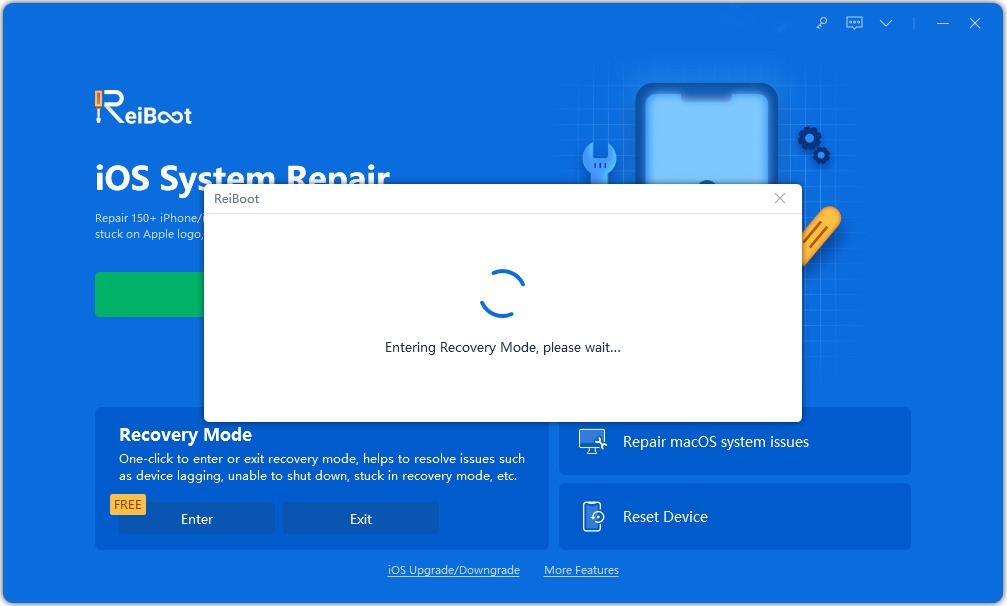 Step 2. Launch the iTunes, when it detects your iPhone 11 in recovery mode, it will pop up a windows asking you to choose "Restore" or "Update". Choose "Update". Then, iTunes will try to install the latest iOS for your iPhone 11.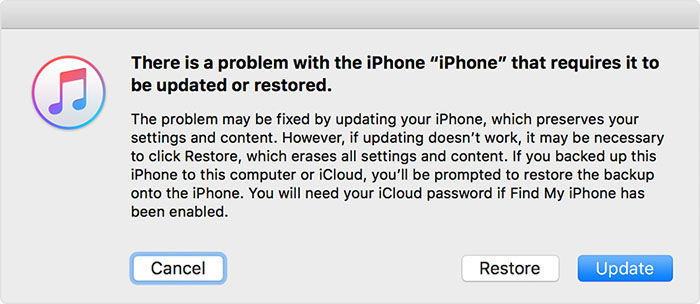 Part 4. What to Do If It's A Hardware Problem That Cause iPhone 11 Frozen
Try all of the solutions mentioned above but still fail to unfreeze iPhone iPhone 11/11 Pro(Max)? It is possible that there is a hardware problem on your device. You can visit Apple repair center to help you troubleshoot the problem.
Conclusion
We've analyzed the reason why your iPhone 11 is frozen and offers six solutions to unfreeze iPhone. Among of these solutions,Tenorshare ReiBoot is recommended by many people due to its simple operation as well as its powerful repair feature.