How to Fix iPhone Can't Hear Caller Problem iOS 13
by Sophie Green Updated on 2020-06-11 / Update for Fix iPhone
iOS 13 is the newest version of iPhone operating system and is equipped with all the greatest services and functions. However, most people who have upgraded from lower versions of iOS have complained that they have encountered a problem when iPhone can't hear any calls from the other side.
To fix iPhone can't hear calls after iOS 13 update, most of you attempt restarting the phone or cleaning the receiver. But these are just tests to confirm whether the problem is related to iOS or involves the physical parts of the phone.
In this article we elaborate full solutions to fix iPhone 11/XR/XS/X/8/7/6s no sound on calls in iOS 13.5/13.
Part 1: The Best Way to Fix iPhone Can't Hear Caller but Speaker Works without Data Loss
Tenorshare ReiBoot aims to fix all kinds of iPhone system error/glitches without data loss. So you can try this system recovery utility when can't hear caller on iPhone 11/XS/XS Max/XR/X/8/7/6S/6. Follow the following simple steps to fix when you can't hear calls unless on speaker. This procedure will not wipe your data on your device.
Download and install ReiBoot to a Windows or Mac computer.
Connect your iPhone to computer via USB cable and select "Repair Operating System", and then click "Fix Now".
ReiBoot will display the matching IPSW firmware, please download it online and use it to recover iPhone system.

After system recovery, your iPhone will reboot and update to latest iOS version. You can check whether you can hear calls now. Actually, this iOS system recovery tool is able to fix many kinds of iPhone/iPad problems without data loss.

Related Read:
Part 2: Other Simple Fixes to Fix iPhone No Sound on Calls
Before you rush to the Apple Store or commence on long and arduous processes, start with the simple fixes. These will save you a ton of time if it turns out the problem isn't very complicated. Start with the following;
1. Check the iPhone case
Sometimes the iPhone case could be the problem since it can block the receiver or even the microphone. If your iPhone has a protective case, remove it first and try calling someone. This should be the first step since it is very common.
2. Ensure iPhone isn't in headphone mode
If the problem is not the case, check whether the phone is stuck in headphone mode. It is common for the iPhone to remain in headphone mode after the jack is removed. Debris in the headphone jack port can also cause this problem. Clean out any dirt and debris inside the port and plug in and out the earphones several times until the iPhone recognizes it has been disconnected. If you are using an adapter, plug the adapter in and out.
3. Turn off Bluetooth
Another reason for iPhone failing to hear the caller could be that Bluetooth is on and is scrambling the sound during a call. Open "Settings" and navigate to "Bluetooth" where you should toggle the button to "Off."
4. Perform a Hard Reset
If these three fixes don't work and people still can't hear when you call, you can perform a hard reset. To reset an iPhone 7 or earlier iPhone models, just hold the sleep button and the home button at the same time and wait until the Apple logo appears after the screen turns black. The steps to do a hard reset for iPhone 11/11Pro/XS/XS Max/XR/X/8/8 Plus are different;
Quickly press and release the "Volume Up" button.
Repeat the same with the "Volume Down" button.
Hold down the "Power" button until the Apple logo appears.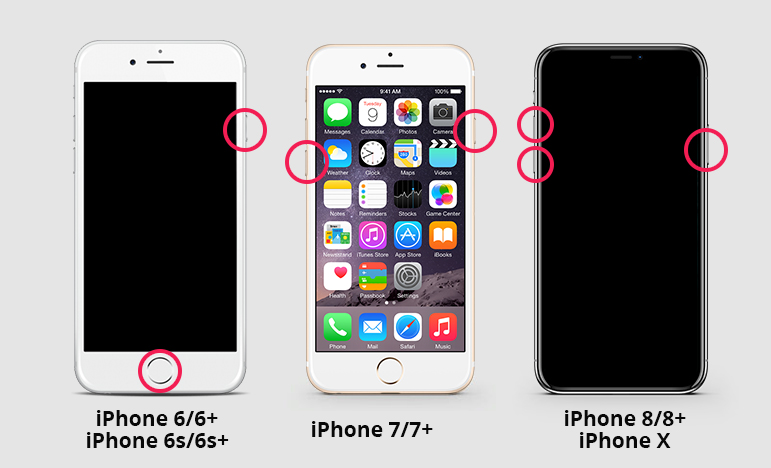 The Bottom Line
In this post we share some ways to fix iPhone can't hear caller properly or iPhone can hear calls only on speaker. If it is not a physical damage, Tenorshare ReiBoot is recommended to fix this system glitches by rebooting your iPhone or performing a system recovery.