How to Turn Off VoiceOver on iPhone/iPad
by Jenefey Aaron Updated on 2019-12-31 / Update for Fix iPhone
Apple provides some useful accessibility features for iOS users, one of which is VoiceOver. Turning on VoiceOver feature will read aloud the item that you are tapping on, a very useful assistive technology for blind users. For sighted users, if you turn on this feature and your iDevice won't stop reading, it can be confusing. Here we collect several ways to tell you how to switch off VoicceOver on iPhone.
Method 1. Using Home button shortcut
This is the fastest way to disable VoiceOver if you have the Home button triple-click shortcut set up.
Tap Home button three times quickly until you hear "VoiceOver off". This has to be done very quickly. If you have multiple options assigned to trip-click, you'll need to select which option you want to turn off.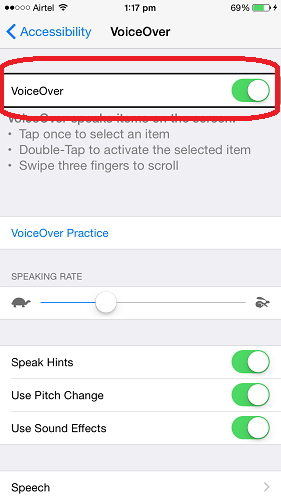 Method 2. Using Siri to switch off VoiceOver
Hold down Home button on iDevice until Siri is triggered, and then say "Turn off VoiceOver".
If Siri says "OK, I turned off VoiceOver" then you've done it.
Method 3. Turning off VoiceOver in iTunes
Yes, you can also disable VoiceOver with iTunes. When you can't turn off speech on iPhone directly, try using iTunes.
Connect your iDevice to iTunes, and click Configure Accessibility… option in Options section. In the pop up Accessibility window, tick Neither for Seeing. Click OK and you'll find that VoiceOver has been switched off on your iDevice.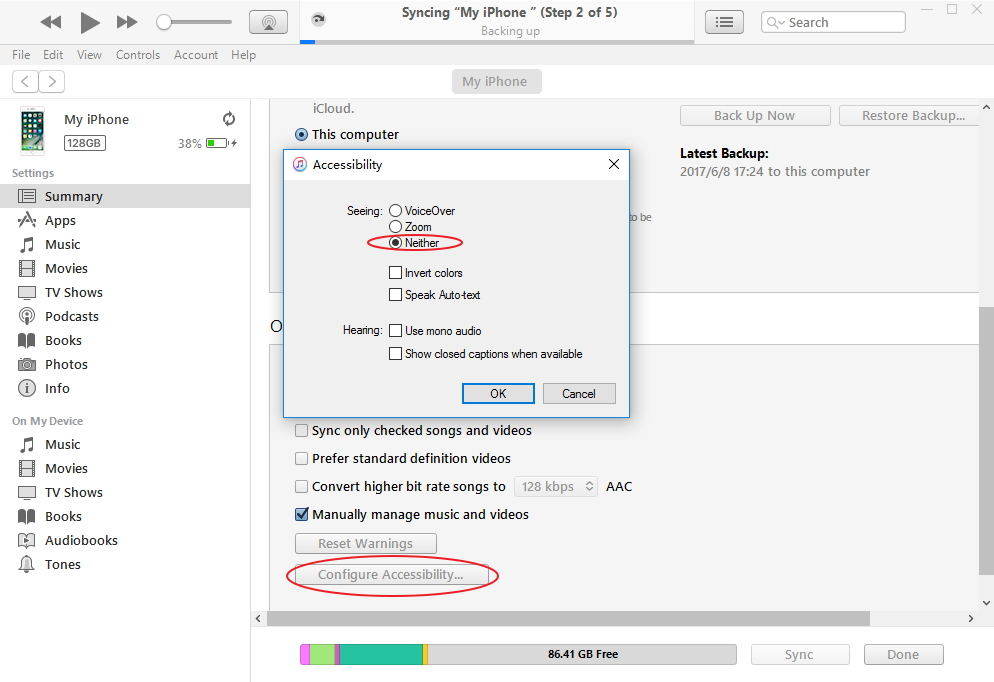 Method 4. Switching off VoiceOff using Settings app
Here are the steps to disable VoiceOver feature using Settings app. As you already enable VoiceOver, you can operate your iPhone:
Tap once to select an item
Double-tap to activate the selected item
Swipe three fingers to scroll
You can navigate to Settings > General > Accessibility > VoiceOver and switch the toggle to "off" to turn off VoiceOver.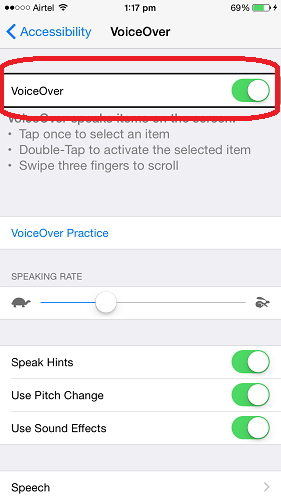 Thus, when you can't turn off voice over on iPhone, try these different methods until you do not see the black VoiceOver outline around any selected item on iDevice.
iOS 12 is now available, you can now update your iPhone/iPad to the latest iOS to enjoy the wonderful new features. In case any unexpected failure occurs during update, I will recommend you to backup your device beforehand. You can use iTunes, iCloud or third-party app like Tenorshare iCareFone to backup your device. The iCareFone offers more flexible and faster backup options.