[SECRET!] How To Level Up Fast In Pokemon Go 
by Jenefey Aaron Updated on 2022-04-06 / Update for change location
How to level up fast in pokemon go? Levelling up in any game is very important as it gives access to more advanced features. In this guide, we will help you to in finding easy ways to level up in a more quick way. So, let's get started!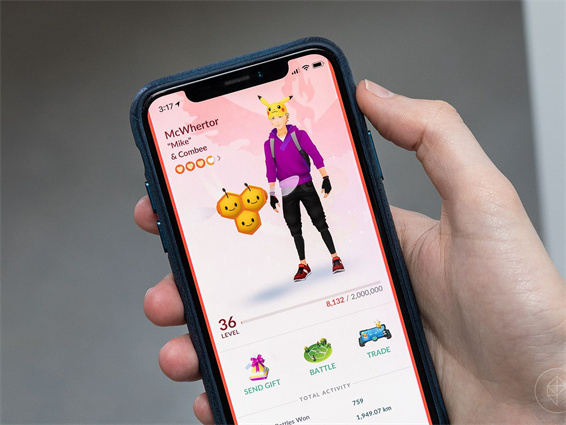 Before We Start: The XP Need For Each Level In Pokémon Go 
Starting with the basics, XP stands for experience points and these are the points you need to jump to a higher level. Moreover, the number of XP required to reach each level is different. For example, it takes 1000 XP to increase your level from one to two but you will need 25,000 XP to go from level 19 to 20. Likewise, 5,000,000 XP is required to level up from 39 to 40. Collectively, reaching level 40 will require 20,000,000 XP.
Here is the chart of XP you needed to level up.
| Level | Total XP |
| --- | --- |
| 1 | 0 |
| 10 | 45000 |
| 20 | 210000 |
| 30 | 2,000,000 |
| 40 | 20,000,000 |
Way 1: Catching Pokemon 
There are many ways to help you on how to get XP fast in Pokémon game and catching Pokémon is one of those. This may sound obvious but it can make a huge difference in your collection of XP for levelling up quickly. You should catch possibly every Pokémon by using all the possible techniques. Here is how to get XP fast in pokemon go by catching Pokémon:
Go to an area with many Pokémon spawn points. This can be any busy city, shopping mall, or park. Your device will vibrate when you will have any Pokémon nearby on the map.
Touch the Pokémon to start your attempt to catch it. It will appear in front of you.
Next, you should touch and hold the Poke Ball.
A ring will appear around the Pokémon. The colour of the ring from green (easy), orange (intermediate) to red (extremely difficult) indicates how much difficult it is to capture the targeted Pokémon. Moreover, if the diameter of the ring is smaller it means Pokémon won't resist more and you can catch it.

At the right moment throw the poke Ball toward the Pokémon. If you are successful the Poke Ball will capture the Pokémon.
Way 2: Make Friends 
Making friends can also help you in getting XP quickly in the game. So, make as many friends as possible and upgrade the quality of those friends at all costs. This involves sending gifts to each other or participating in raids together. You get 100,000 XP when a friend on your list becomes your best friend. Don't forget to pop a lucky egg when you are about to become best friends with your friend to get a reward of 200,000 XP. To add more friends, you need to:
Go to the trainer profile by clicking at the bottom left corner of the screen.
Find the friends menu and click on the option "Add a friend."

You will find your trainer code. You can share it using other apps. When other players paste your trainer/friend code into their box you become friends.
Way 3: Join Gym Raids 
Don't forget about the raids as these are one of the effective ways to level up in the game. For each successful raid, you get 10,000 XP. So, participating in weekly raids grant you a lot of XP. Try to raid against the strongest Pokémon you find in the gym since defeating mega or legendary raid boss gives you 10,000 XP at once. So, you should take advantage of raiding to maximize XP gain. Here is how to gain XP fast in Pokémon go by joining weekly raids:
Find a group of five or so players who will participate every week in raids.
Set up a raid train (which can facilitate travelling from one raid to another) so you can raid as much as possible.

Complete maximum raids possible per week.
Way 4: Use Lucky Egg 
Popping a lucky egg can help significantly in increasing XP. However, try to save those when you are planning to do plenty of raids in a row or when you are evolving many Pokémon. Lucky eggs help you in granting double XP for 30 minutes. Sometimes you get lucky eggs as a reward but most of the time you need to buy them from shops. You need 80 PokeCoins to buy one lucky egg and 500 for eight lucky eggs. While 550 PokeCoins cost $4.99 in the shop. You should:
Use Lucky Eggs during events that offer double XP with a high incentive to catch other things. This can be some community days or raid days. However, using a lucky egg when you reach the best friends with any friend is also rewarding 
Way 5: Pokemon Go Events 
Seasonal Pokémon go events introduce new ways of grinding many XP quickly. So, keep an eye on the social media channels of Pokémon Go and try to do as many events as possible. If you see any double XP event is approaching then it's a good idea to save up all the evolutions for the event. You can evolve your Pokémon or level up the status of friendship during the event. This will increase your XP gain massively and you can break the next level quickly. 
How To Level Up Fast In Pokemon Go? The Best Way Is Here 
Playing Pokémon go consistently is the only way to level up fast. However, this may sound hectic on a jam-packed day when you are not in the mood to go out to play this game. However, you can still play being on any location with the help of Tenorshare iAnyGo.
1. Users can play Pokemon Go with iAnyGo.
Tensorshare iAnyGo provides a very feasible way for all Pokémon go game lovers to play this game without moving around. This professional software spoofs your location without being detected by the app. So, you actually pretend to be somewhere else where you are not in reality.
2. Steps to use iAnyGO to change your location.
Changing your location with iAnyGo is an entirely safe thing. You don't need to jailbreak as it offers a very smooth 2-3 step location spoofing method. Here is what you need to do:
Download, install and launch iAnyGo on your PC. Proceed with going to "Joystick Movement."

Connect your iPhone device with the PC using a USB cable. Unlock your iPhone and add your pc to the trusted device by simply clicking on "Trust."

Select a location on the map and start your movement on the map. With the help of iAnyGo, you can go anywhere in the world if you want. What are you waiting for? Click the free download button and give it a try!
Further Reading: Can I Buy XP In Pokemon GO 
There is no way that you can buy XP directly in Pokémon Go. You need to try the best and fastest method discussed above. Making more friends, participating in weekly raids consistently, catching Pokémon, using Lucky eggs and Pokémon go events can help you a lot in getting XP quickly. 
Conclusion
How to level up fast in pokemon go? The 6 practical methods are given in the blog. Like most games, levelling up in Pokémon go is also very important. No doubt the higher your level, the more game features open up to you. We hope this guide will help you to smash into a higher level in a very short time.