How to Make a New Friend in Pokemon GO
by Sophie Green Updated on 2023-01-30 / Update for change location
So, how to make a new friend in Pokemon GO? Why is it considered necessary? Adding friends in Pokemon go is one of the best ways to stay in touch with the trainers that one can encounter in their whole journey of Pokemon GO.
Hence, let's look into the methods one by one which will help users understand how you can make friends and make you play the game not alone anymore.
Method 1: Using Trainer Code
The first method to make friends in Pokemon go is by using the trainer code. Follow these steps to add friends.
Go to FRIENDS> ADD FRIEND> Enter the code to add players to your friend list.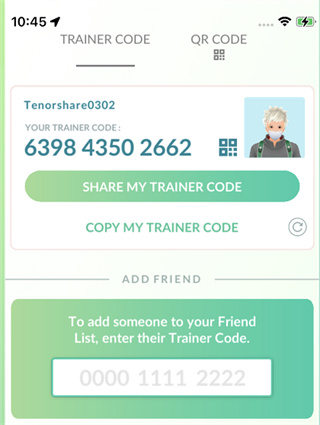 Method 2: Adding Facebook Friends
If the user is a Facebook user, there is an added advantage of adding friends that play Pokemon go from your friend list and can be added as a player's friend. So follow these steps to add friends by using the Facebook app.
Go to your trainer profile, in the map view. 
Again tap on the friend's tab present at the top of the screen. 
Your friend list will be opened.
There, an option to add a Facebook friend will appear. Tap on it.
Here Pokemon go will ask you to grant permission to look for your Facebook friend list.
Once permission is granted, a list of suggested friends will appear.
Tap on the send friend request.
Now, wait for other friends to accept your request and there you go. You made a friend using the Facebook application.
Method 3: Adding Friends from Contacts
The next thing to know is how to make new friends in Pokemon go using contacts in your phone contact list. Yes, it's possible. For adding a contact, sync the application with your contacts. Follow these steps to add a friend to the contact list. 
Go to the map view and navigate to the trainer profile.
Tap on the friend's tab. A friend list will open up. 
There, a sign of contact will show up. Tap on contact. Tapping on it will enable contact syncing. You will also need to confirm your name here. 
Then one can add friends from contacts. The name can be changed anytime from your profile, by going into your account setting. 
Method 4: Using the Pokemon GO Friends Code Website
How to make new friends on Pokemon go? One can even share a referral code with their friends and add them to the list of pokemon go friends. Follow these steps to know about the referral code option: 
Go to Pokemon GO Friends Code Web.
Enter the Friend Code posted by other players around the world on the web.

You can also post your friend code on the website to make more friends.
Tips: Play Pokemon GO with the Friends without Distance Limit
If one wants to play Pokemon go with their friends who live far away from them, what is it they can do? Is there any way by which they can modify their location and then play the game in the same location? Well, it might come as a surprise, but it's possible. 
Tenorshare iAnyGo will help in spoofing your location in a very intricate manner which is efficient and has amazing features. This application will help our users to play the game with friends who live far from the player's location, but will virtually help them stay close and play their favorite game together. 
Launch the program and connect your device to the computer. Select the joystick's mode. It will appear on the lower left corner of the screen.

Start your program and link your iPhone or device you are using with your computer. Whether you are walking, cycling, or running, you can adjust your speed. The maximum speed is about 72 km per hour.

And then drag the middle button to the point on the circle. You can also change the direction by stimulating GPS from left to right with the help of a keyboard.
Final Words
In this article, we discussed how to make a new friend in Pokemon go using various options for adding friends. Hope our readers got the help they need. Happy gaming with your friends!