iPhone 5 Yellow Tint Screen, How to Fix It?
by Jenefey Aaron Updated on 2019-07-25 / Update for iPhone Fix
"Hey, well, as I am fully aware yet not expecting this for the iPhone 5, but yeah, I've got the yellow tint screen. Not the patches, the whole screen makes white look like ivory…"
- Apple Community
"I know iPhone has screen yellow tint problem and it will disappear after some days. But my iPhone has yellow edges, it still exist after used several months. Is this ok or I need to ask for replacement?"
- MacRumors
Several iPhone 5 owners chiming in on Apple's Support Communities and the MacRumors forum say their iPhone 5 had an ugly yellow tint to the screen. The "iPhone Screen Yellow Tint" issue has always happened year after year in iPad, iPhone 4S/5/6/6s/SE. Below we will figure out why your iPhone display a yellow tint screen and how to fix a yellow tinted screen iPhone SE/6s (Plus)/ iPhone 6 (Plus)/iPhone 5s, iPhone 5 and iPad.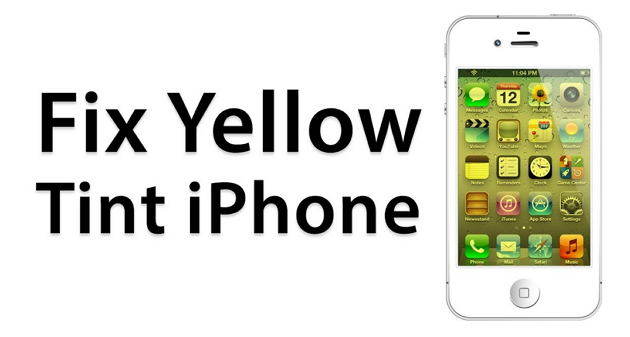 Why You iPhone 5 Has a Yellow Tint Screen?
The yellowish tint has appeared on many new iOS devices, usually the ones within the first few days of release. One of the reason why your iPhone has a yellow tint is due to the adhesive material used for touchscreen digitizer. Apparently, the adhesive for the digitizer that takes a little while to fully cure. While it's still drying, it gives a new screen a yellowish tint. According to many sources, this tint will go away in the next few days, or in a week or so. It's nothing to worry about.
Another reason cause the yellow tint in the LCD is pressure pushing against the LCD.
How to Fix a Yellow Tinted Screen on Your iPhone 5?
If you unfortunately got a yellow tint around screen on your iPhone 5, firstly make sure your iPhone is set properly and then try methods below to have a easy fix. And if your iPhone has dead pixels not only the yellow tint screen or any other issues, you must get it replaced as soon as possible.
Tips:Methods below also apply to fix a yellow tinted screen on iPhone 6s (Plus)/ iPhone 6 (Plus)/iPhone 5s, and iPad.
1.Let your screen burn in for a few days. This typically goes away and is not unusual for the first phones made. It's typically the glue settling in after the screen is used for the first time.
2.Try and reposition the camera. Sometimes during the repair it pops up just enough to cause pressure and leave a yellow tint stain on the LCD.
3.If after a week or so, the screen is still not right, then make an appointment with the Genius Bar at your Apple Store and ask for a replacement.
Hope our advises will solve your problem properly. And for any other issues like iPhone stuck on red iTunes screen, iPhone blue/black screen, you can also get help from us.