Possible Reasons and Fixes for iPhone Text Message Sound Not Working
by Jenefey Aaron Updated on 2020-09-04 / Update for Fix iPhone
How many times have you found that your iPhone did not beep when you received a message. If you are unable to know as soon as possible that you have a message, the purpose of instant messaging is already defeated. Important information, deadlines, and appointments can be missed as a result of a faulty text message alert system. This could mean bigger consequences such as stress, loss of opportunities and temporary disruption of one's schedule. To avoid all of these consequences, we have put together some solutions to apply when your iPhone text message sound not working.
Part 1: How to Fix iPhone Text Message Sound Not Working with Knowing the Possible Reason
There are many reasons why the iPhone text tone not working.
First, is your profile settings. If you set your phone profile to Do Not Disturb mode, you can be sure that the text message alerts will not be audible.
Another reason could be that you have mistakenly activated Mute Alerts on your iPhone. This happens sometimes when iPhone users mistakenly slide or touch the screen of their device.
It could be an issue arising from software updates. For instance, iPhone users who upgraded to iOS 13/13.4.1 sometimes complain of their iPhone text message alert not working.
iPhone text tone not working may also be caused by faulty phone parts such as ringer or phone speaker. This may occur when you accidentally drop your iPhone on a hard surface.
Sometimes, it may also be caused by the age of the iPhone. Users of old iPhones may have this challenge.
Solutions for iPhone No Sound on Text According to the Reasons Above
Follow the steps as outlined below. We begin with the simplest solutions so that if what mutes your text message alert is minor, you can quickly fix iPhone text sound not working and get going. ReiBoot system Repair is recommended if you want a comprehensive solution in one approach.
Way 1. Check and Disable Do Not Disturb
Go to Settings and click on Do Not Disturb feature. Check whether it is on or off. If it is turned on, use the toggle to turn it Off.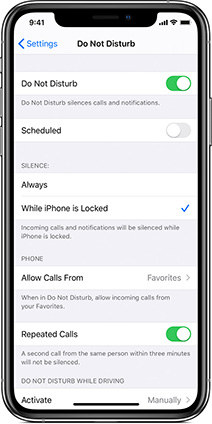 Way 2: Check and Change Your Mute Switch Button
Activate Ringer And Alerts. Then set the alert volume to maximum or any high volume level you desire. Simply put the 'Vibrate on Ring/Silent' switch on.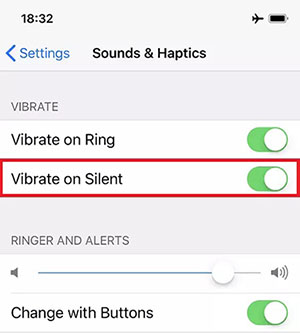 Way 3: Check and Enable Allow Notifications
If you find that other alerts plus your text message alert are not working, it may be that you turned notification on.
Go to Settings and click Notifications. Select Messages and enable Allow Notifications.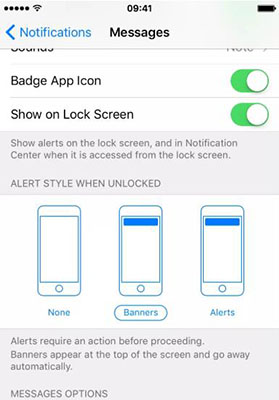 Way 4: Check and switch Ringer and Alerts
Go to Settings and click Sounds. Choose Ringer and Alerts and see if this is enabled. If it isn't, switch it on by tapping on the toggle.
Way 5: Change it If You Have Set Text Tone for None
Go to Settings. Check your message tone settings and see if None-meaning no ringtone is activated. If that is the case, change from None to any ringtone or music of your choice from the list.
Part 2: An Easy Way to Solve iPhone No Sound on Text Without Needing to Know Reason
Tenorshare ReiBoot is the ultimate solution to all iPhone operating system errors. To use ReiBoot to fix iPhone text sound not working, you will need your Windows PC, your iPhone and an original Apple USB cable. ReiBoot works with all iPhone devices so you can be sure that your device will be supported.
Go to TenorShare official page for ReiBoot to download ReiBoot software on your PC. Install the software and let it run on your PC.

Use the original Apple USB cable to connect your device to your pc as ReiBoot software runs. Once your iPhone is recognized, select 'Repair Operating System'.

Pic1.- Repair Operating System

If your iPhone is not detected, follow the instruction from ReiBoot on your PC. After your device has been successfully connected, proceed by clicking 'Fix Now'.

You will be directed to download the firmware package. You can choose the path to save the firmware.

Pic2.- Download firmware

After the firmware has been successfully downloaded, click 'Repair Now' to repair iOS. Ensure that the USB cable remains connected with your iPhone throughout this process.

Allow about ten minutes for the repair to be complete. Once the repair is complete your iPhone should boot normally.

Pic3.- Repair complete
Part 3: Some Common Ways for All Kinds of iPhone Issues
1. Turn off Bluetooth
Turning on Bluetooth on your iPhone may prevent your text alert from being audible. Allow Bluetooth to stay on only when you are using it, if not, turn it off.
2. Set Automatically on Date & Time
It is a common experience that phones may not function properly when date and time settings are incorrect or not updated. Be sure to put your date and time settings on Auto-update so you won't have to be resetting time and date so often. Using auto-update on time and date settings will also help the Operating System and your apps run smoothly.
3. Reset Your Network
Where you find that your network signal strength is not strong enough, you can reset your network to fix it. You may choose between automatic and manual network selection to find a stronger and better one.
4. Update to the Latest iOS System
Once an update is available for your iPhone, be sure to update your iOS as soon as possible. If not, the previous version will no longer be compatible with some of your app, and can ultimately lead to iOS issues.
5. Force Restart
Force restart helps to clear glitch in your Operating System without the risk of losing data. For instance, when your iPhone screen seems to hang, a forced restart can quickly take care of the issue. There are other minor software issues that a forced restart can solve.
Conclusion
Fixing iPhone text notification not working can be quite confusing if one does not clarify the cause of the problem. If after trying all the aforementioned solutions, including Tenorshare ReiBoot, your alerts are not still audible, the problem may be caused by faulty hardware. Take your device to an approved mobile repair center to check if the speakers of your iPhone are working perfectly.