[Android/iOS] Wecatch Pokemon Go Download/User Guide
by Jenefey Aaron Updated on 2023-02-24 / Update for change location
Wecatch Pokemon go is an excellent platform for Pokemon go fans since it is accompanied by a lot of useful features. Mainly it brings people on a single platform and shares useful information including rare Pokemon locations, gyms, and raids in the game.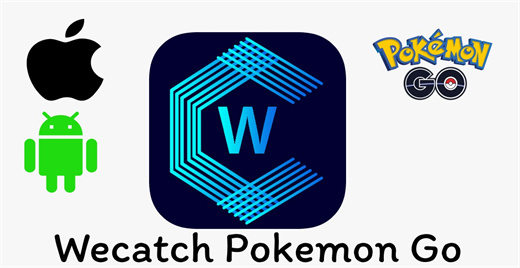 Apart from this, you can easily find Pokemon, and pokestops in real-time using the map area and filter them according to your preference. With this only tool, you can keep track of upcoming pokemon raids and rare Pokemon.
Section 1: What Is Wecatch Pokemon Go
Wecatch Pokemon go 2023 is particularly developed for Pokemon go players to facilitate them in the game. By using its multiple useful features, finding rare pokemons is no more a daunting task. 
On the other hand, the Pokemon go game also provides a map where you have to find rare Pokemon on. But due to a high number of players, it's hard to find them quickly. Since these Pokemon appear once in a while so finding them singlehandedly also adds to the difficulty of catching them. 
However, in wecatch apk 2023, you can find and raid them with teams /groups. In a group, it's easy to track rare monsters in less time.
Is Wecatch Compatible With Android 
Wecatch is an android tool that provides a real-time map and radar for the Pokemon go game. You can install it on your android phone and catch all the rare characters quickly. 
Is Wecatch Compatible With iOS 
We catch pokemon tracker is also available in the app store. You can install it on iOS devices and play your game with much ease. However, make sure you are using the latest iOS version since it's compatible with iOS 13 or later.
Section 2: How To Download Wecatch Pokemon Go 
This tool is aimed at helping you find various monsters. So, you can easily benefit from it by installing it on your device and seeing the story. Here is how you can install we catch Pokemon go apk to get started with it.'
For iOS Users: Since is available on the app store, so you can download it directly from there.
Go to the app store and search for WeCatch-Radar and Map app.
Click on the install button to land it on your iPhone/iPad.

After that, you can completer your registration to get started with this tool.
For Android Users: However, Wecatch can not be downloaded on Google Play Store. The best way to download wecatch on your android device is by using a browser. Here is the link to download Wecatch Android.
Download the wecatch apk file from a browser. 
Before installing it, make sure third-party apps are allowed on your device.
For this purpose, open menu > settings > security and check for permission. Make sure your device has permission to download apps from third-party sources other than the google play store.
Once you are done with it, you can easily install the wecatch apk file from the download section of the browser and complete the installation steps.
After this, you can easily use this application as usual.
Section 3: How To Use Wecatch Pokemon Go 
Using wecatch tool is quite easy and you just need to know its specific features which are associated with particular icons in the game:
To search iv range or raids, you can explore the "feet" icon.
Pokestops and gym icon shows you all the nearby pokestops and pokes gyms.
You can also filter your search to optimize the results for Pokemon gyms, pokestops, Pokemon, raids, and press "Done".
To see the availability of Pokemon, you can also zoom in to have a closer view of that particular area and tap on the marker icon to view more details about the pokemon.
Section 4: Wecatch Pokemon Go Must Be Used With iAnyGo! Why 
Wecatch Pokemon Go is a tool to detect pokemon near you. But its service is based on your location on the device. This means if you want to scan more pokemon on Wecatch, you need to reach more places. At this time, Tenorshare iAnyGo is designed to help you solve the problem. With this tool, you can easily change location on Pokemon Go, or use joystick movement to play the game.
iAnyGo joystick movement is very useful in Pokemon to go since you can control your movement in the game without moving. You can adjust your movement speed, tweak the direction and start an automatic movement to keep going in Pokemon go with no hassle at all. Here are the simple steps to use this amazing feature of iAnyGo: 
Install and Launch Tenorshare iAnyGo software on your PC. Connect your device to the computer and proceed with the 4th option "Joystick movement" mode.

Next, you can set the desired speed you want to move with by dragging the speed slider. The fastest speed you can have is 72 kilometres per hour.

Lastly, start your automatic movement by circling the middle button and releasing it. Not to mention, you can also tweak direction in 360 degrees freely.
Wrap Up 
Undoubtedly wecatch Pokemon go is an excellent tool for the Pokemon community to avail the advanced level services of the game.To double the fun in the game, don't forget to use it with iAnyGo since it has got all that you urge for in the game. More tip about how to fake pokemon go steps.