iPhone 12/12 Pro Stutter When Closing Apps? 5 Ways to Fix!
by Jenefey Aaron Updated on 2021-01-29 / Update for iPhone 12
I feel like we get things like this with every new phone, but... I'm noticing frequent stutters/hitches when closing apps. It seems happen when opening and closing an app that hadn't been in the background, but not always. I've had the phone for 2 days now, so I'd hope that any slow performance due to background indexing or whatever would be done by now, but maybe not."

-- From macrumors
iPhone 12 Pro stutter when closing apps is becoming a common problem for every user of iOS device. Perhaps you're experiencing the problem, you can check out the solution here.
Part 1: Outbreak Issue: iPhone 12 Pro Stutter When Closing Apps
It seems that Apple is yet to fix the stutter issue in the new iPhone 12/12 Pro. If you can observe the behavior on your phone, you will realize that both scrolling and animation stutter happens on your device. You may have seen lots of videos about iOS updates and struggling to find any guide regarding 12 Pro stutter when closing apps.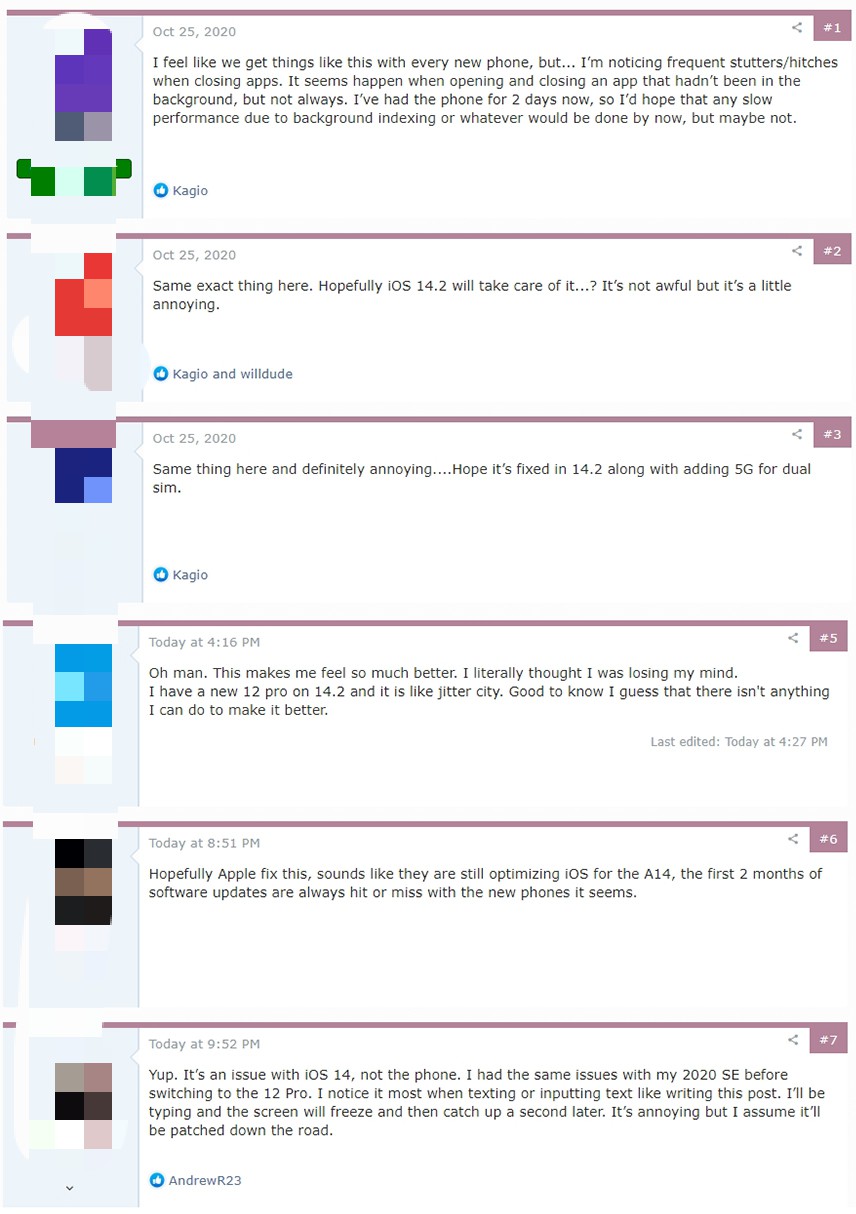 You don't need to give up on this issue. There are a series of solution you can consider to fix the problem. Let's get started by identifying the cause of the problem.
Part 2: What Causes iPhone 12/12 Pro Stuttery?
If you've been noticing animation lag on your iPhone, know that the issue can be caused by one of the following circumstances.
Full iPhone storage;
Browser cookies and data;
Conflicting among active background applications;
Faulty phone settings;
iOS updates;
Part 3: So How to Fix iPhone 12 /12 Pro Stutter When Closing and Opening Apps?
There are lots of options you can consider to overcome this issue. Notable ones include :
Way 1. Close All Background Apps
The animation lag issue you're experiencing now must have been caused by multiple apps running in the background. If you're not using a particular background app, try to disable such an application. When you do so, you will be able to increase the performance of your phone.
The steps to follow in order to close the background apps include:
Go to Settings.
Press General.

Select the Background App Refresh.

Turn it off.
Way 2. Restart Your iPhone 12/12 Pro
If you observe that the apps on your iPhone freezes or the homepage animation stutters, you will need to restart your device. The simple way to restart your device include :
Press and hold the Side / Power button and the Volume button for a few seconds.
When you see the Slide to Power off command, then release the buttons and shut your device down completely according to the instruction.

After about 30 seconds, press and hold the Side / Power button until the Apple logo appears, then release.
Way 3. Clear Storage Space
After your iPhone updates, the available space has likely been occupied. If that's the case, you need to clear the occupied space. That would boost your device performance. The following are some steps to take in order to clear the storage space on your device.
Go to settings.
Tap General.
Scroll to iPhone Storage.
At that point, you will see a lot of information about the data currently stored on your device. Kindly clean up the files to free up more spaces accordingly.
Way 4. Factory reset your iPhone
Whenever the animation lag is becoming complex, you will need to factory reset your device. Note that you will lose all your personal information and even sensitive data when you perform a factory reset. Always back up your files before you reset your device. Once you've backup your files, you can take the following actions to reset your iPhone.
Open iTunes on your computer, then let it recognize your iPhone.
Select your iPhone when it appears in iTunes.
Go to the Summary section and click the Restore [device name] button.
If the confirmation message asks for it, click the Restore button to confirm. This will prompt iTunes to erase your device and install the latest iOS software.
Way 5. Fix iOS System with Tenorshare ReiBoot
If none of the above solutions works, it's more likely that the problem was caused by your device iOS. You will need to fix the iOS system so you can resolve the stutter issue. Tenorshare ReiBoot is one amazing software you can use to deal with this problem. It's the World No.1 iOS System Recovery Software. You can use the tool to repair 150+ iOS/iPadOS/tvOS system problems like stuck on the Apple logo. Even if your screen won't turn on, this software can be a good tool for you.
Since fixing the iOS system is your major goal at this moment, you can follow the steps below to accomplish the goal.
A Video Tutorial: How to Repair iOS System with ReiBoot
Download and Install ReiBoot. Run it and click 'Start' button to use iOS System Repair.

Connect your iPhone to the computer and click 'Standard Repair'.

Now, you will download the latest firmware package of iPhone 12.

After the package is well downloaded, kick off repairing iPhone 12 by pressing 'Start Standard Repair'.

Your iPhone 12 will restart again when it is fully repaired.
Conclusion
iPhone 12/12 Pro owners are constantly complaining about the animation stutters issue. They noted that their handsets misbehave after going to idle state for around 10 seconds. It's best to use reiboot to combat this problem. The problem usually occur from iOS update problem.When you use reiboot, you will quickly get the problem resolve.