How to Fix iPhone 12/12 Pro Crashed after Unplugging MagSafe
by Sophie Green Updated on 2020-11-12 / Update for iPhone 12
unplugged my 12 Pro from MagSafe this morning, it had been charging all night, and it completely crashed. Black screen, all buttons unresponsive, and the only way to boot it was with a force restart (vol up/down/hold power). After, even though the phone was fully charged, it said my battery was nearly dead at 10%.
What can be more irritating than unplugging your new iPhone 12 from MagSafe and it becomes unresponsive. Or even though you have been charging it for the whole night but it shows the battery is nearly dead as soon as you unplug it.
You might think its battery is damaged or something is wrong with the charger, but in most cases, hardware has nothing to do with this issue.
Regardless of the reasons of iphone 12 crashed after unplugging MagSafe, we are here with a comprehensive guide to help you troubleshoot this error in just a few minutes.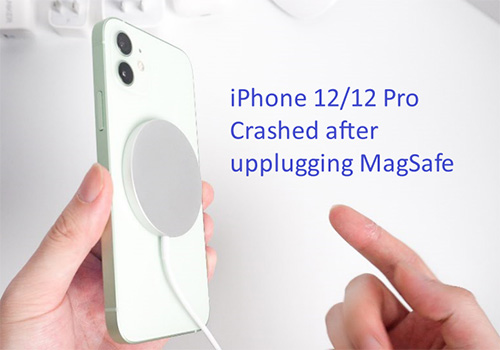 Why MagSafe Crashed Your iPhone 12/12 Pro
Exact reasons of iPhone 12 Pro completely crashed after unplugging MagSafe are not known, but our extensive research shows that this issue is more often than not due to:
Incorrectly using MagSafe with iPhone 12
MagSafe damaged iPhone 12 chip while charging
iPhone 12/12 Pro not compatible with MagSafe after iOS Updated
Hardware issues with the iPhone 12/12 Pro itself
Useful & Reliable Way to Fix iPhone 12 Crashed after Unplugging MagSafe
Mostly, minor bugs in the operating system lead to iPhone 12 crashing after unplugging. You need a third-party software to repair OS of your iPhone. And that's where Tenorshare ReiBoot comes as a trustworthy companion. It leads the pack of iPhone repairing software and has won acclaim around the world for its high efficiency, super-fast speed, and ability to repair 150+ IOS related issues.
Tenorshare ReiBoot Pro is developed to diagnose the basic reasons of iPhone crash and stuck issues and resolve them automatically and quickly. To repair iPhone 12 using ReiBoot, follow the below steps:
Double-click on the ReiBoot icon to launch on your computer. Then, connect your iPhone 12 to the computer and hit on Repair Operating System.

ReiBoot will show the iOS issues and then click on Fix Now.

Now, ReiBoot will start downloading the latest firmware package for your iPhone 12. Hit on Download to start downloading it.

The software will take some time to complete. Don't disconnect your iPhone 12 during the process.

Soon after it is downloaded, click on Repair Now to begin repairing your iPhone 12.

Your iPhone will restart automatically when the repairing process is completed. Now, enter the screen passcode and follow on-screen instructions to reboot your iPhone 12.
Common Advice to Solve iPhone 12 Pro Crashed after Unplugging MagSafe
If you don't want to download any third-party software, then below are some simple alternatives that can help you fix iPhone 12 crashed after unplugging MagSafe issue.
1st Advice: Force Restart iPhone 12/12 Pro
Start with force restarting your mobile. It is the simplest method that often proves to be useful in fixing the iPhone 12 crashed after unplugging MagSafe error. A simple force restart can remove any temporary bug or glitches in your iPhone 12. To force restart an iPhone 12/iPhone 12 Pro, follow the below steps:
Press and release the volume up button, then do the same for volume down button.
Then press and hold the power button (side button) until the Apple logo appears.

Your iPhone 12 will force restart.
2nd Advice: Restore iPhone 12/12 Pro from iTunes
iTunes is a powerful app that can fix many iPhone/iPad issues without any technical complications. Many users have reported that restoring iPhone 12 using iTunes can help troubleshoot iPhone 12 Pro completely crashed after unplugging MagSafe.
Launch the latest version of iTunes on computer and connect your iPhone 12 to it via original cable.
Now, click on iPhone icon on top bar and then select Summary.

Here, hit on 'Restore iPhone' and wait until iTunes completes the restoring process.
3rd Advice: Contact Apple Store to Check Hardware Problem
If none of the abovementioned methods is successful in solving iPhone 12 Pro completely crashed after unplugging MagSafe error then there might be any issue in system hardware, either with the mobile or charger.
You have to contact Apple Support as a last resort. For that:
Go to the official Apple Support website.
Now, click on iPhone option to submit complains pertaining to iPhone 12 and seek advice on what to do.
Here, you can call them directly to receive their professional support to fix the issue/else, you can bring your iPhone to a certified Apple Store and ask for their services.
Extra Tips for iPhone 12/12 Pro When Using MagSafe
Here are some tips you need to follow while charging your iPhone 12 with MagSafe.
Use a 20 Watt or greater power adapter to connect to MagSafe charger.
Place MagSafe charger in face up position.
Place it on a flat surface.
Remove any metal objects from its close proximity.
Use a non-leather case for your iPhone 12 while charging it using MagSafe if you're concerned about circular imprints.
Remove any sensitive items from the iPhone protective case before charging it.
Don't put credit cards, or other items having magnetic strips near the iPhone while its charging.
If iPhone gets warmer, battery won't go above 80%. So, better remove the charger if it heats up too much.
If you connect both MagSafe charger and Lightning port, the latter will charge your mobile.
Conclusion
I hope this article has cleared your queries pertaining to iphone 12 crashed after unplugging MagSafe. You have learned what causes this issue and how can you fix this issue using various common methods that almost everyone already knows. We concluded that if you want a quick solution of iPhone 12 crashing, then Tenorshare ReiBoot Pro is the software that will help you repair your iPhone 12 in a jiffy.
We also discussed some guidelines on how to properly charge iPhone 12 using MagSafe.