How To Fix iPhone Black And White
by Anna Sherry Updated on 2021-05-18 / Update for iPhone Fix
Can someone help me resolve this issue? I don't know why my phone display in grayscale and I did not change any settings prior. I powered off and on the phone, checked all the settings and I doesn't help... help"

-- From discussions.apple.com
Have you ever woke up with your iPhone Black And White Screen? If yes, you must be worried about seeing grayscale on iPhone and wanted to know what it is and why it happened. We are here to elaborate on iPhone Black and White problem and how to fix it. If you have been struggling with it, it's time to get rid of it and start enjoying your iPhone as normal.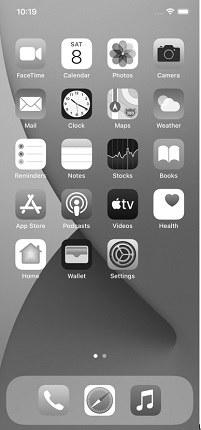 Part 1: Why My iPhone is Black and White
Some people get scared when they see their iPhone turn black and white for no reason. It mostly happens because of an accessibility setting that accidentally turns on. For people who do not want the greyscale mode, it can be a trouble that they need to fix. The following are some reasons that can lead you to figure out the real problem. Let's have a look!
Grayscale mode is turned on
Sometimes it happens that you didn't turn on grayscale on iPhone, but it turns on accidentally. Sometimes, you may accidentally use some hotkeys to turn it on. So, the first thing to do is to turn off the black and white iPhone whenever you see it.
Software or system problems
Keep one thing in mind that a iPhone black and white screen can also signal some software or system problems. So, you must not ignore it every time, thinking it just an accidental turning on of greyscale filter.
Part 2: How To Turn Off Grayscale Model iPhone
There are 3 methods through which you can easily turn off a black and white iPhone. Some people may not know about all of these methods; that's why we are here to share in details. If one is not working for you, you can choose the alternative to fix the iPhone Black And White.
Method 1: Close Color Filter
To turn off the black and white mode on your iPhone, you have to follow the following steps.
Go to Settings and then choose the "Accessibility" option.
Choose the "display and text size" option and then click on the "colour filters" option.
Slide the button to turn off your black and white iPhone screen and get your phone back to normal.

Method 2: Cancel Zoom Filter

Even after you turn off greyscale settings, you may have your iPhone stuck in black and white. That's why we are sharing an alternative way to fix the issues. You will have to cancel the zoom filter to fix iPhone black white screen.

First of all, go to the "Settings" app and scroll down to "Accessibility".
Go to the "Zoom" option, and under the zoom tab, tap on the "none" option to remove greyscale on iPhone.

Method 3: Turn Off Accessibility Shortcut

Go to the settings menu and then tap on the accessibility option.
Go to the accessibility shorts option and turn off all the shortcuts.
Turning off the Color Filters accessibility shortcuts would help you fix the black and white screen iPhone.
Part 3: 2 Methods to Fix iPhone Black And White screen
If the methods we mentioned above didn't work for you, some added methods are tested promising to fix all iPhone-related issues. So, why not try these methods to fix iPhone screen black white screen. Let's learn the procedure and apply it to resolve the problem!
Reset All Settings
Resetting your device will take it to factory data settings, and it will also solve most of the issues. So, we recommend resetting all your settings to default. Follow the steps mentioned below:
Go to Settings. Click on the Generals menu to get enough options to choose from.
Tap on Reset and choose Reset All Settings, a confirmation message will pop up. Tap on the "reset all settings" option to continue.
After that, enter your passcode, and iOS will start resetting all your settings to default.

Using Reiboot To Fix System Issues

A second more convenient and straightforward way to fix multiple iPhone issues is using a software utility called Tenorshare ReiBoot. It is the best software to reboot your device and fix the major system or device issues, including iPhone Black and White screen. Let's learn how to use this incredible software to remove grayscale on iPhone.

First of all, download the software from the official website on your laptop or PC. After that, connect your phone with the laptop or PC. We recommend you use Apple original lightning cable for a better experience.

2. Launch the application, click "start" and you will be given two options on the screen. You can choose "standard repair" to avoid data loss.

Now, download the firmware package. It will take time because of heavyweight. So please wait until it's done.

After successfully installing the firmware, click on "start standard repair" to initiate the process. This process will take some time, so please be patient.

After the successful completion of the process, your device will reboot automatically. The best part is that it will not remove all of your data!
Summary
Having iPhone is classy until you face some issues like a black and white screen iPhone. But it's ok to have some problems like that. Now, you have enough methods to choose to fix the grayscale on the iPhone. When you have to fix or repair your iPhone issues, you can do it by yourself now with the best iOS recovery tool - Reiboot! What are you waiting for then? Choose the one you liked the most and try to solve your problems. Don't forget to give us your feedback and mention the method you used.
Fix iPhone Stuck and Update Issues without Data Loss