Everything You Need to Know About Samsung S7 No Command Error
by Jenefey Aaron Updated on 2020-01-04 / Update for Samsung
Have you been getting trouble because of Android's "no command" error whenever you try to access new software or application on your phone?
Well, this is an error that most of the Galaxy S7 users are familiar with, and we are here to tell you how you can deal with it.
Part 1: What is the Samsung Galaxy S7 No Command Error
The Galaxy S7 no command screen is an issue that usually shows up either when you're trying to install a new application, or when you're trying to activate the recovery mode. In most cases, your phone is usually waiting for a command to get access to all the options available that can be utilized.
However, some users have complained that they get stuck in a boot loop where the "no command" error shows up again and again, and they cannot access their phones, respectively.
Whether you're stuck in this horrible boot loop or you're trying to get access to Galaxy S7 recovery mode, we are here to tell you exactly how you can deal with this issue efficiently.
In this post, you're going to find way too many options that will help you access the recovery mode and also get rid of the dreaded boot loop.
Part 2: When Does It Occur? The Android No Command S7 Issue
The Galaxy S7 "no command" error usually occurs in the following situations:
When you're trying to install an application or installing system update no command S7.
When you're using too many applications simultaneously.
When you're trying to restore your phone to default settings.
When you're trying to access the recovery mode.
The "no command" screen might also appear when you're trying to reset the phone.
These are the four main situations when "no command" error usually occurs, and we are just about to tell you how to fix it effectively.
Part 3: How to Fix Samsung Galaxy S7 Edge No Command
There are numerous ways through which you can reset the S7 edge no command error. Some work and some don't. Here we will be talking about four important ways through which you will be able to reset your phone efficiently.
1. Use Recovery Mode to Reboot the System
Note: Before you start the process, you must disconnect your device from any USB cable, charger, or OTG cable. You also need to ensure your phone battery is charged at least 80% if you want the process to complete its course.
When you want to reboot your system, you need to follow the mentioned steps very carefully.
Switch off your phone.
Now you need to press the volume control button along with the power button until you receive a message that labels "bootloader".
Once the bootloader option appears, you can use the volume control button to move up and down the options and use the power button to select the desired tab.
Now, here you will find "Recovery Mode." Select it.
Now you will see the words "no command" in black screen.
You will have to press the power button continuously but in between, press, hold and release the volume but continue pressing the power button.

You will see a list of options once you're done. Now, select the

reboot system now

, your Samsung S7 will be restarted and the error will go.
You can also check here to know more about Samsung Recovery mode.
2. Force Restart Your Phone
Another option that can help you out to fix the "no command" error is by forcing your phone to restart. It may seem quite easy, but sometimes, even the most accessible solutions are the hardest to perform.
3. Use Tenorshare ReiBoot for Android to Fix S7/S6 No Command
As we have mentioned before, the recovery mode in Android is capable of getting rid of all the problems. But sometimes, Android recovery mode may get challenging to access that Android's Tenorshare ReiBoot for Android is here to help you out.
With the help of this application, you can get rid of the Android boot loop, wipe cache, clear cache and also free your phone of blinking no command problems and the black screen just with the help of a few clicks.
You need to download this application on your computer and then connect your phone to your computer via USB cable.

Then, you need to launch the application and click on the "Repair Android System" tab.

You will see the following screen on your computer where you have to click on the "Repair Now" button.

Enter all the required information of your device, which includes series, brand, model, carrier, and country. Make sure you enter all the information correctly, or your device may get bricked. Once you're done, click on "Next."

You will have to wait for a few minutes while ReiBoot for Android will download the suitable firmware package to repair your device.

Once the downloading is complete, click on the "Repair Now" button. You will see a pop-up message appear, click "continue."
Follow all the instructions shown on the screen and make your actions accordingly. The repair process will take some time to complete once it has begun. Once it is complete, you will receive the message, "repair process is complete'.
4. Take Out the Battery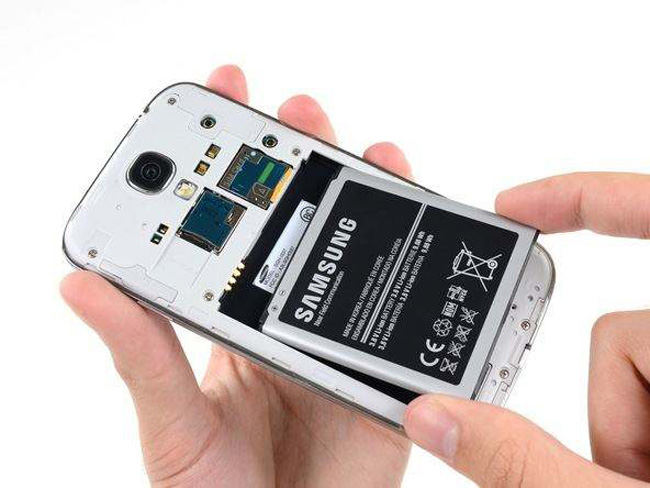 Conclusion
So, these are the four processes that will help you out in solving the no command error on Galaxy S7 and we highly recommend you trying Tenorshare ReiBoot for Android as it is verified to be useful by many users. If you have any suggestions in this regard, do let us know through your feedback below.