Top 4 Solutions to Fix Odin Stuck on Setup Connection
by Jenefey Aaron Updated on 2021-11-22 / Update for Samsung
My odin was stuck at set up connection and after I tried to change the USB ports, the odin failed to read the phone. What can I do? Please help me."
Samsung users use Odin, a piece of Windows-based software to flash custom firmware and ROMs on their device. This feature to flash Samsung devices is of extreme help to many of the users. However, those who have used this software usually complain that they encounter the Odin stuck on setup connection issue while trying to flash the ROM. If you are someone who is witnessing the Odin setup connection problem, this post will guide you on how to fix it with some straightforward solutions.
Part 1: What is Odin Stuck on Setup Connection?
The Odin stuck on setup connection error can occur due to several reasons.
Outdated Odin Version

The most common and obvious reason is that the version of Odin you're running is out of date. Outdated software usually malfunctions, so when you're using an outdated Odin which is incompatible your current device or does not support the format of the file, the odin can freeze at setup connection.

Incorrect or Corrupted Firmare File

When the firmware files are incorrect or corrupted, it will cause Odin to reject the connection or even mess up your Samsung device.

Unrecognized USB Driver

Odin cannot get through your Samsung device if your USB driver is unproper and doesn't match it, which may be another possible reason for odin setup connection problem. Besides, if you forget to enable USB debugging on your device, Odin may also throw an error message.
Part 2: How to Fix Odin Stuck on Setup Connection?
Now that you have the idea of what cause the Odin setup connection problem, you can follow the solutions below to learn how to fix Odin stuck on setup connection.
Solution 1: Update Odin to the Latest Version
Odin requires regular updates to keep working smoothly and avoid any issues, otherwise, it will lead to an operation failure. Hence, to fix the Odin freezes at setup connection, the very first solution you should try is to install the latest Odin software.
You can exit the program first and then visit the Odin download website. Look for the latest version of Odin and have it downloaded on your computer. Once the new version is downloaded, run it and use it to flash files on your Samsung device. The Odin stuck on setup connection error should now get fixed.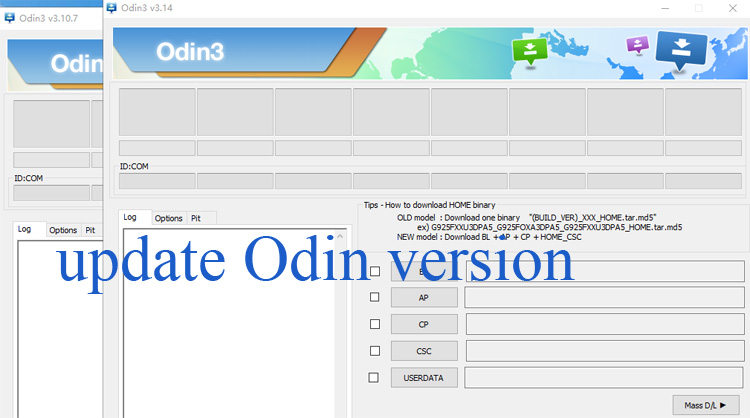 Solution 2: Load the PIT File of Your Device
The second solution to fix the Odin setup connection problem is by loading the PIT file of your mobile device. But, before applying the below steps, you must ensure that you are using the correct PIT file. To download Samsung PIT file, you can click here!
Then, apply below steps to load the PIT file.
From the Odin screen, hit on the PIT tab followed by loading the PIT file for your device.

Now, go to Options and then activate the Re-Partition option.
If this solution fails to resolve the issue, move to the next solution!
Solution 3: Check for the Samsung USB Drivers
USB Driver is also an important factor contributing to a proper connection between Samsung and Windows. To ensure an error-free connection while flashing the ROM, it's necessary for you to update the USB drivers of your device. The drivers for your Samsung device can be installed from Samsung Developer's site. Get the proper USB Driver installed before working with Odin.
Steps to install Samsung Drivers:
Download the drivers and then extract them on your desktop or laptop by clicking right on them and selecting the "extract all" option.
Now, open the extracted files followed by double-clicking the files to run it.
After this, if your device and desktop are connected, disconnect them.
Then follow the onscreen instructions for the installation of drivers.
Once after finishing the setup, close the setup wizard and connect your device to the computer/desktop.
Now, your device should get recognized by the Odin, and you should be able to flash your device with any firmware you want.
Solution 4: Reboot Your Device into Odin Mode
Another solution to fix the Odin3 stuck on setup connection is by rebooting your device into Odin mode.
The steps below will help you easily reboot your device into Odin mode.
Launch Odin on your mobile while making sure that all the files are in their respective slots.
Now, navigate to Options while making sure that Auto-Reboot is enabled.

After you have activated Auto-reboot, hit on the Start button. When you click on it, press and hold the Volume Up and the Power keys simultanously for a few seconds if your device belongs to the newest Galaxy and Note series devices.(You can click here to check how to reboot your Samsung device into Odin/download mode.) After doing this, the Odin will fail the flashing, which will reboot your device into the download mode.

Then, hit on the Start button one more time, after which the Odin will begin to flash the file on your mobile device.
In case, this process does not work the first time; you can try it 2 to 3 times more.
Part 3: FAQs about Odin
What Common Errors Can Occur When flashing Samsung using Odin?
Odin Does Not Recognize My Device
Odin Fail Error
Odin "There is no PIT partition"
Could not do normal boot odin mode
How Long Does Odin Mode Take?
Usually, it takes about 10 to 12 minutes to get the flashing process fully completed.
How Do I Get My Phone Out of Odin Mode?
To get your Samsung device out of Odin mode, you can press and hold the Volume Down key and Power key simultanously to power off your phone.(Some older devices use a different button combination.)
Part 4: How to Fix Samsung Phone Stuck in Odin Mode?
The best solution to resolve the Odin setup connection stuck is by using third-party software such as Tenorshare ReiBoot for Android! This easy-to-use software gets your job done in the right manner without wasting any time.
This user-centric tool uses just a single step to exit your device out of the Odin mode without causing any data loss. So, let's have a look at the steps below to know how to use this efficient tool to get over the Odin setup issue.
Lauch Tenorshare ReiBoot for Android followed by downloading it on your computer. Then connect your Samsung device to the computer with a USB cable and select "Repair Android System" on the main interface.

Now, click "Repair Now" to fix this issue.

Download the latest firmware package for your device followed by entering the detail information about your device.

Once the firmware is downloaded, the next screen will provide you an option of starting the standard repair. Click on it.

After this, the repairing process will begin and should take few minutes.

You should now fix the Odin setup connection stuck issue successfully. 
Conclusion
In this post, we provide you with top 4 solutions to fix Odin mode stuck on setup connection issue. And if you want to slove your Samsung device stuck on odin mode, we recommend you to use Tenorshare ReiBoot for Android to resolve this problem with ease and without wasting any time.
ReiBoot is a potent software to fix a wide range of Android-related issues including Samsung device stuck on logo, apps keep crashing, and black screen of death in just a few simple steps, without any hassle of losing your vital data on your Android system. We hope with these solutions, you will seamlessly be able to overcome this problem and perform the required activities on your device.