A Detailed Guide on Fixing Samsung S10 Overheating
by Jenefey Aaron Updated on 2021-05-21 / Update for Samsung 10
Samsung's top-rated and top-notch phone, the Samsung Galaxy S10 surely may be one hell of a phone, but its overheating issues make the whole experience equally unpleasant. The issue may go up to the point that it gets unbearable to hold the phone in hand. There are many fixes available to solve the Galaxy S10 overheating issues. In today's guide, we will talk about ways to solve the Samsung overheating problems, including S10, S21, S21 Ultra.
Why is Samsung S10 Overheating?
Due to Phone Case.
It can also because of the the number of apps running in the background.
Another reason may be running heavy apps over your phone for longer intervals of time.
Overuse of phone.
Your software or data may be corrupt; while this is a reason most people may not come to acceptance with, it still exists.
Because of battery issues.
Because of mobile data.
How to Fix Galaxy S10 Overheating Issue (11 Methods)
1. Let it Cool off
Give your heating Samsung Galaxy S10 Plus some time to cool off sometimes in harsh summers due to high temperatures. The phone may tend to heat up while using it in excess. Especially while playing games. Our phones don't have a fan that keeps it cool even while its in use like our CPUs and laptops. So they need some time to cool off.
Allowing your phone to cool off will fix your Samsung overheating for the time being.
2. Remove Phone Case
The phone cases play a huge role in heating our phone, especially phones like the S10, S21. Hence it's a big phone with a big processor. The phone case keeps the heat inside and not letting it out, which results in the phone heating up. In such a situation, the phone cases must be removed to allow the phone to cool off.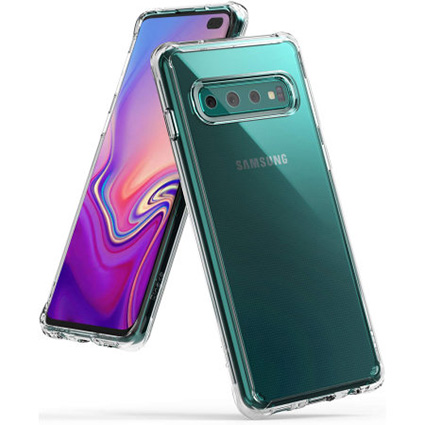 3. Closing All Running Apps
While you are not using your phones, close all the apps that were in use. The apps keep on running in the background because the phone's processor keeps functioning, and it results in the phone heating up. It will affect the RAM.
To close all the apps, open the recent apps from the bottom-left corner.

Scroll to find your app and swipe it up tp close.
4. Turning off Features and Services Not in Use
Main features in the phone that may cause the phone to heat up are WiFi, Bluetooth, and GPS.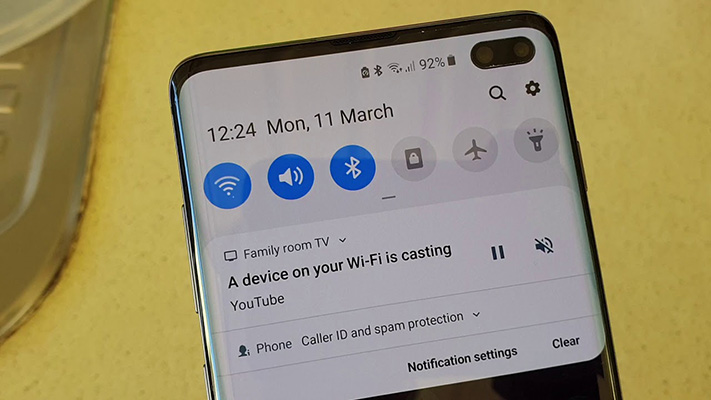 Similar to the apps running in the background, these features also consume much charge and cause the phone to heat up. Such features are used very often by us, which is the main purpose of these phones. But keeping in mind phones are devices as well, and they produce heat. To protect from samsung phone overheating, such features must be closed.
5. Soft Reset of Samsung Galaxy S10
Soft resetting the phone may help to give a fresh start to the phone. This method will help free up RAM and close all the apps on the phone. It is a potential fix for the overheating issue of the S10.
Press and hold the Power button and wait for the Power off prompt.
Then release the Power button and click on Restart.

Confirm the Restart operation and your Samsung S10 will be resetted in a few seconds.
6. Booting In Safe Mode
Sometimes a certain app that is malfunctioning may cause the phone to overheat. Put your phone on safe mode and reboot; if it is still overheating, then any suspicious apps must be removed starting from any recent apps that have been installed before the overheating had taken place.
7. Turn off Background App Refresh Feature
The Background App Refresh Feature sometimes puts much load on the phone while its in use. In case of overheating of the S10, the background app refresh feature is to be switched off to prevent any mishaps that might take place.
Go to Settings and select Connection.
Tap Data usage and then Wi-Fi data usage.

Choose a certain app to disable Allow background data usage.
8. Updating the Software
Some issues may lead to the Samsung phone overheating, which is not resolved through just rebooting the phone, but you have to update the software. From time to time, new bugs try to temper with our phones. The company regularly provides its users with new and new updates on its user's phones so they can have a bug free experience.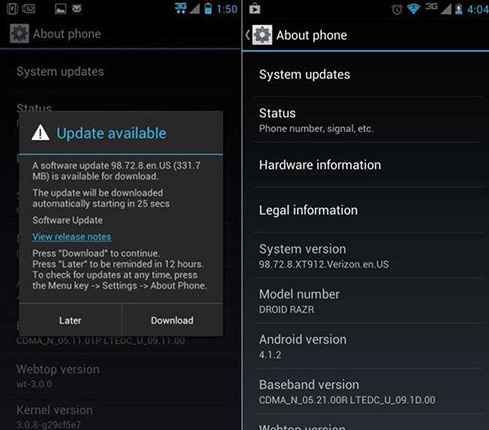 These bugs may cause certain apps to malfunction, which may cause the phone to overheat, so updates must be done from time to time on a regular base.
9. Factory Data Reset The Phone
If you have tried all the solutions above, you might as well try factory resetting your phone. Factory reset means to bring your phone back to the default settings on which it was purchased. This step might be helpful in many cases because it removes all the unwanted data, and the phone is back to new. Be sure to backup your data first, follow the following steps:
From the setting, select General management.

Click on reset and select Factory data reset.

Keep scrolling down till you see Reset and tap on it.
Enter your password if there is any.
Tap delete all.
10. App Issue History
Most issues arise in S10, S21, S20, such as app crashes and viruses, etc. You can find the App issue history on your Galaxy from Settings.
Find device care and tap on it.
On the upper right corner of the screen, click three dots.

Choose the App issue history on the list.
11. Use Tenorshare ReiBoot for Android To Fix S10/10 Plus Heating Issue
In case you have overheating problems with your Samsung phone like S10, S21 Ultra, and they persist after all tries. You can try out Tenorshare ReiBoot for Android. Tenorshare ReiBoot for Android is the best and the latest way to help you solve all your Samsung phone overheating in the best and safest way possible. No extra efforts are needed, and you also get to have your phone's issues solved. This software is free of cost. However, it may require a paid premium for packages. Install Tenorshare ReiBoot today to experience it for yourself!
Tenorshare ReiBoot lets you put your phone in recovery mode and exits it free of cost.
It helps you restore over 50+ problems, both that you know of, and you do not know of, in the best way possible.
With Tenorshare ReiBoot, Samsung pay not working, Samsung won't charge and S10 overheating issues will be fixed easily.
What it Supports?
The best thing about the Tenorshare ReiBoot is that it is not restricted to one or two Android systems. Tenorshare ReiBoot supports all systems above 2.0. Whether your phone is provided by Verizon, Sprint, Vodafone, AT&T or T-mobile, this system supports all.
How Does It Work?
Once you download it, it's time to connect your phone (Galaxy S10) to your computer to start the process of fixation.

Enable USB Debugging on your smartphone and click the "Repair Android system" option.

As soon as you see the interface mentioned above, click on the "Repair Now" option to begin.

Select your Samsung mode and then download the firmware. While the process continues, we strongly recommend you do not disconnect your device.

At last, tap "Repair Now" to start the fix process. As soon as repairing is done, your phone should boot up normally.
In this way Tenorshare ReiBoot for Android helps you remove all the Samsung phone overheating problems including Galaxy S10, S20, S21, etc. that occur due to malware in software.
Conclusion
We hope that this guide was informative and provided all the necessary information needed to fix Samsung S10 overheating issues. The next time you encounter any problem, not just Samsung overheating problems, you will know exactly what to do with the help of Tenorshare ReiBoot for Android and other methods above.
Let us know if you have any issues. Also, tell us how you fixed your Samsung S10 overheating problems in the comments below.