Is Tenorshare UltData Trustworthy? Here Are the Reviews
by Sophie Green Updated on 2021-12-10 / Update for iPhone Tips
Nowadays, we are all used to using our mobile phones to take pictures as well as store some data. So when your phone crashes or gets stuck, that data will be gone if you don't have a backup. It was in this context that UltData emerged. Don't know what it is? Kepp reading to know more!
Part 1: Take A Look at UltData
Many people are in doubt and pondering "is ultData trustworthy data recovery tool or not?" Let us find out the fact in this Tenorshare UltData review. The most useful thing is that you don't have to be a tech-savvy to use this software.
UltData's Feature
The features of UltData are super impressive, which makes it one of the most reliable data recovery tools for iOS users.
It can be used for recovering data from iOS devices, iTunes and iCloud backup.
The software is compatible with more than 35 file types, including photos, contacts, etc.
For Mac users, it supports the restore and backup of WhatsApp, Line, Kik, Viber, Wechat, and many other social media apps.
This data recovery software is ideal for the latest iOS/iPad 13.5 and the SE 2nnd generation devices.
Recovers data in just three simple steps.
Powered with three recovery modes.
When You Need to Use UltData
Sometimes, we mistakenly delete data from our phones and regret it later. Moreover, we know that some people reset their iOS device without taking the backup. This isn't the right step to take if you store all your essential files in your phone. You would lose all the data if you did not perform the backup before factory reset. In such a condition, it is great to use a third-party tool for retrieving your messages, call details, messages, contacts, and so on. Even if the ultData iPhone is locked, you can still recover the data. There are many other situations when you can use UltdDta like water damage, system crash, virus and malware attack, etc.
Is Tenorshare UltData Safe
One of the users said, "this tool works like a charm. I managed to transfer my WhatsApp chat history easily from iOS to Android. The software interface is straight forward and user friendly." We heard similar positive reviews from plenty of UltData users. No uncertainty, it is one of the best data recovery tools and utterly safe for iOS users. So you no longer have to ask "is Tenorshare UltData safe or not?" Apart from this fact, it comes with a 30-day money-back guarantee.
Seeing is believing:
"User from Trustpilot Says"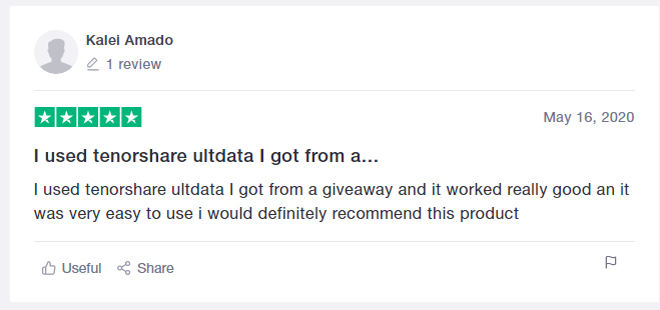 "User from ResellerRatings Says"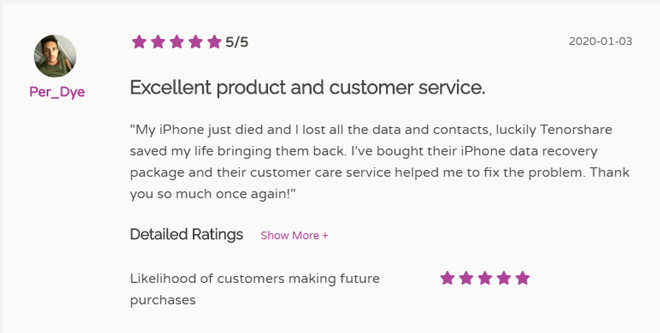 "User from Tenorshare Says"

UltData is designed by Tenorshare, so there are also some users questioned about Tenorshare. Is Tenorshare safe?
Instead of proving that we are safe, we would rather explain to you how professional we are. The Tenorshare team was founded in 2007 and has been around for more than 10 years. Tenorshare products have more than 150 million downloads worldwide. And our YouTube Official channel has more than 100 million views. We keep working to provide high-quality products for our customers. So, "Safe" is the basic and indispensable feature of our products and our team.
Part 2: Is Tenorshare UltData Worth to Buy?
Of course, UltData is one such tool that every iOS user need. If you do not believe then download its trial version. It does a miracle by recovering your lost files by scanning and previewing them. It truly deserves your money and the reason you already know. It is packed with four powerful features, and the cost of this tool is pretty affordable. An iOS user questioned, "Can I recover any deleted text messages with Tenorshare UltData?" The most straightforward answer is "YES". Its price depends on the type of license you will buy.
Part 3: UltData Not Just UltData
UltData isn't only for the iPhone or iPad users. It is available for Android, Windows, and Mac users as well. For all, it does the same thing of recovering data. For android users, it can recover deleted WhatsApp texts and many other kinds of data with an extremely high success rate. Some users have a complaint that UltData for android free trial does not work. If this happened with you, then you can contact the support team. Windows user can recover the lost data from hard drive, SD card, removable devices, and many others. Even when your Mac is dead, retrieving data is still possible with the help of Tenorshare UltData recovery tool. To Know more, please visit Tenorshare Official Page.
Part 4: How to Use tenorshare UltData to Recover Lost Data
Based on the device you own, the process of recovering data can vary. Consequently, make sure to follow the instructions carefully. Whether you want to know how to recover videos from UltData or access the deleted files, the given steps can help you in this.
Download and install the software on your computer, and connect your device to PC with USB cable. The software will recognize your device after connecting correctly.

Next, it'll start scanning to retrieve the lost data. Select the data that you require to recover. Click on "Start Scan" so that the programs will list all the lost data.

Now, you will get the list of lost data based on their respective categories.You can also preview the photo before restoring.

Once you find the lost photos or data, click on "Recover" to retrieve it on your computer or to your device.
With only a few clicks, you can recover the missing iPhone datas in a few minutes. By the way, here's video to show you how to work with UltData.
People Also Ask about Tenorshare UltData
Q1: Can I recover any deleted text messages with Tenorshare UltData?
Yes, Tenorshare UltData is able to help you retrieving any deleted text messages and other type of data as well in a hassle-free way. Not just from iPhone but also can recover from Android devices too.
Q2: UltData taking a long time to scan messages what to do?
In case, UltData taking a long time to scan messages, you must have to wait patiently. As a reliable tool, it will definitely provide the results. It might be taking time due to the large amount of data. Hence, just wait for a while and you'll get the data.
Q3: UltData for Android free trial does not work how to do?
You can contact the customer service to report the issue if such is the case. Well in most cases and as per the clients' reviews, this thing hasn't happened for them. It might be glitch and you can ask from the customer support to resolve it.