Note 4 Could Not Do Normal Boot? Fixes Here!
by Anna Sherry Updated on 2021-11-25 / Update for Android Recovery
Hi, My Note 4 could not do normal boot. The update was fine but now my phone displays that it could not do normal boot mmc_read failed. I have tried restarting the phone but nothing worked. Once I plug in the charger, my phone will hang with a black screen display. Please help me out, why is there a boot error?"
Many Samsung cutomers are worried about seeing a "could not do normal boot" error message on the screen when they try to reboot their Galaxy Note 4. If you are facing the same issue with your Note 4, then don't fret. It 's a common issue that Samsung Galaxy Note 4 could not do normal boot and luckily enough, this blog will help you rectify this booting error in Samsung Galaxy Note 4.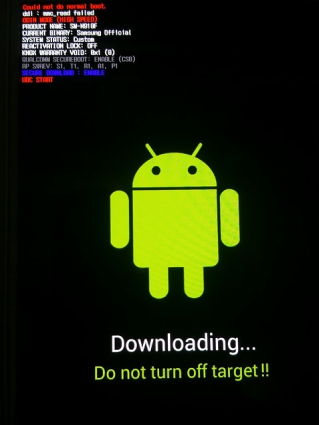 Part 1: What Cause Note 4 Could Not Do Normal Boot Error?
Some Samsung users have reported a booting problem that their Note 4 could not do normal boot with the ddi mmc_read failed message. Despite having a quad-core processor coupled with 32 GB internal memory, this mobile had some boot issues back then. The users argued that even after sufficiently charging their Note 4, it still wouldn't turn on. Let's see what could be the reason:
Hardware Problem

There could be some hardware issue inside your Note 4 that may lead to this boot issue. You might have a damaged charger or cable acting abnormally, or your battery might have gotten damaged. Moreover, sometimes a jammed micro-USB port could be the issue too.

Conflict of Applications

There might be a conflict between your system apps and services that might be contributing to this booting. Sometimes your Android device can get stuck on the boot animation. You will see your manufacturer's logo like usual, but it will shut down and repeat indefinitely.

Part 2:How to Fix Note 4 Could Not Do Normal Boot Error?

What if your Samsung Galaxy Note 4 could not do normal boot, and you want to fix it as soon as possible? Well, there are some ways that might help you get out of the boot loop. You can try these methods one by one to see which one helps you.

Way 1: Remove and Reinsert the Battery

The simplest trick to do is to remove and reinsert your battery into your Note 4. Luckily, the Note 4 has a removable battery, so you can easily take it out. There is one precaution, although you have to wait for some time and then reinsert your battery.

If you take out the battery and reinsert it right after it, then your phone might still not work. Taking out the battery for at least 30 seconds would ensure that excess voltage is drained out and ready to be put back inside. Enter the battery and turn it on to see if your Galaxy Note 4 has come out of the boot issue.

Way 2: Perform a Factory Reset

What to do if the Galaxy Note 4 "could not do normal boot, mmc_read failed" error persits after you reinsert and battery?

In this case, performing a factory reset on your Android device can actually be a goood solution, but it will wipe out your phone data, so make a full backup of your data on PC or cloud before proceeding. Follow our guide on ways to backup Android phone to PC if necessary.

Here is how to do a factory reset on Samsung Galaxy Note 4:

Press and hold the Power button for several seconds to power off your Galaxy Note 4.

Press and hold the Volume up and Home buttons simultanously. While continuing to hold these two buttons, press and hold the Power button.
Once the Samsung Galaxy Note 4 logo displays, you can release all buttons and wait until the device to enter into recovery mode.
Utilize the Volume down button to highlight "wipe data/factory reset" and then select it with the power button.
Highlight "Yes -- delete all user data" with your volume down key and select through Power key to reset your phone.

Once done, highlight on the "Reboot System now" and hit the power key to reboot. It will take some time.

Your phone will reset itself and turn back on automatically, which means the Note 4 Could Not Do Normal Boot error is finally successfully fixed.

Way 3: Wipe the Cache Partition

What if you could not do normal boot Odin mode? Try wiping the cache out:

Try the same method till step 3 as above.
Highlight the "Wipe Cache Partition" option on your phone and press the Power key to choose it.
Press again to confirm.

Wait till the cache partition is gone. Your Note 4 will automatically restart.

Extra Tips: How to Fix Android Stuck in Boot Loop Issue?

Sometimes the boot loop issue on your phone occurs due to a glitch inside your Operating System. This issue can become severe, and you might lose your Android phone forever. Hence, it's better to take quick action and use a professional Android repair system software like Tenorshare ReiBoot for Android, a professional system recovery software.

Being user-friendly and powerful, ReiBoot for Android can help you effectively solve more than 50 plus issues like Samsung odin mode stuck, Samsung black screen, and many more. Here is how you can get your Android out of the boot loop.

Download and install ReiBoot on your PC and connect the affected Android phone to your computer. Launch ReiBoot for Android and click on the "Repair Android System" option to get going.

After that, click on the "Repair Now" option to get going. You have to back up your device before going for the repair.

Your Android device information page will be displayed on the screen. You have to fill in the required device information for associated firmware. If you don't have the exact info, click on the "? option for guidance. Once the device information is put in, you can then download the related firmware, which will take some time.

Once the firmware is downloaded, it's time to click on Repair now. It will take some time to repair your device.

Once it is done, ReiBoot for Android will display that the repair process is completed. Boot or restart your phone after that.

That's it! Thew Android stuck in boot loop issue should now be fixed.

Conclusion

In this post, we've putt forward three possible methods to slove note 4 could not do normal boot issue. The boot error might be due to a bad battery or error in your applications, so you either try fixes like reserting battery or performing a factory reset or cache wipe. If your Galaxy Note 4 has other boot issues like it gets stuck in boot loop, Tenorshare ReiBoot for Android will be the perfect candidate for this job.