Top 3 Tips to Do with a Water-damaged iPhone with/without AppleCare
by Jenefey Aaron Updated on 2019-07-25 / Update for iPhone Fix
"Does apple care cover water damage on the iPhone? I'm debating if I should keep my security/damage coverage plan with Verizon or switch to apple care which is a less expensive. My current plan covers water damage and I was wondering if the same was true for apple care."
—Apple Communities
Just like the iPhone user above, I guess many of iPhone, iPad and iPod users are confused by AppleCare, AppleCare+ and what coverage each insurance includes. Learn the top 3 tips you can do with a water-damaged iPhone without or without AppleCare.
AppleCare VS. AppleCare+
In general, every iPhone you purchase comes with one year of hardware repair coverage through its limited warranty and up to 90 days of complimentary support. This coverage starts automatically from the date you purchase your iPhone. However, accidental damage is excluded from the regular AppleCare. And that is where AppleCare+ comes into play.
Compared with AppleCare, AppleCare+ for iPhone extends your coverage to two years and adds up to two incidents of accidental damage coverage, with a $79 service fee for iPhone 5c, iPhone 5s, iPhone 6 and iPhone 6 Plus, or $99 for iPhone 6s and iPhone 6s Plus.
It is worth mentioning that you need to purchase AppleCare+ with your new iPhone, or buy it within 60 days of your iPhone purchase.

Top 3 Tips to Handle with a Water-damaged iPhone
If you dropped your iPhone into the water and it got damaged, the 3 tips below may enlighten you what to do with a water-damaged iPhone with or without AppleCare.
Tip 1: Check Your Warranty Status
Check your iPhone coverage status. There are three outcomes:
Under 1-year Warranty (Regular AppleCare)
Out of Warranty
Covered by AppleCare+
In the first two circumstances, that is, if you are out of warranty or within 1-year warranty, you still need to pay to repair or pay full money for a replacement, as the 1st year warranty does not cover accidental damage. You can check the replacement costs in the tip 3 below.
Tip 2: Back Up your iPhone
Before you get your iPhone or iPad repaired or replaced, the most important step is to backup your device to avoid data loss.
You have several choices to back up your iPhone. Go to iTunes and click Backup option in Summary section. I have to mention that iTunes always keeps the latest backup by replacing the previous one. If you want to keep backup files at different time points, I recommend you Tenorshare iPhone Care Pro. It backs up all iPhone/iPad/iPod data including photos/messages/contacts/notes/app data, etc. and keeps all backup files separately on local. In the future you can restore the backup to any new iOS device.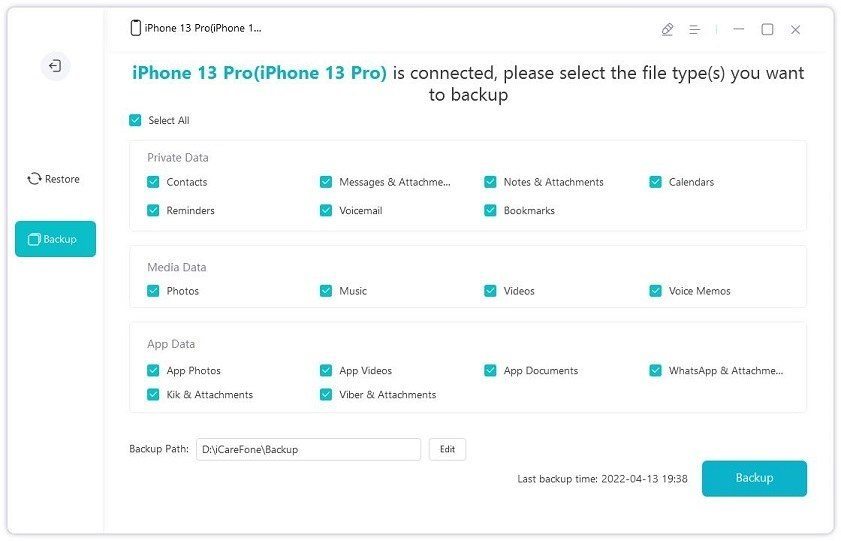 Tip 3: Get your Water-damaged iPhone Repaired or Replaced
Make an appointment with Genius Bar or take your water-damaged device to an App Store. iPhone customer care is trustworthy. The technician will start a thorough checkup on your device and replace your device for a reasonable cost.
Since the regular AppleCare does not cover any accidental damage, you have to spend the same cost as out of warranty.

If you have paid $129 for iPhone 6s/6s Plus, you just need to pay additional $99 for a replacement.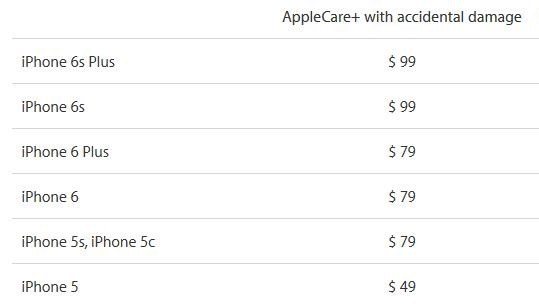 Hope the three tips above could provide you some suggestions when your iPhone was dropped into water unluckily, whether you have purchased an extended coverage AppleCare+ or not.