iPhone Water Damage: How to Fix?
by Jenefey Aaron Updated on 2019-07-25 / Update for Other iPhone Tips
You dropped your iPhone or iPad to the swimming pool, the bath, the sea or the toliet? Then what should you do to minimize the iPhone water damage, fix it, dry it out and rescue important data on iPhone?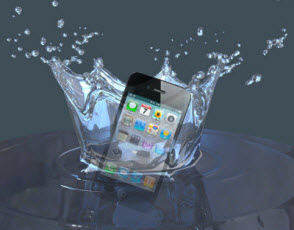 It's true that anyone could get iPhone damaged or broken from time to time. Probably the most common is the smashed screen, which we discuss in our article on how to recover data from a broken iPhone. Apple support might be the first thing comes to your mind. However, even Apple won't help this time as iPhone and iPod: Liquid damage is not covered by warranty. It seems that it's high time we learn some tips to fix water damaged iPhone by ourselves.
How to Repair Water Damaged iPhone (including iPhone 6/6 Plus/5s)
Cheer up, however, because a quick dunk in the old H20 isn't necessarily a death sentence for an iPhone - we can't guarantee anything, but all is not lost quite yet.
After your iPhone has been damaged by water or other liquids, do not try to turn your device on. This is the major cause of a dead phone after exposure to liquid damage. If you turn on your device while it still has moisture/ liquid in it, you can very easily short-circuit your iPhone which will fry the iPhone's motherboard. The right thing to do is:
1. Get iPhone out of the water or other liquids (lake, soup, bidet) and dab off as much of the liquid as possible from the outside of the phone.
2. If iPhone is in a case, remove it. Take out the SIM card as well. Then remove the two screws at the bottom of iPhone with a pent lobe (5-point) screw driver. Have no screw driver? You can go directly to step 5.
3. Remove the battery, motherboard, and other components exposed to liquid damage.
4. Clean off the motherboard and other components with 99% Isopropyl Alcohol (rubbing alcohol) a lint-free microfiber. Make sure to carefully clean off the connectors on the motherboard and accessories, so that you can remove the corrosive properties of the liquid.
5. Place the motherboard and other components inside of a closed container with silica gel for 24-48 hours. Place the entire phone in silica gel if you could not remove the back to get to the components.
Finally you could reassemble the iPhone, and then turn on iPhone to see if it works. If you can turn on iPhone, but the LCD is cloudy. You will need to replace the LCD because the original one has absorbed water.
Even these steps won't help you bring iPhone back to normal? Well maybe you could try to get all iPhone data out to your computer with iPhone Data Recovery which requires only a few clicks of your mouse. Finally, it's a good precaution to get your iPhone or iPad an anti-water case.