iCloud Mail Not Working on iPhone? Ways Here
by Sophie Green Updated on 2021-11-09 / Update for iCloud Tips
My iCloud email is not working. What can I do? It is so confused."
Apple has its own iCloud, and also its own iCloud Mail. You can create an iCloud Mail and use it just like any other email. But nothing in this world is perfect. We notice that it happens that iCloud Mail is not working and it can be confused. So this article is for anyone who have the question of iCloud Mail or the problem of iCloud Mail not working.
Part 1: What is iCloud Mail
iCloud is owned by the one and only Apple. To use iCloud Mail, you have to have an email/domain that ends in @me.com, @icloud.com or @mac.com. If you do not have anything of the sort, you can create your own iCloud Mail quite easily. Once you have that, you can now keep your mail synced between all of your devices, may it be your iPhone or your Mac.
And how to access iCloud Mail on iPhone? Easy. You can set up the iCLoud Mail and open Mail app to access it.
Part 2: How to Fix iCloud Mail Not Working
So, you also belong to the "my iCloud email is not working" squad? Let's solve this issue and construct a guide that maybe beneficial for everyone. The first thing you would want to do is go to Apple's support on their website and check the status of iCloud Mail.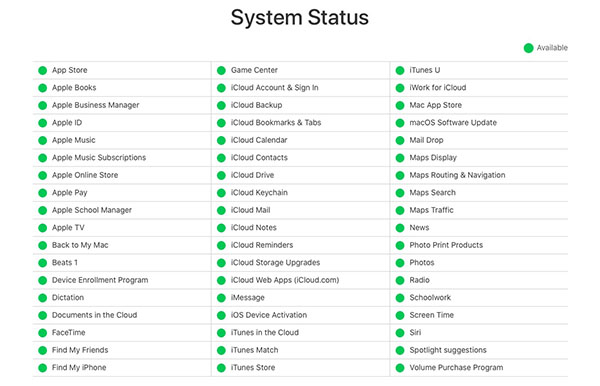 If the problem is on Apple's end, the status page will tell you so and in such case all you do is to sit back and wait until the problem is resolved. If you see a green light status, then most probably the problem is on your end. So check the following ways below.
1. Turn on iCloud Mail
Now the next thing is to check if your iCloud Mail is turned on. For accomplishing this task, pick up your iPhone, go to Settings, tap on your name, and tap on iCloud to locate the Mail option. If it is off, toggle it on.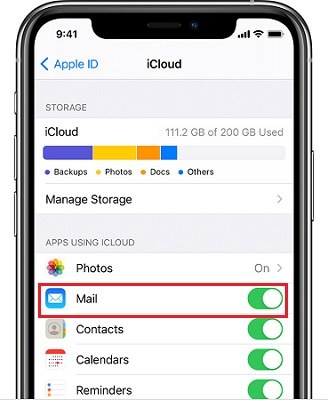 2. Ensure Enough Storage on iCloud
It could also happen that iCloud Mail is not working on iPhone is because of not enough space on iCloud. On your iPhone, go to settings, tap on your name and go to iCloud. A bar on the top will show you how different kind of files are occupying space on your iCloud. To see details, tap on manage storage.
When you setup your iCloud, you get free 5GB of storage. If your iCloud is full and you need more storage, you can change stroage plan and purchase more.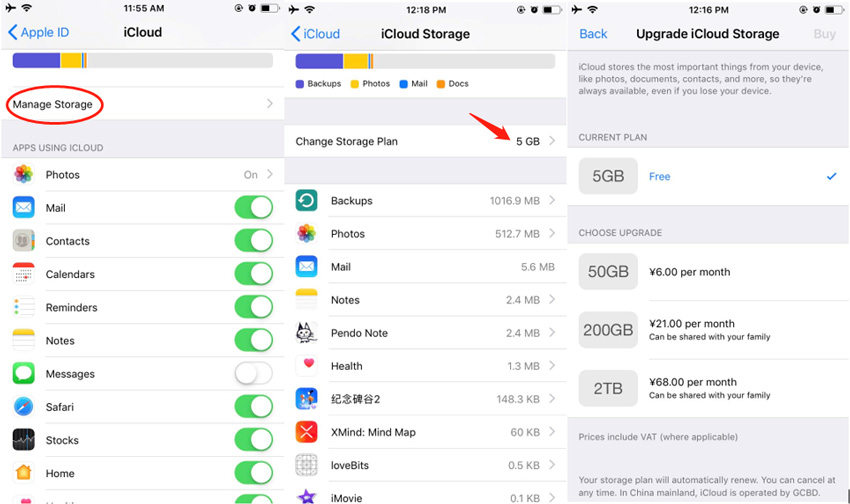 3. Enable Fetch New Data on iPhone
If you cannot receive iCloud mails, there can be another case that new data is not being pushed to your iPhone regularly due to a change in settings. Turning on this feature automatically means that your device constantly asks the server if there is any new mail/data available. If your iCloud mail not working, this may solve your problem.
Go to Settings > Mail > Accounts > Fetch New Data, and then turn on Push.

Also, below, choose Automatically or Manually or how often the Mail app fetches data.
4. Update Software to Latest Version
If you cannot access your iCloud mail, then your problem could be associated with your software not being up to date. iOS 15.1 has now been released. If your iOS version is too out of date, it might affect your iPhone usage. So, make sure the device you are operating is up to date.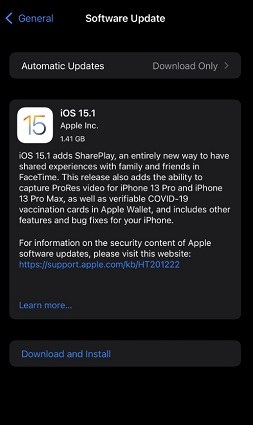 5. Check Internet Service Provider Support
Make sure that it's not because your internet service is down. Play YouTube, open Snapchat or surf the internet to see that your internet connection is working fine. If not, then contact the customer support of your internet providing company.
More Tips: Mail app is not working on iPhone/iPad
Part 3: Fix Mail App on iPhone Not Working with ReiBoot
If you have tried everything mentioned above and your Mail app on iPhone still not working, then it probably is a bug in your iPhone system. This problem cannot be solved manually and you can use third-party applications. Tenorshare ReiBoot is the best choice in this regard.
This method will solve your problem and you will not lose even a single file in Standard mode. Just follow the directions and iCloud mail not working will be gone.
Download, install and run ReiBoot on your Mac or PC. Connect your iPhone to the computer using the lightning-fast cable and once the device is recognized, click start.

On the next screen, you will get the options of standard and deep repair. Choose standard repair and start to repair.

Then download the firmware package. Depending your internet speed, this will take some time.

Once the firmware is downloaded, the next screen will provide you an option of starting the standard repair. Click on it.

When the process completes, your iOS device will restart automatically and your problem will be resolved.
FAQs about iCloud Mail
Q1: How to Set Up An iCloud Mail?
If you have not yet set an iCloud Mail, on your iPhone, go to Settings > [Your Name] > iCloud. Toggle on the Mail option and follow the on-screen instructions to create one.
Q2: How to Access iCloud Mail on PC?
On Mac, you can directly open Mail app. On Window PC, you can go to iCloud.com. Log in to your iCloud account and open Mail here.
Conclusion
There is no need to panic in such situations like iCloud Mail not working. Try to find a solution. If your iCloud mail has stopped loading or is not responding, do not worry and follow the above guide to ensure that your iCloud mail works fine. And Tenorshare ReiBoot is the ultimate to fix all your iPhone system problems.
Fix iPhone Stuck Issues without Data Loss