iCloud VS iCloud Drive: What is the Difference?
by Sophie Green Updated on 2020-03-17 / Update for iCloud
Q: "What's the difference between iCloud and iCloud drive? Are iCloud and iCloud Drive one and the same storage facility? Or Are my files and photos going to different locations when I store them on iCloud or iCloud drive?"
A: "Think of iCloud as a filing cabinet and iCloud drive as one of the cabinet's drawers you can use to store things. It is designed to store files that don't fit in any of the other drawers."
Many of the Apple device users, especially the new ones, are often confused about the difference iCloud and iCloud drive. They also find it difficult to understand which type of data can be stored on iCloud. iCloud has remained very useful for all the Apple device users who want their device data to be kept safe and secure.
This article will be helpful for all such users to understand what iCloud really is, how it can be greatly useful, and to also understand what is the difference between icloud and icloud drive.
Part 1. What Is iCloud?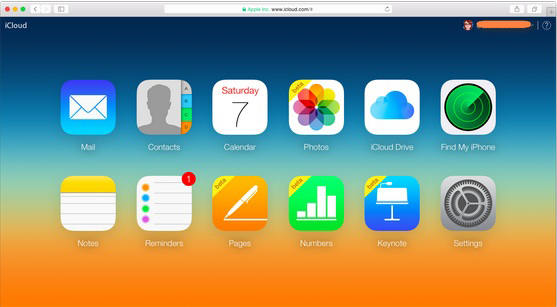 To draw a comparison of iCloud drive vs iCloud, it is important to know what iCloud is. iCloud is a name given by Apple for all its cloud-based services offered through their many devices. These services include contact, email and calendar syncing, location tracking of lost or stolen devices, and storage of music and audio files on cloud.
The main purpose of iCloud is to backup iPhone data on a remote storage space, which is referred to as the cloud server. This would mean that you are of taking up the empty storage space of any other physical device, and the information and data that you have stored on the cloud can be accessed through any other device as well by connecting the same to an internet network.
In simple words, iCloud basically lets you store your important files online and then lets you access it from all of your other devices like iPad, iPhone, Mac computer, Apple TV, and even the Windows system. It is used for many functions, which are listed below.
With your permission, iCloud syncs and saves all your contacts on the cloud. This would mean that only a single set of contacts needs to be maintained by you, and any changes that you make will get synced on the cloud as well.
When permitted, iCloud syncs all the events listed on your calendar across your other devices via the cloud.
It helps you in tracking a lost or stolen Apple device easily through the Find My iPhone service on iCloud.
Even the music on iTunes can be stored on iCloud, which can then be accessed through any of your other devices.
Part 2. What Is iCloud Drive?

To know about what is the difference between iCloud and iCloud drive, you need to understand what iCloud drive is as well. While iCloud is a cloud storage service provided by Apple, iCloud Drive is like DropBox. Since iCloud Drive is cloud-based, it makes the process of sharing any kind of data or information across any device very easy and fast. It also allows the different device datas to be synced and stored in a single place.
It is slightly different when compared to DropBox and Google Drive. In this, instead of going to iCloud Drive to access any stored file, you just have to go to the concerned app on your device to access it making it much simpler. For instance, to access a particular photo, you need not go to iCloud Drive but can access it directly from the Photos app.
iCloud drive is used for the following functions.
You can download as well as upload any file.
You can share files between different devices.
You can easily delete the files.
Organize any file or data in different folders.
You can also rename any file stored here.
If you have deleted any file by mistake on your device, you can recover it through iCloud Drive.
Now that you have understood these different entities let us draw the comparison of iCloud drive vs. iCloud storage.
Part 3. What's the Difference between iCloud and iCloud Drive?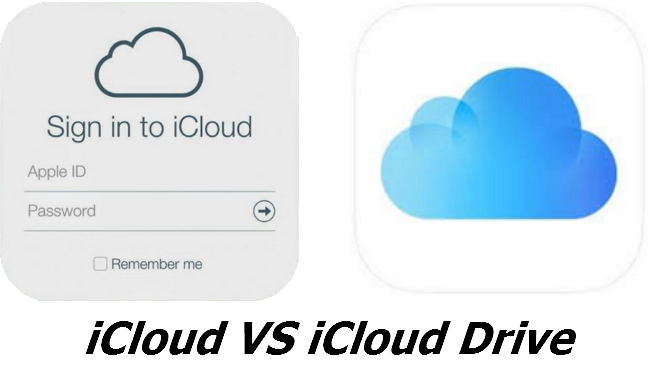 Thinking about is iCloud drive the same as iCloud? iCloud and iCloud Drive are both related to cloud storage on Apple devices. iCloud Drive is an essential part of iCloud. Whatever files and data that you store on iCloud Drive will get automatically saved in iCloud.
Basically, iCloud is used for syncing your files and backing up the data on only the Apple devices while iCloud Drive lays more focus on seamless sharing and interaction among different devices without the need for copying and then sending any file.
For instance, if you are working on a Pages file on your Mac computer, you can leave it incomplete and put it in iCloud Drive and then pick up where you left it through any other devices like an iPhone or iPad from anywhere.
One More Tip: How to Back up iPhone Free without iCloud?
Now that you are well aware of what is iCloud drive vs iCloud, let us see if there are other ways to backup files on iPhone. If iCloud backup not working on iPhone or you encounter iCloud backup error, you can explore some other options as well.
The best option amongst all the available ways to backup data on your Apple device would be to use Tenorshare iCareFone. This is an amazing tool that makes the process of backing up data on your Apple devices very easy and hassle-free. Here is how you can use Tenorshare to backup your data on Apple devices.
Launch the program after installation on your system and click on the "Backup & Restore" option available at the top.

Image 1. iCareFone main interface

You can select specific files to be backed up and then click on "Backup".

Image 2. Backup now

Once the backup is completed, you can view the individual files.

Image 3. Backup completed
Conclusion
With just three simple steps, you can backup all your important files and data on your Apple device with the help of Tenorshare iCareFone. Understanding is iCloud the same as iCloud drive is very important to use the Apple devices. This article answers all your questions about is iCloud and iCloud drive the same thing?
Manage Your WhatsApp Messages On Your Way
Flexibly transfer WhatsApp from iPhone 15 to Android;
Flexibly transfer WhatsApp from iPhone to iPhone 15;
Backup WhatsApp iPhone to PC/Mac Freely & Easily;
Restore WhatsApp Backup to iPhone, iPad, Android;