Guide: iCloud Bypass App Store Fix [100% Works]
by Anna Sherry Updated on 2022-06-22 / Update for iCloud Tips
Are you someone who forgot his iCloud password? Or have you lost access to the app store after trying to bypass the iCloud activation lock? This guide will take you through everything you need to know for performing iCloud bypass app store fix. 
Let us learn about the best way to get access to your iCloud account and still be able to use the app store on your iOS device.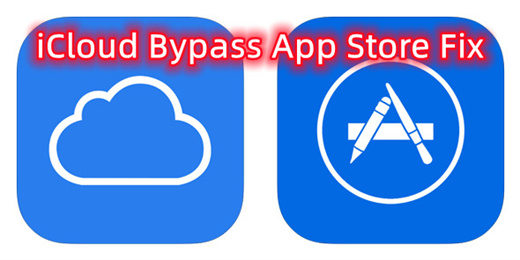 Why App Store Not Working After iCloud Bypass  
If you have forgotten your iCloud password and bypassed it using a third-party application, most likely you will not be able to download apps from the app store. Reddit users have reported the download time to be infinite, with little success in downloading apps. 
The reason is that bypassing iCloud causes side effects, one of which is sabotaged app store. There should be a method to app store fix after iCloud bypass, or some way to avoid the problem once and for all. 
How To Get iCloud Bypass App Store Fix [100% Works]  
Bypassing iCloud lock on iOS is synonymous with Tenorshare 4MeKey. It can help you safely bypass the iCloud lock from without a jailbreak iOS 12-14.8, and also fix app store iCloud bypass to allow you login into App Store after bypassing iCloud Activation Lock. 
Users have been loving this tool for removing the iCloud purpose. Plus, it does not have the usual side effects of not letting you use the app store, etc. Now, let us see how to perform iCloud bypass app store fix after bypassing iCloud lock. 
Download, install and launch Tenorshare 4MeKey on your Win/Mac. Then click on Start to Remove.

Now connect your device with a USB to your PC.

Continue the process to jailbreak your iDevices.

Check the info of your device and then click Start.

You bypass iCloud successfully.
It's as simple as that! Try Tenorshare 4mekey today for an easy and fast experience with bypassing your iCloud activation lock. However, you should still read the risks and caution very carefully. This is because you might still be prone to other risks. 
What Can I Do After Fixing App Store  
After iCloud bypass app store fix using Tenorshare 4mekey, the world is yours! Download your favourite games, music, apps, and movies from the Apple app store as much as you want. 
You will have complete access to all the utilities that the usual app store has. Do not worry about not being able to download certain apps or movies, for Tenorshare 4mekey is beyond it all. 
What About Other Methods of iCloud Bypass App Store Fix  
Tenorshare 4mekey is not the only tool online that you can use to iCloud bypass app store fix. There are numerous tools available online claiming that they are the ultimate solution. We checked two of these out. 
Having researched and experimented, it was found that other tools for iCloud bypass app store fix require many things. Here is a list of the requirements:
Visual C++ 2015 – iTunes.
Coding knowledge.
NET Framework.
Jailbreaking the device.
Therefore, jailbreaking is one common condition important for bypassing activation lock. There is no need to be scared before using Tenorshare 4MeKey because so many users have reported it being helpful and 100% safe. This being said, you need to choose the best solution to bypass activation lock and fix app store after bypass iCloud. 
Conclusion  
Believed that till now, if you have tried 4MeKey, the iCloud bypass app store fix will be an easy task for you. Users worldwide have loved this method of iCloud lock removal more than every other method, and we sure can get through the problem!