iPhone 5/5S iCloud Bypass Guide in 2023! Don't Miss It
by Jenefey Aaron Updated on 2023-03-14 / Update for iCloud Tips
Hey there, this is Judy. Can you tell me how the iPhone 5 iCloud bypass is activated? I want to use this iPhone. But I dont't have the Apple ID and passcode of this second-hand iPhone 5. Is there any way to unlock it?"
Well, Judy, that's unfortunate. If your iPhone 5 is iCloud locked, then there are some ways to get it unlocked. We'll first recommend contacting the seller. If you can't, we will explain how to bypass this iCloud lock issue in your iPhone 5. Don't worry. And these method also work on iPhone 5 icloud bypass. Let's go!
Scenario: What's Your iCloud Activation Lock Status?
If your newly bought iPhone 5s has an iCloud Activation lock turned on, then it might be due to two reasons. You must always inspect these two issues before buying any refurbished or second-hand iPhone.
This iPhone is linked to an Apple ID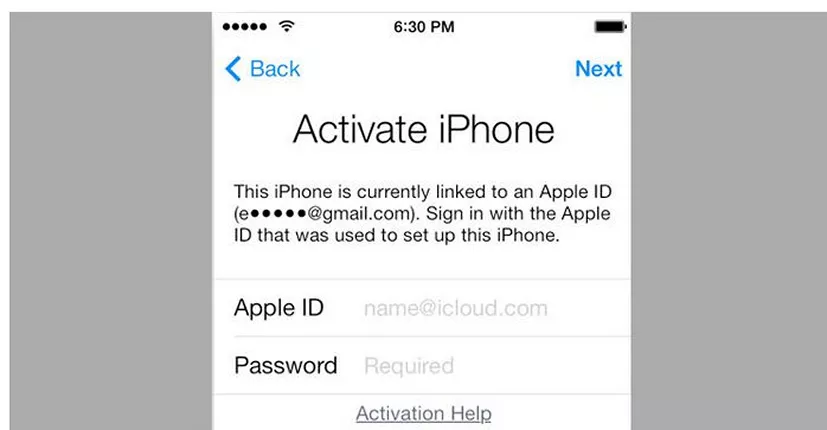 In this first scenario, you might come across an iPhone with an iCloud Activation Lock activated on it by another Apple ID. This Apple ID could belong to the previous owner. Sometimes the owners forget to remove their Apple ID from the device or their iCloud, creating a mess for the new user.
This iPhone was lost and erased
Another possible scenario is that the iPhone you bought might be stolen or lost. Sometimes people would scam buyers by selling them lost/stolen iPhones online. The original iPhone owner might have activated "Find my iPhone" on their iCloud account, which would ultimately lock the iPhone you currently bought. This scenario is worse than the first one.
Question: Is It Possible for iPhone 5 iCloud Bypass?
Bypassing the iPhone 5 iCloud lock can be a tricky business. Many users might find it troubling to bypass iphone 5 at first, but you can successfully avoid the iCloud activation lock with efficient tools. We will discuss the easiest understandable ways for you to bypass this issue. Follow the methods mentioned below.
Way 1. Most-Loved: iPhone 5S/5 iCloud Bypass with 4MeKey
The easiest trick through which one can achieve iPhone 5 activation lock bypass is using the official website tool, a world-class utility for those seeking an easy solution in these cases. Follow these steps to unlock your iPhone 5s:
Download the Tenorshare 4MeKey tool and launch it. And choose "Remove iCloud Activation Lock"

Connect your iPhone 5 or 5s with your Computer.

The Computer will ask you to JailBreak your iPhone 5S/5.

Allow your Computer to download the JailBreak tool and follow the instructions it gives.Once done, JailBreak your iPhone. Confirm your device information and start the Bypass procedure.

Your iPhone 5 and 5s will be unlocked.
We hope these iPhone 5 iCloud bypass windows highlights are enough for you to use your iPhone. If you still don't want to go this way, you can choose another method mentioned below.
Way 2: Jailbreak Your iPhone 5/5s Unlock iCloud
Another way to perform an iPhone 5c iCloud bypass is to Jailbreak your iPhone. Jailbreak is a little tricky, but with the right tool, you can do it quickly.
Jailbreaking done through Tenorshare 4MeKey is the most reliable solution for you. It saves you from the hassle.
Way 3: Try to Ask the Seller to Bypass iCloud iPhone 5s/5
This way might not be possible for many, but giving it a shot wouldn't be wrong. If you've bought your iPhone 5s from an online store, then try to contact the seller to bypass iphone5s. Even if you have to pay some little extra bucks, you can ask them to remove their iCloud account.
Ask the seller to erase their iCloud data from your iPhone. The easy way is to:
The original owner opens the site icloud.com/find
Sign in to their iCloud.
Check the devices linked to their iCloud.
Find your device.
Click on remove device.
As soon as they remove the iCloud linked device from their iCloud, your iPhone will start fresh when you turn it on. You can then set up your iPhone.
Unfortunately, if you cannot locate or connect with the previous owner, you can try using some online services to unlock your iPhone. Some websites are mentioned below.
Way 4: iPhone 5 iCloud Unlock with Online Services
Here are some online services that can help you with iPhone 5 iCloud unlock. These online services wouldn't require you to download a tool on your Computer. These services are top-ranked on Google searches and might help you unlock your iPhone 5s.
1.iPhone Approved Unlock
The iPhone-approved unlock has an iCloud activation lock removal service online, which you can use to bypass the lock. This service will require an IMEI number of your iPhone and the model you want to choose.
This paid service might cost you a bit, but your iPhone will be unlocked in no time. Here's the link.
2.Apple iPhone Unlock
The Apple iPhone Unlock is one of the first services to introduce iCloud bypass through IMEI. Just like the above, you need to pay a tiny amount, enter your device's IMEI or serial number along with its specific model, and click on the Remove Activation lock option.
3.IMEIdoctor
The IMEIdoctor is another reliable service for iPhone iCloud bypass. This tool might take one to three days to unlock your iCloud permanently. Just like others, it will also require IMEI, model number, and some money. Here's the link.
Conclusion
Bypassing the iCloud Activation Lock can be messy. We have proposed some ways to unlock it quickly. If you want to spend a little money, then go for the last method.
But, if you want a reliable and accessible tool, then download Tenorshare 4MeKey on your Computer and let it do its job. It's faster than all of the above methods and provides you a free and easy solution to get iphone 5 icloud bypass.