9 Useful Ways to Fix Samsung Pay Connection Error
by Sophie Green Updated on 2021-02-02 / Update for Samsung
Samsung Pay is e-wallet service that allows users to make payments through Samsung mobiles and other Samsung devices. But like every ground-breaking technology, Samsung Pay also has its own fair share of problems.
Recently, many Samsung users have reported that they are facing the error Unable to connect to Samsung Pay temporarily. Try again later while setting up the Samsung pay app. This error can leave you high and dry especially in case of emergency but you need not panic.
We're going to explore why Samsung Pay isn't working on your device and how you can troubleshoot it using a few simple tips.
Part 1: User Verified Ways to Fix Samsung Pay Connection Error
Below are 4 simple yet proven ways of solving Unable to connect to Samsung Pay temporarily. Try again later issue. Hopefully these will do the trick for you.
Way 1: Require Sim Card to the First Boot
To make Samsung Pay work, you need an active SIM card and that too in the First Boot. Make sure you have an active SIM card in your Samsung device when it boot firstly; if not, get one.
Way 2: Must Log into Samsung Account
You can use Samsung Pay services only when you're logged into your Samsung account on your mobile device. Samsung not working issue may be occurring because you're signed out of your account. To check and login to Samsung Account
From the Home Screen, go to Settings > Accounts > Samsung Account.

Now, if already have a Samsung account, then simply log in. Else, you need to click on Create Account and create one by following the on-screen steps.
Way 3: Restart your Samsung Phone
Restarting your Samsung device is the best way to get rid of any minor bugs or glitches in the system that have interfered with the working of Samsung Pay. Samsung comes in a wide range of models and versions, so search for your model and restart it.
Most Samsung devices can be restarted by holding the power button for a few seconds until the Power Glider appears on the screen.
Way 4: Optimize Battery Usage
Samsung Customer Service asks its users to optimize battery usage. Battery Optimization preserves battery by limiting the working of some background apps. You need to manage the optimize Battery Usage feature to know whether or not Samsung Pay app is also restricted by Battery Optimization feature.
Go to your phone's Settings > Device maintenance or care > Battery.
Now, hit on All Apps to see all the apps/services installed on your phone.
Disable the toggler in front Samsung Pay app. If it is enabled.
Now, this app is no longer affected from Doze/battery Optimization feature.
You can just turn off the App Monitor feature completely on your phone.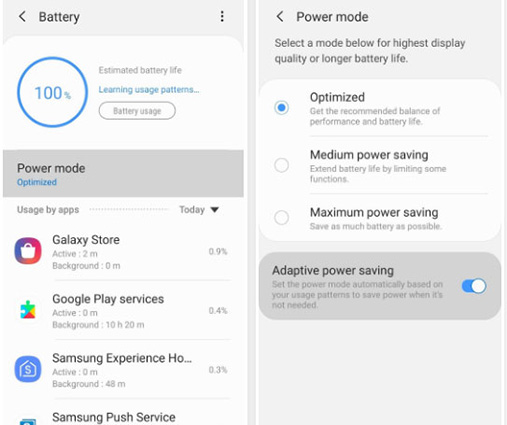 Part 2: 3 Ways to Fix 'Unable to connect to Samsung Pay' from Samsung Advise
If the aforementioned methods didn't get the job done for you, then don't worry. Below are some officially proven methods to fix If you're still facing Samsung pay notification connection error. Let's try them one by one.
Way 1: Make Sure A Stable Network
Samsung Pay, like every other online service, needs a stable internet connection to work. You need to make sure your phone has a healthy Wi-Fi or Data connection.
You can check it by loading a Web Page on your phone. If it doesn't load, then you need to either connect to stable Wi-Fi connection or switch to using Mobile Data Connection.
Way 2: Re-add Card
Sometimes, there can be a minor glitch in the matrix of your Samsung Pay Card that can be fixed by deleting the existing Card Information and adding it again.
Launch the Samsung Pay app on your mobile and choose the Card that's malfunctioning – if you have more than one cards.
Hit on Delete Card option and confirm your action by verifying your Fingerprint (or whatever the system asks you).
After a few seconds, touch on Add Card option shown in the middle of the screen.
When the system asks, scan your Card with the phone's camera and fill in the details.

Finally, you need to agree to the Terms & Conditions of the app and enter a digital signature and you're good to go.
Way 3: Reset Samsung Pay App
You need to Reset the Samsung Pay app if you are still facing the Samsung pay connection error failed to connect to server issue. Resetting the app will fix faulty settings or any bug that is hindering the its normal working.
Launch your phone's Settings and navigate to Apps > More Options > System Apps.
Now, choose the Samsung Pay app and touch on Force Stop to stop its working.
Then, you need to go to Storage option and hit on Clear Cache and Clear Data to remove all its data.
Now, you have to set Samsung Pay app again and set a new PIN.
Way 4: Contact Samsung Specialists
If you've implemented the abovementioned steps and still Samsung Pay isn't working, then you need to contact the Samsung Pay specialists and seek their professional guidance.
Click on Samsung Help to get in touch with them and discuss your issue.
Part 3: The Best & Quick Way to Fix Samsung Pay Connection Error
Most of the times, Samsung Pay error is due to the bugs in firmware or OS of your device. You can easily repair all versions or models of Samsung phones using Tenorshare ReiBoot for Android. This software conducts a deep scan of your mobile and determines the root cause of this issue in just a couple of minutes.
ReiBoot for Android is designed to fix over 100 Samsung OS bugs and glitches and make your device to run as efficiently as does a brand-new device.
Install and run ReiBoot for Android on your computer and connect your Samsung phone via original cable. The software will notify you when it's connected and you need to hit on Repair Android System option when it does.

You'll enter a new interface. Click on Repair Now to continue.

Now, fill in the details of your Samsung device using the drop-down arrows and then hit on Next.

The software will use the information you entered to determine and start downloading the correct Firmware Package for your device. Use Browse option if you want to save it to any other location on your computer.

Click on Repair Now when the firmware package is downloaded.

After that, you need to follow the step-by-step on-screen guideline provided to enter your device into download mode.

When your Samsung phone is in the download mode, ReiBoot will take hardly a few minutes after to completely repair your mobile phone. Finally,click on Done and your mobile will restart and function properly.
Conclusion
Many people use Samsung pay app to carry out routine transaction and it is a very irritating situation when it stops working suddenly. You can rely on all the tips discussed in this article to get rid of this issue – regardless of what Samsung phone you're using.
But if you want a better, quicker, and more efficient method to fix Samsung pay connection error, then go for Tenorshare ReiBoot for Android and fix this issue once and for all.