[Solved] How to Fix Samsung S10 Fingerprint Issue
by Jenefey Aaron Updated on 2022-07-13 / Update for Samsung 10
Despite all the thrills about the release of Samsung S10, users were able to quickly spot a serious flaw - faulty fingerprint. The use of fingerprint as a device unlock option has proven to improve mobile phone users' security. However, the flaw in Samsung S10 fingerprint scanner was that it could not distinguish between authorized and unauthorized fingerprints. Users found that the scanner accepted almost anyone's fingerprint.
Samsung decided to solve the Samsung S10 fingerprint problem using software updates and we have confirmed to show that it is now working fine. If your S10 fingerprint is still faulty, use our guide to fix it.
Part 1: What is Samsung S10 Fingerprint Problem?
In October this year, Samsung S10 users complained of fingerprint malfunction on their smartphones. Users found that unregistered fingerprint could unlock their smartphones. It was later discovered that similar issues occurred in Samsung S10+ and Note 10 series. The cause of S10 fingerprint sensor issues was traced to some kind of silicone screen covers that were interfering with the fingerprint function.
Samsung has since then released a software patch to address the issue. Software updates for some Note 10 series which have improved fingerprint function were also released.
Part 2: Has Samsung Fixed S10 Fingerprint Scanner Issues?
Presently, Samsung is still rolling out software updates to solve Samsung S10 fingerprint problem. There are claims that South Korean users of Samsung S10 have been receiving updates to fix their fingerprint issues. The update is expected to take a while before it will be available to all Samsung S10 and Note 10 series users worldwide. The official remedy is to remove third party screen protectors that are likely interfering with fingerprint function.
Part 3: How to Fix Galaxy S10 Fingerprint Not Working
If you have problems using your fingerprint to unlock your Samsung S10, try the following steps to fix it.
1. Install Update
2. Remove Third-party Screen Protectors
Using some third party screen protector have been confirmed to lead to Samsung S10 fingerprint malfunction. If you have such screen protector on your S10, you should remove it in order to stop fingerprint malfunction. Also, note that this step was the first officially recommended step that Samsung gave to S10 users. It worked for many users, so chances are that it will work for you too.
Besides, you may find the Galaxy S10 fingerprint sensor not working if the sensitivity of your S10 screen is low. Screen sensitivity may be reduced when using third party screen protectors. In this case, follow the steps below for better screen sensitivity.
Go to Settings through your app menu or home screen.
Select Display.

Scroll down and click Touch sensitivity to increase screen sensitivity.
3. Remove Your Fingerprint and Add a New One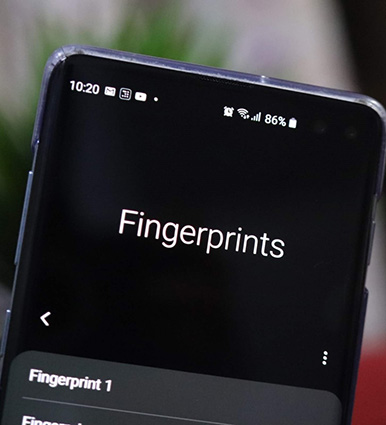 Note:
1. Bearing this in mind, as you re-register your fingerprint, make sure your fingers and the phone screen are dry.
2. Press your finger on the screen a little harder for better fingerprint registration.
Once you are done, confirm by using your fingerprint to unlock your device again.
4. Wipe Data with Recovery Mode
If you suspect that the issue behind your S10 fingerprint issue is software related, you can also run a factory reset. You can wipe data from S10 with recovery mode.
Your device needs to be shut down for this method to work. The easiest way is to let the battery of your device drain so it shuts down.
Down press the Power, Volume up and Bixby buttons at the same time for about 15 seconds till you see the Recovery Mode.

Use Volume down button to scroll down to Wipe data/factory reset option.

Select this option using the power button.
Use the Volume down button to select Yes and continue.
Press power button to confirm Factory Reset.
5. Repair Android System with ReiBoot for Android as Easy as Possible
In case the above methods cannot help to fix your S10 plus fingerprint issues, in factory mode, use Tenorshare ReiBoot for Android as explained below. It is the last resort for all Android issues that are software-related. Finger print issue can be software related and ReiBoot can take care of it in a few clicks.
ReiBoot from Tenorshare can fix almost any Android software issues including fingerprint malfunctioning, booting issues, camera not working and so on.
Can fix various different Android models.
Comes in Free and Pro versions so everyone can access it.
Extremely easy user interface.
Steps to Solve the S10/10 Plus fingerprint Scanner Issues
Go to ReiBoot official website at Tenorshare to download ReiBoot for Android on your computer. After successful downloading of ReiBoot setup, install the app and run it.
Use a USB cable to connect your Samsung S10 to the computer and select USB Debugging mode. Proceed by clicking Repair Android System.

You should see an interface which will direct you to take the next step. Click "Repair Now" to proceed with the process.

Check for your device model from the dropdown list. In case you didn't find Samsung S10 listed there, select "?" beside the scroll bar to find your Samsung S10.

After you have selected all your device info, the corresponding firmware will be downloaded after a few seconds.
Also Read: How to Fix Samsung S20/S21/S22 Fingerprnt Sensor Not Working
Part 4: What If Your Samsung S10 is Locked by Fingerprint
4uKey for Android is another capable software from Tenorshare. It can bypass Android security to unlock all Samsung phones. The software is only available on Windows. The target Android phone must be connected to the PC before phone unlock can be successful.
How to Use Tenorshare 4ukey for Android to Unlock Fingerprint
Download and install Tenorshare 4uKey for Android on your PC. Then launch it.
Connect your Samsung S10 to the PC via USB cable. You will be notified if your device is successfully connected. Choose "Remove Screen Lock" on your PC

Click Start to confirm action after reading the prompt to remove the screen lock.

Confirm the operation and wait a few minutes for the action to complete. You will get notified once your Samsung S10 is unlocked.
Conclusion
Samsung Galaxy S10 fingerprint sensor issues should first be fixed by a software update. If the update is not yet available for your device or the problem persists after a software update, try other solutions listed above. You should contact Samsung Support Centre if your S10 seems to defy all solutions.
S10 fingerprint sensor issues, as well as other Android software issues, can be taken care of in one click by using Tenorshare ReiBoot for Android. Remember that these solutions may also work for Samsung Note 10 series and other previous models.