Cellunlocker Review: Is Cellunlocker Legit?
by Sophie Green Updated on 2020-11-04 / Update for iCloud Tips
Is the CellUnlocker website legitimate? I posted my IMEI earlier today and made payment, but not having received a response from the automated system."
If you have ever searched the Internet for a method to unlock your phone, you have likely seen this service called CellUnlocker. This service seems to appear on most major search engines when you are looking for phone unlock codes, phone unlocking services, and other similar queries.
You have likely wondered exactly what this service is and what it can do for you. Those are the very questions that this guide aims to answer. Once you have gone through the sections in this post, you will know what this online service is and if you should be using it for your phone.
Part 1. What is CellUnlocker? Is It Legit?
www cellunlocker net is an online website that allows you to buy unlock codes and unlock services for your locked phones. Basically, if you have a phone that is locked to a certain carrier, or if you have an iPhone that has the activation lock enabled on it, this service helps you remove those locks from your devices.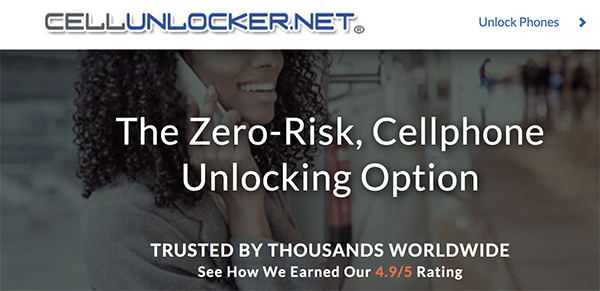 When it comes to the question of legitimacy, it depends. Many of the unlocking tools on this service are legitimate and they unlock your devices right from your carrier. However, we cannot say the same for all of its services. Some services might be in a grey area and you cannot really tell whether they are truly legitimate or not.
Part 2. Does CellUnlocker Really Work?
The code they sent me did not work. They stopped responding to my emails after proving to them that the code did not work."
- From TrustPilot
If your phone is locked and you are planning to use this service to unlock your phone, you will probably want to go through some of the CellUnlocker reviews. We have quoted one of the reviews above and it says that the code bought from this service did not work on the client's phone.
There are actually a number of CellUnlocker net review on sites like TrustPilot that advise against using this service to unlock your phones. Most of them mention that the codes or the unlocking services purchased from this site do not work. Your phones remain locked even after you have bought an unlock code for them. In some cases, users found their iPhone working just fine even though CellUnlocker said the iPhone was lost or stolen.
If the unlock codes do not work, it is highly unlikely that you will get a refund. That is because their refund policy is not the most flexible one out there. To apply for a refund, your code must generate a "Not Found" error. Then, you need to make a video proof that the code indeed did not unlock your device.
Part 3. How Much Does It Cost to Use CellUnlocker?
The next thing after CellUnlocker net reviews is the cost of unlocking your devices with this service.
If you have ever visited the site of CellUnlocker, you probably know that they have varied prices for different phone models. The prices change with the phone model, the carrier that you use, and the country that you are in.
One way to find the price is to head to the CellUnlocker site, enter the details for your phone, and it will let you know the total cost to unlock the device. And you will need to pay Twice. You need to pay an additional fee to complete the unlock.
Part 4. The Most Reliable iCloud Activation Unlock You Can't Miss
If you are sick of CellUnlocker and you do not wish to use it to remove the lock from your device, you have a great software available at your disposal to help you unlock the iCloud activation lock.
Enter Tenorshare 4MeKey, a software that helps you to remove the iCloud activation lock from all of your iOS devices in a few easy clicks. This is the most user-friendly software that you will ever find to easily and efficiently remove the lock from your iOS devices.
Remove the iCloud activation lock without password or Apple ID in no time
Unlock your devices no matter why they were locked in the first place
Permanently unlock your iPhone from iCloud activation
Works with various iPhone models and iOS versions
Easy and safe to use
If you would like to give this tool a try, the following shows how to do that.
Grab the software, install it, and open it on your computer.

Plug-in your iOS device to your computer using a USB cable. Select Start on the main screen to begin to unlock your device.

The tool will ask you to jailbreak your device using the on-screen instructions. Finish the jailbreak process.

Once your device is jailbroken, click on Start Remove to start removing the activation lock from your iOS device.

You will see the live unlock process on your screen. When the activation lock is removed, you will see the following.
Your device can now be used with any Apple account of your choice.
Summary
If you came here looking for an answer whether CellUnlocker is legit or not, you should now know the answer and some more details about this service. We hope that helps you make a decision on who you should choose to unlock your devices. Tenorshare 4MeKey is reliable to remove iCloud account without password.