7 Ways to Fix Samsung TV Black Screen of Death
by Sophie Green Updated on 2020-12-15 / Update for Samsung
Just imagine you're watching the last moments of your favorite sports or following important news, and suddenly your TV screen turns black. How frustrating that would be! In technical terms, we call it Samsung TV black screen of death issue.
Unlike a dead person, Samsung TV black screen of death doesn't mean your TV is dead for good. It's a major issue that affects many Samsung users worldwide, that's true, but you can fix it using simple methods.
What Cause Samsung TV Black Screen of Death
Some common reasons of Samsung Smart TV black screen of death error are:
Poor connection issues
Issues in external sources
Damaged external cables
Errors in firmware update

Hardware failure of your TV

Photo from Samsung.com
Randomly Samsung TV Black Screen of Death Fix (Simple Ways)
We have done some extensive research and came up with the below methods to help you troubleshoot Samsung black screen of death TV error.
Way 1: Check If Cable Is Connected
Make sure all external cable connections are properly connected to the Samsung screen. If any cable is loose, then it might lead to Samsung TV black screen of death fix.
The best way to confirm it by disconnecting all cable connections and then plugging in tightly again. Pay foremost attention on connecting power cable and power supply. Plug power cable in any other port as sometimes one of the plug-in ports is also damaged.
If issue persists, then check if any cable is damaged or not. If you found any broken or badly shaped cable, replace it with a new one.
Way 2: Check the Sources
Samsung TV screen goes black may caused by issues in external sources. So, you can troubleshoot whether the external sources are down effecting your Samsung TV turning black. Basically, these sources may include SAT box, Amazon, Cable box, Roku, DVD player, etc. Make sure all these devices are working properly.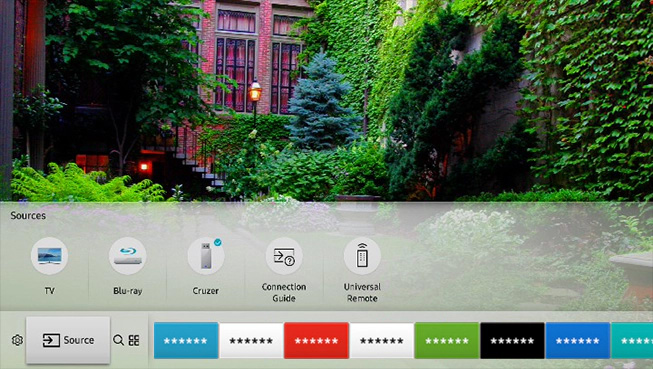 Way 3: Set Samsung TV Input Correctly
Every Samsung TV screen needs external power source to function. Your TV might be showing black screen due to either incorrect power settings or it may not be properly powered at all. That's why make sure it is powered up and all inputs are set correctly.
Press Source button on your remote and it will show all inputs available.
Go to the input settings and check all are set correctly.
You can do it by switching to all inputs in one go confirm every component is connected to correct input.
Way 4: Turn off Sleep Timer/Power Saver
It may happen that you have set a sleep timer or power saver inadvertently which automatically shut down your TV after a pre-set time. Generally, it's the most common cause of Samsung Smart TV black screen of death.
So, you have to turn off these functions to avoid facing this issue in the future. Follow the below steps to turn off sleep timer: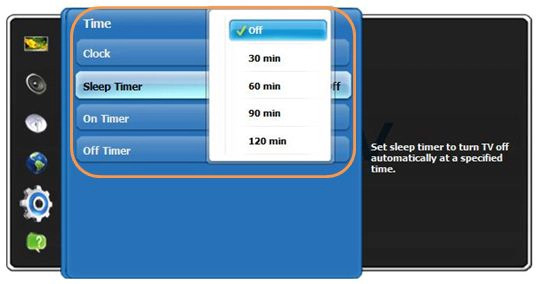 Now, to switch off power saving mode:
Way 5: Fix Samsung Black Screen of Death TV with Firmware Update
Samsung administration regularly updates firmware of Samsung TV to automatically fix minor bugs and glitches. Updating the firmware proves to be helpful in fixing the Samsung TV black screen of death error.
So, make sure your screen is updated to the latest firmware.
On your TV remote, press Menu button, then go to Settings > Support > Software Update > Update Now.
The update process will begin and new updates will be downloaded and installed on your screen. The process takes some time to complete, and once completed, your TV screen will reboot automatically.
Way 6: Repair Samsung TV with Technical Help
If none of the abovementioned method has fixed the issue, then there must be some issue in its hardware. In such a case, you have to seek help from a professional technician. Go to a local shop or contact official Samsung customer service center and seek their help.
Extra Tip: If Samsung Phone Is Black, Repair with ReiBoot for Android
Just like Samsung TV screen, you can face the same issue on your Samsung smartphone, where it's screen suddenly turns black. It means you can't use any feature until you repair it. Thankfully, this stuck issue can be repaired in just a few minutes using Tenorshare ReiBoot for Android.
This powerful third-party tool is intuitive, super-quick, and easy to use and is rightly considered as the best software to fix Samsung stuck issues. Other than stuck issues, it also helps repair 100+ Android OS issues in just a few minutes.
Run ReiBoot for Android and double-click on ReiBoot icon to launch it. Then, connect your Samsung phone via original cable and hit on Repair Android System.

ReiBoot will now display the OS issues it can repair without any data loss. Here, click on Fix Now to continue.

On the new interface, fill in the information of your Samsung device using the drop-down arrow.

Now, ReiBoot will start downloading the latest firmware package corresponding to your Samsung device. Don't disconnect the phone during the downloading process.

Click on Repair Now once the firmware package is downloaded.

Now, enter into the download mode by following on-screen instructions corresponding to your Samsung mobile version i.e., is it with or without home button.

Within a few minutes, ReiBoot completely repair your mobile phone. Once it is completed, click on Done and your mobile will restart and function properly.
Conclusion
To sum it all, this article has outlined how you can troubleshoot the Samsung TV screen goes black randomly error using various easy methods. So, next time your Samsung screen goes black, implement the abovementioned methods one-by-one and you will get rid of it forever.
If ever you face the similar error in your Samsung mobile, then use Tenorshare ReiBoot for Android to repair your mobile and restore it back to normal with just a few clicks.