Instagram, as a social media video/photo sharing platform, has gained impressive popularity with massive active users. At the same time, many users have been reporting plenty of Instagram issues in iOS 11. Here we collect top 7 Instagram problems and fixes on your iPhone X (10)/8/8 Plus/7/7 Plus/6/6 Plus/5s after updating to iOS 11.2/11.1/11.
1. Instagram Video Not Playing on iOS 11
Some users claimed that they had a problem with Instagram video playback. If you are the one who are encountering Instagram video not playing on iOS 11, you can try solutions below.
Solution 1. The first thing you can do is to open the App store and look for Instagram update. Then tap "Update".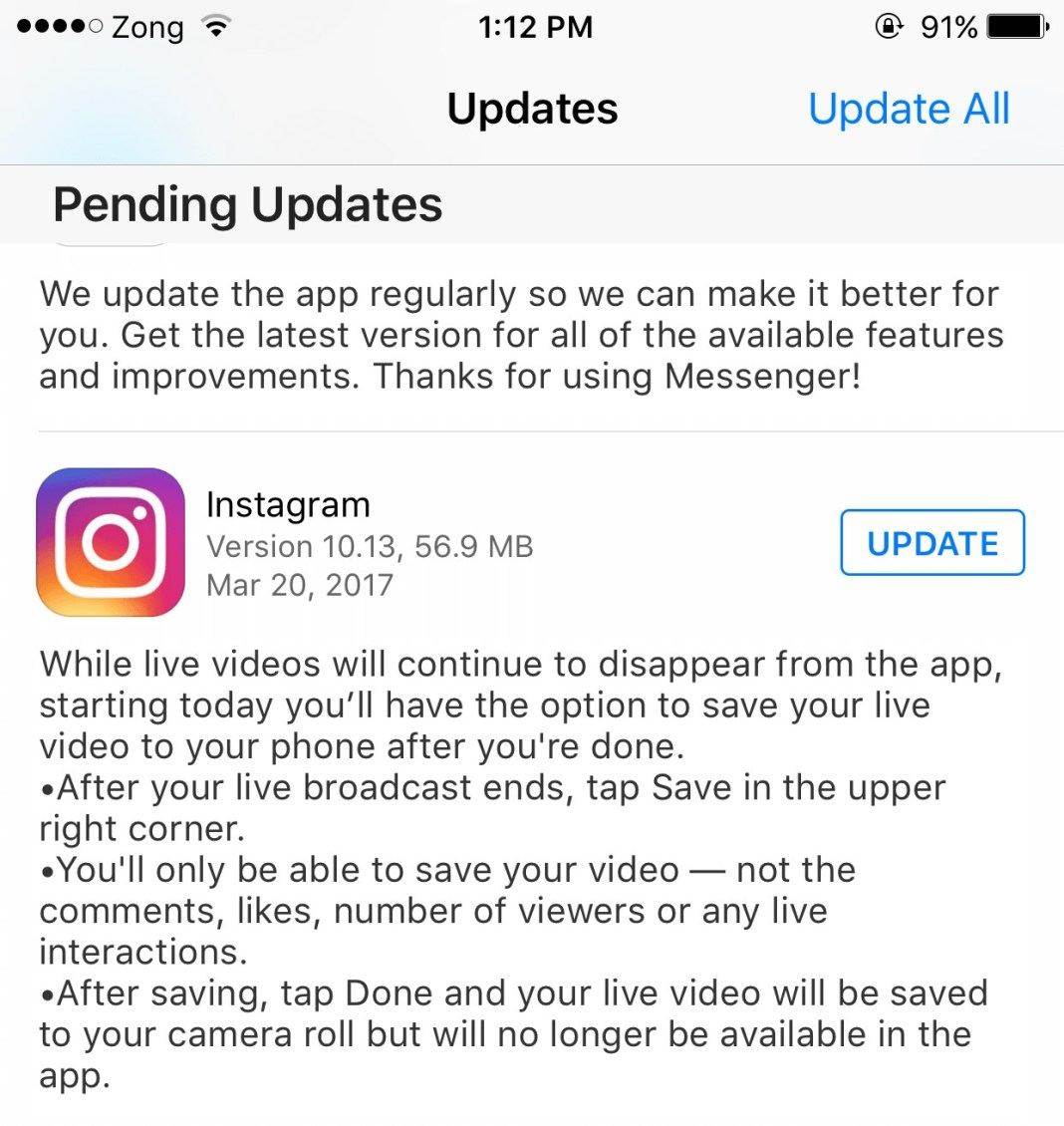 Solution 2. Just tap on Instagram app to delete it and reinstall Instagram app in App store.
Solution 3. Sometimes that Instagram video doesn't play is caused by instable network. So reset your network no matter you are using Cellular data or Wi-Fi.
Solution 4. Turn off power-saving mode. Power-saving mode may interfere the Instagram video playback.
2. Instagram Notifications Not Working in iOS 11
Instagram notification not working after iOS 11 update is one of the most common Instagram problems. You cannot keep updated if Instagram notification doesn't make sound/work, which means a big trouble to you. Try the methods below to fix it.
Method 1. Make sure you have turned on the Instagram notifications in Settings.
Go "Settings" > "Notifications" > "Instagram"
Tap on it to enable "Allow Notifications" and "Show on Lock Screen".
Method 2. Reset network settings or reinstall Instagram
Method 3. Disable "Do Not Disturb" "Do Not Disturb" will mute all alerts.
Go "Settings" > "Do Not Disturb" > tap on it to disable.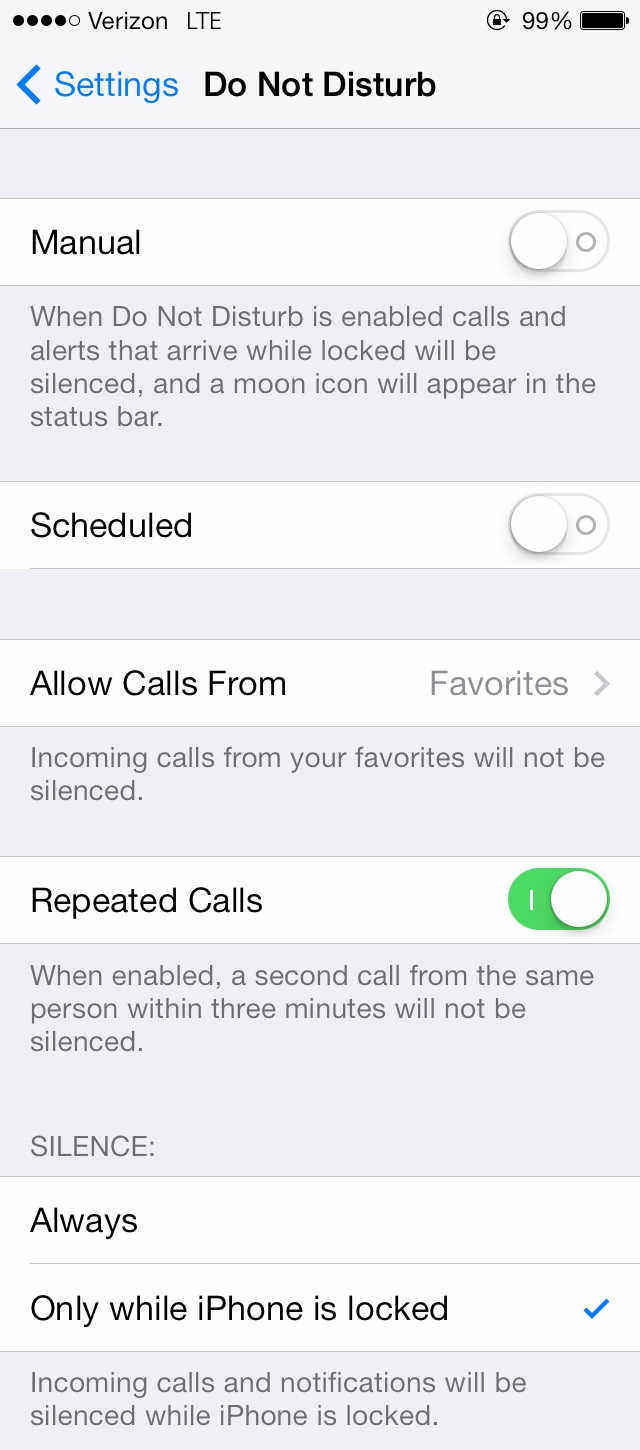 3. Can't Find Instagram Notifications in Settings in iOS 11.2/11.1
Some users complain that they can't find Instagram notifications in Settings in iOS 11.2/11.1. Here we list the troubleshooting solutions.
Tap on Instagram app to delete it and reinstall it in App store.
When you open it, you will be asked to "Turn on Notifications". Tap "Ok".
Instagram will send you notifications. Tap "Allow" to get back the missing Notification tab in Settings app.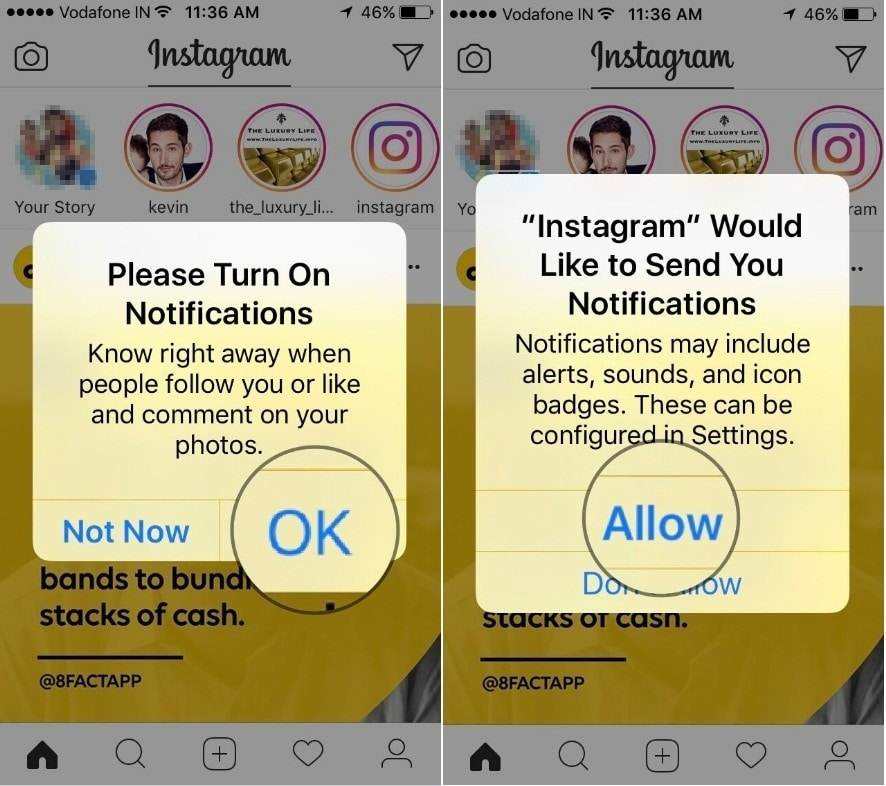 4. Instagram Crashes When Uploading Video/Photo in iOS 11
Lots of user were experiencing Instagram keeps crashing on iOS 11 when uploading photo/video. If you are experiencing this Instagram freezing/crashing when processing issue as well, try this:
Force restart your iPhone/iPad.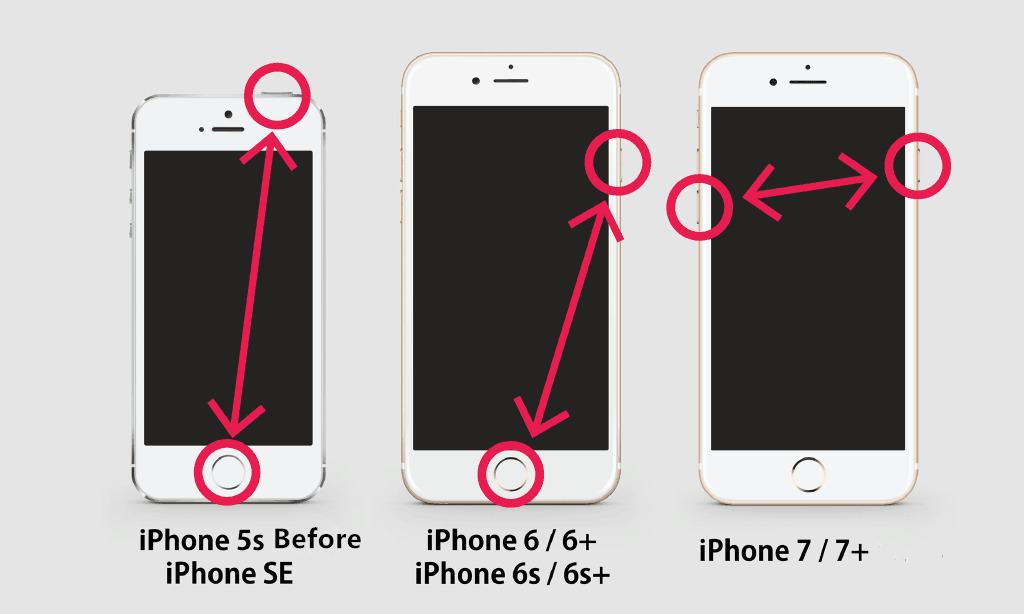 Related Read:
How to Force Reboot the iPhone X
How to Hard Restart iPhone 8/8 Plus
If you failed to resolve this problem using force rebooting, there might be some problem with your iOS system. An iOS system recovery tool, Tenorshare ReiBoot, can help you fix all iOS stuck, like iPhone stuck in reboot loop/Apple logo/recovery mode/DFU mode etc. It will update your iPhone to the latest iOS 11 system without losing data.
Free Download
For Win 10/8.1/8/7/XP
Secure Download
Free Download
For macOS 10.13 and below
Secure Download
Step 1: Download and install Tenorshare ReiBoot on your Mac/PC. Connect iPhone to your computer. Run Tenorshare ReiBoot.
Step 2: Click "Fix iOS Stuck" > "Fix All iOS 11 Stuck". It will show you the latest firmware available.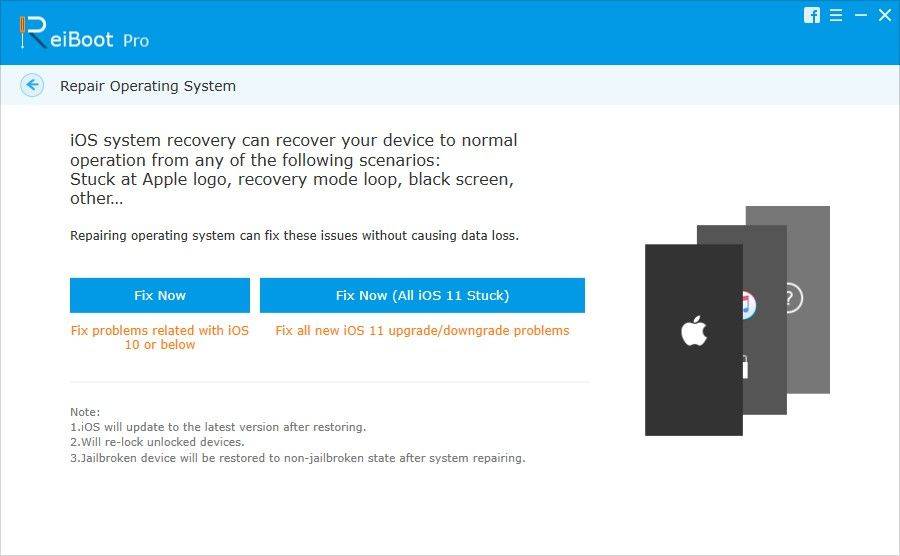 Step 3: Download and install the firmware into your iPhone/iPad. After the installation process finishes, your device will reboot. Try to open Instagram, you problem will be solved.
5. Instagram Running Slow on iOS 11.2/11.1
Most people will be mad if a video buffer every 3 seconds or pictures take a while to load when using Instagram. How to deal with it when Instagram runs slow on iOS 11.2/11.1?
First check if your network connect is in good condition.
If it does, there might be some bugs with the system you are using. You need to update to the latest version. You can use Tenorshare ReiBoot to update as well.
Just repeat the steps above.
Related Read: Top 5 Ways to Speed up Slow iPhone 7/6s/6/5s/5/4
6. Instagram Couldn't Refresh Feed in iOS 11
If you are faced with "Instagram couldn't refresh feed in iOS 11" error, here are several tips you can try.
Tip 1. Check if unpermitted symbols in comments. Instagram can failed to load feeds if some comments includes some unpermitted symbols or characters. For example, a check mark or "x" mark. You need to delete the unwanted symbols to refresh the feeds.
Tip 2. Check if double hash-tag (##) is used in your post or the comment. If it does, you need to delete it.
Tip 3. Try to login and logout on a browser, then relogin to Instagram on your device. Sometimes this will work.
7. Instagram Won't Load on Wi-Fi in iOS 11.2.1/11.1
It's frustrating when the photos and videos doesn't load even though Wi-Fi is turned on and in good condition. That Instagram won't load on Wi-Fi in iOS 11.2/11.1/11 can be caused by both hardware and software problem. When this happens, you can:
Completely close Instagram app by double-tapping home button and swiping up Instagram interface to close it. Then reopen it to see if your problem is solved.
Reset all settings. Resetting all settings will reset all customized settings. You need to input Wi-Fi password again, reconnect Bluebooth after resetting all settings. However, your contacts, photos, videos will not be wiped off. Go "Settings" > "General" > "Reset" > "Reset All Settings".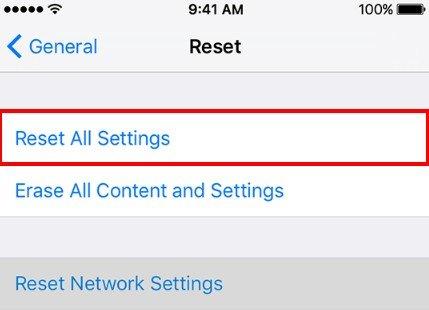 If solutions mentioned above failed to fix your problem, you need to use Tenorshare ReiBoot to repair your system. Just follow the instructions above.
Summary
That's all about the top 7 Instagram bugs in iOS 11 and solutions to fix them. Hope you can get rid of all Instagram problems with these methods. If you have other Instagram issues, you can go to setting icon> "Report a Problem" > "Something Isn't Working" to report this problem on Instagram or you can leave you comment below.
Free Download
For Win 10/8.1/8/7/XP
Secure Download
Free Download
For macOS 10.13 and below
Secure Download
Related Read
comments powered by